'Bridgerton' on Netflix: Viewers Call Out 'Toxic' Daphne and Simon Romance
Bridgerton gives Netflix viewers a mixture of period drama and rampant sex scenes that has been a winning formula for shows such as Outlander and Poldark before it. At the heart of this Shonda Rhimes produced romance, from the books by Julia Quinn, is the troubled relationship between Daphne Bridgerton (played by Phoebe Dynevor) and Simon Basset (Regé-Jean Page). Though many viewers have fallen for this society couple, others are very concerned about their future.
An article from PopSugar titled "I Wanted to Root For Bridgerton's Daphne and Simon, but Their Romance Is Pretty Toxic" laid out the biggest problems with the Daphne and Simon romance. "As their romance unfolds," the author writes, "it becomes very clear that they aren't the best fit for each other." They are very different people, for one, with Daphne desperate for a family of their own while Simon has vowed to not have children, which leads them on a mission to change each other from the off. Though (spoiler alert) this eventually works and Simon decides to have a child, this is the sort of thing that works well in romance novel but less well in real life.
As PopSugar author Kelsie Gibson notes, "In a healthy relationship, you should grow together. What you shouldn't do is push the other person to be what you want, while you selfishly stay the same... As they constantly try to make their relationship work, they become the worst versions of themselves."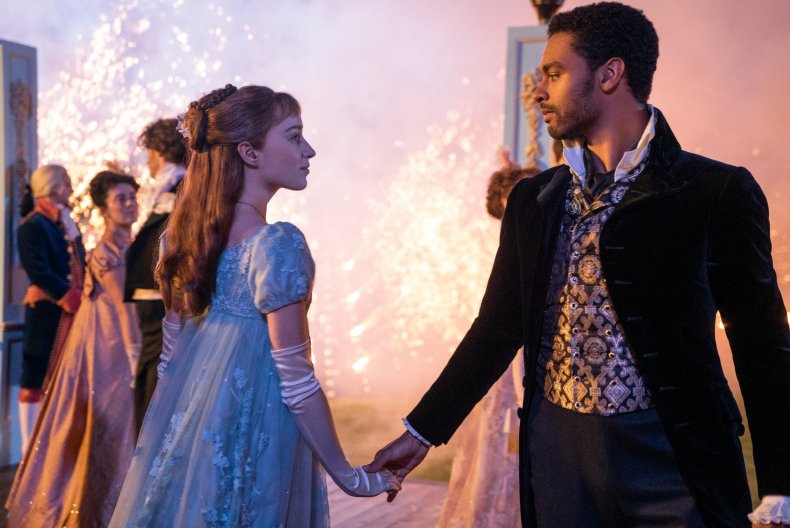 One scene in particular has lead fans calling out their relationship as unhealthy. In an attempt to force Simon to impregnate her in Episode 6, Daphne pins her husband down, forcing him to have sex with her. He initially seems on board with her taking sexual control, but after she refuses to stop when he asks her too, this becomes an act of sexual assault, which she says is revenge for him taking advantage of her sexual immaturity by pulling out when they have sex.
This is addressed by Lady Whistledown (Julie Andrews) in voiceover when she says, "I would wager many may think her actions beyond they pale. Perhaps she thought it her only option. Or perhaps she knows no shame. But I ask you, could the ends ever justify such wretched means?"
This controversial scene mirrors one in the book where the Bridgerton daughter gets her husband drunk before taking advantage of him.
A number of viewers took to Twitter to criticise the inclusion of this scene. Though the scene speaks to the desperation of Daphne, and addressed the fact that issues of consent were less clear-cut in the era in which Bridgerton is set, many felt that a 2020 show cannot get away with its character committing sexual assault, particularly as the rest of the show is fairly light in tone and, in the Netflix version, Daphne is white while Simon is a person of color.
One user tweeted, for example, "Y'all want people to watch a white woman rape a Black man in a romance in 2020 just in case this never happens again. Can't even be shocked." Another wrote, "they could've definitely fought over kids without the rape scene it was HIGHLY unnecessary to include it. You're ruining an otherwise fun show for everyone."
Others, meanwhile, have questioned what it is we are seeing in the scene. Romance author Tessa Dare, for example, tweeted, "Having read the book and now seen this— imo book was much worse, in that he was drunk and barely understood what was happening. In the show, he is completely sober and willing to have sex. The issue is him not wanting to impregnate her, and the consent question is ...Whether she is forcing him to come inside her (she's on top), or if he's carried away in the moment. To ME, it played more like the latter—especially when compared to the book, where he is vocally objecting. However, she still does know he wouldn't otherwise want to."
She latter added, "I do think the show excuses Daphne more easily than it should. Even in the most favorable interpretation, it was still wrong of her."
Another viewer tweeted, "for everyone saying that was not rape. If anyone takes back consent during sex and the other person involved continues then it is considered rape. He revoked consent and was horrified as a character his stutter even came back. So no it was not a consensual act."
Bridgerton is streaming now on Netflix.