Bridges Raised, Roads Closed in Chicago After Rioting, Looting Breaks Out
Bridges and roads were closed early Monday to prevent access to downtown Chicago after a night of unrest and looting in the city following an officer-involved shooting.
All bridges along the Chicago River were raised throughout The Loop, according to CBS Chicago.
Chicago's Officer of Emergency Management said on Twitter that streets are closed in the city's Magnificent Mile shopping district as well as Gold Coast and South Loop neighborhoods. The Illinois State Police also blocked some expressway ramps into downtown.
Meanwhile, the Chicago Transit Authority announced that train and bus services to the downtown area were suspended "at the request of public safety officials."
Newsweek subscription offers >
The measures came after mass looting took place in the downtown area, with reports of numerous businesses being ransacked and vehicles set on fire.
Newsweek subscription offers >
The Chicago Tribune reported that hundreds of people were seen going in and out of stores along the Magnificent Mile carrying shopping bags full of goods. People also ran out of a bank that had its windows smashed.
Early Monday morning, a spokesman for the Chicago Police Department confirmed that officers had been involved in a shooting with civilians amid the unrest.
Spokesman Tom Ahern wrote on Twitter that said shots had been fired at police on Lake Street near Michigan Avenue, prompting officers to return fire.
No officers were injured in the shooting and it wasn't known if anyone was injured in the exchange, he said.
More than 100 arrests were made overnight, Chicago Police Supt. David Brown said during a news conference on Monday morning.
Hours before the unrest, people had faced off with police after officers shot and wounded a person Sunday in the city's Englewood neighborhood.
According to The Associated Press, a crowd had gathered on Sunday after someone reportedly told people that police had shot and injured a child, but the group eventually dispersed.
In a statement, Chicago police said they had responded to a call about a person with a gun at around 2.30 p.m. in the 5700 block of South Racine Avenue.
Officers saw a person matching the suspect's description and tried to confront him in a nearby alley. He fled from officers on foot and then produced a firearm and shot at officers, police said. Officers returned fire, striking the man and his firearm was recovered.
He was taken to the University of Chicago Hospital in an unknown condition, police said. No other details about him were immediately released.
Three officers involved in the incident were also transported to a hospital for observation. Police said the officers involved will be placed on routine administrative duties for 30 days as a use of force investigation is carried out by the Civilian Office of Police Accountability.
The Chicago Police Department has been contacted for additional comment.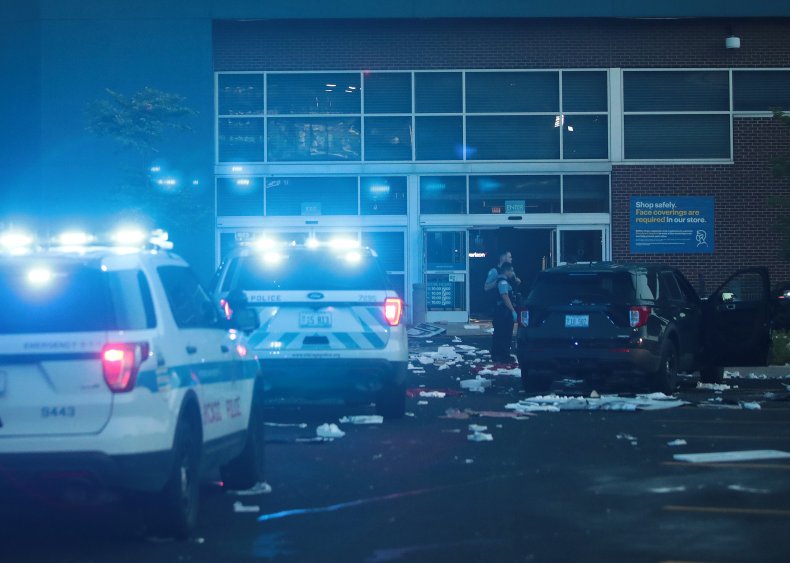 Bridges Raised, Roads Closed in Chicago After Rioting, Looting Breaks Out | U.S.