A Brief History of Taylor Swift's War on Streaming Platforms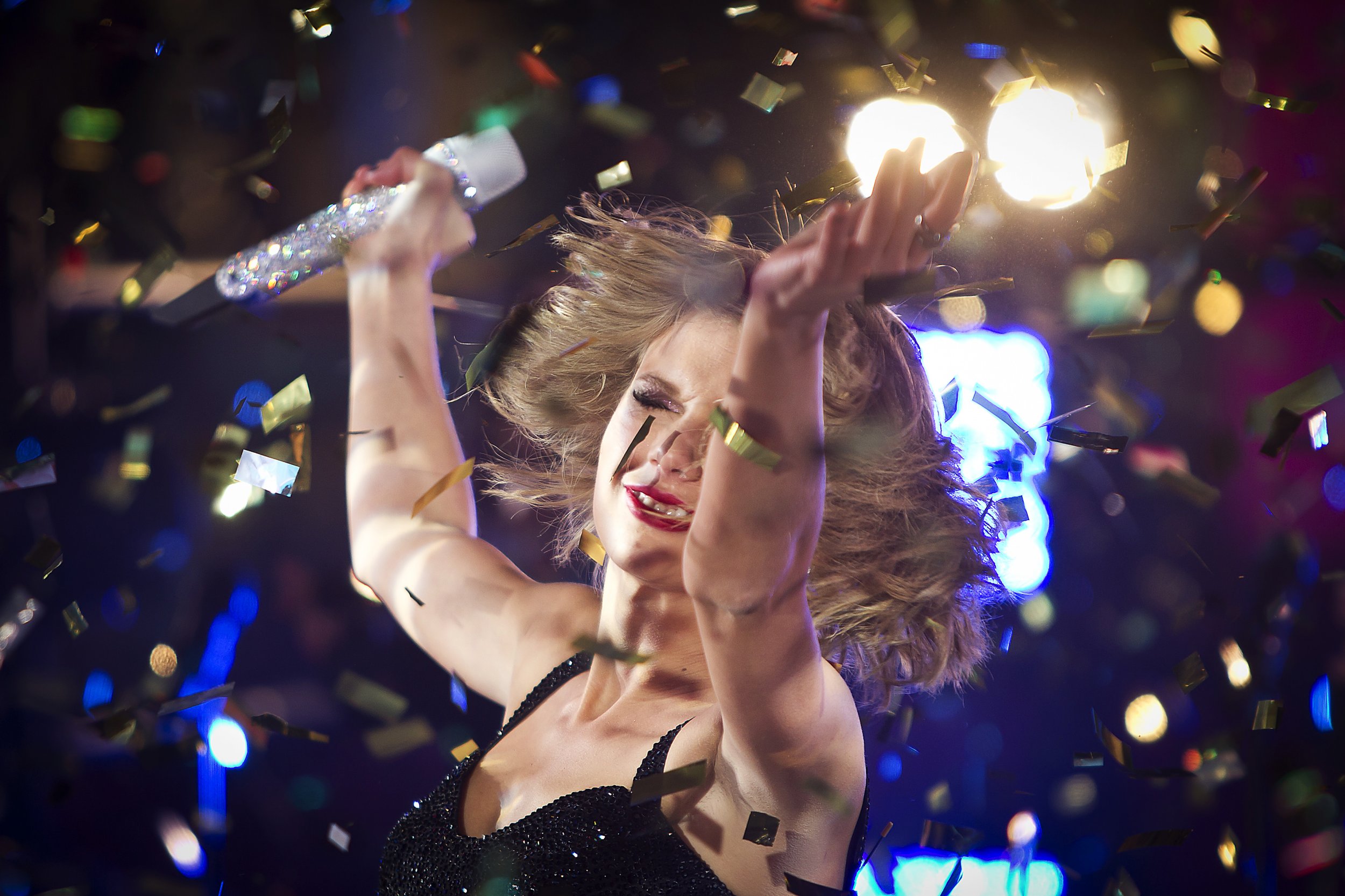 In the span of a day, Taylor Swift has sparked—and subsequently resolved—a feud with Apple Music, singlehandedly convincing the new streaming service to amend its artist compensation model. In brief: Her album 1989 will apparently make it to Apple Music after all, now that Apple vows to pay full royalty rates during its extended free trial.
But it's not the pop megastar's first quibble with the brave new world of music streaming, and it probably won't be the last. Here's a quick timeline of Swift's feuds with free music streaming, particularly Spotify.
July 7, 2014: Swift pens an op-ed for The Wall Street Journal about how technology is changing the music business. In it, Swift hints at a distaste for streaming services, which she lumps in with piracy for having drastically hurt record sales. "Valuable things should be paid for," Swift writes. She adds, "It's my opinion that music should not be free," foreshadowing future feuds with Spotify and Apple.
October 27, 2014: Swift releases her fifth album, the pop smash 1989. An immediate success, the album sells more U.S. copies in its first week than any album since 2002. There's just one quirk: It's not available on Spotify, as Rebecca Black keenly notices.
October 29, 2014: Tension mounts. The media catches on. Spotify releases a vague but hopeful-seeming statement on the Swift Affair, confirming that 1989's absence is due to "a decision by the artist" and that the company is "working to bring this album to fans on Spotify as soon as possible."
November 3, 2014: Settlement? Nah. Swift fires back with an unprecedented blow (for a pop star of her stature, anyway): She removes her entire back catalog from Spotify, which includes four popular albums released prior to 1989. Spotify makes no secret of its heartbreak, awkwardly quoting Swift lyrics in a cloying statement urging the singer to "just say yes" and "join us in building a new music economy that works for everyone." (The singer's music remains available on other platforms, like Rhapsody and Tidal.)
November 6, 2014: In an interview with Yahoo!, Swift opens up about the controversy, confirming that her beef with the "grand experiment" of music streaming stems from its compensation model (or lack thereof). "I'm not willing to contribute my life's work to an experiment that I don't feel fairly compensates the writers, producers, artists and creators of this music," Swift says. "And I just don't agree with perpetuating the perception that music has no value and should be free.... It didn't feel right to me."
November 11, 2014: Spotify founder Daniel Ek, on the defensive, issues a statement denying that the company exploits artists: "Spotify has paid more than $2 billion to labels, publishers and collecting societies for distribution to songwriters and recording artists." As for artists like Swift, Ek claims payouts "are on track to exceed $6 million a year, and that's only growing."
November 12, 2014: Backing up Swift's position with hard figures, the artist's record label disputes Ek's claims and reveals that Swift was paid less than $500,000 for a year's worth of domestic Spotify streams. That's far less than Spotify's figures. (Globally, Swift was paid $2 million, a Spotify representative says.)
November 13, 2014: In an interview with Time, Swift elaborates on the feud: "With Beats Music and Rhapsody you have to pay for a premium package in order to access my albums. And that places a perception of value on what I've created. On Spotify, they don't have any settings, or any kind of qualifications for who gets what music. I think that people should feel that there is a value to what musicians have created."
December 15, 2014: Ek tries really hard to look on the bright side. "What it has highlighted for us," he says in a Billboard interview, "is we need to do a better job explaining to artists how streaming benefits them." Also, the feud has told more people that "there's something called Spotify." OK, sure.
June 5, 2015: Fast-forward six months: Swift is immersed in her 1989 world tour. Still no tunes on Spotify. In another interview, Ek suggests that her revolt was pointless because fans listened to her music on YouTube instead, saying, "Then you may ask, 'Well, what was the benefit of it?'"
June 8, 2015: Apple reveals a new streaming service, Apple Music, to much anticipation. Somewhere, in a private jet soaring through the skies, Swift narrows her blue eyes.
June 21, 2015 (early morning): Taylor strikes. In an open letter addressed to Apple posted on her Tumblr, Swift says that she intends to withhold 1989 from Apple Music because the platform won't be paying writers, producers or artists during its free three-month trial. The artist makes clear that she's not the one in need of a paycheck (Swift is worth hundreds of millions); the stance is for the "new artist" or "young songwriter."
"Three months is a long time to go unpaid, and it is unfair to ask anyone to work for nothing," Swift writes. The kicker is particularly sharp: "We don't ask you for free iPhones. Please don't ask us to provide you with our music for no compensation." A string of other artists, from Swift collaborator Jack Antonoff to Elvis Costello, applaud her stance.
June 21, 2015 (night): Another drawn-out PR war? Nah. Apple, apparently learning from Spotify's blunders, caves swiftly (ugh, sorry) and gracefully. VP Eddy Cue shares the news on Twitter.
Swift rejoices.
According to reports, Cue personally called Swift to share the news. More proof that her social media presence is more powerful than entire armies.