Bringing Home the Constitutional Bacon | Opinion
While much attention this Supreme Court term is on affirmative action, a significant political-economy case—National Pork Producers Council v. Ross—will be argued tomorrow. It involves the increasing tendency of state regulations to affect national markets.
In 2018, California voters approved Proposition 12, a far‐​reaching law designed "to prevent animal cruelty by phasing out extreme methods of farm animal confinement." The law requires that all pork, veal, and eggs sold in the state comply with new restrictions on how the animals can be confined. That means pork producers in other states will have to satisfy California law if they want to sell there.
In the wake of the law, various agricultural entities filed lawsuits arguing that Prop 12 unconstitutionally crossed state borders and regulated the entire country. And indeed, the California Department of Food and Agriculture intends to ensure compliance by sending inspectors to out-of-state farms and imposing recordkeeping rules more onerous than those of the U.S. Department of Agriculture.
The problem is particularly acute for the pork industry, which has very little presence in the state—less than 0.2 percent of the country's breeding sows are in California. The pork industry is a highly integrated interstate market. A pig farmer in North Carolina might sell his stock to a meatpacker in Illinois, who then distributes nationwide. It's near-impossible to trace a given cut of meat back to its source and verify that the farmer complied with a particular state's law.
The Ninth Circuit Court of Appeals agreed with pork-producing plaintiffs that the law would "require pervasive changes to the pork production industry nationwide," but ruled that the producers had failed to make out a legally cognizable claim under what's known as the "dormant" Commerce Clause.
In other words, because the Constitution gives Congress the power to regulate interstate commerce, state laws that regulate extraterritorially can unconstitutionally encroach on federal power if Congress chooses not to regulate a given national market. Claims of such encroachments invoke the dormant or "negative" Commerce Clause. They have long been conceptually difficult for judges to evaluate.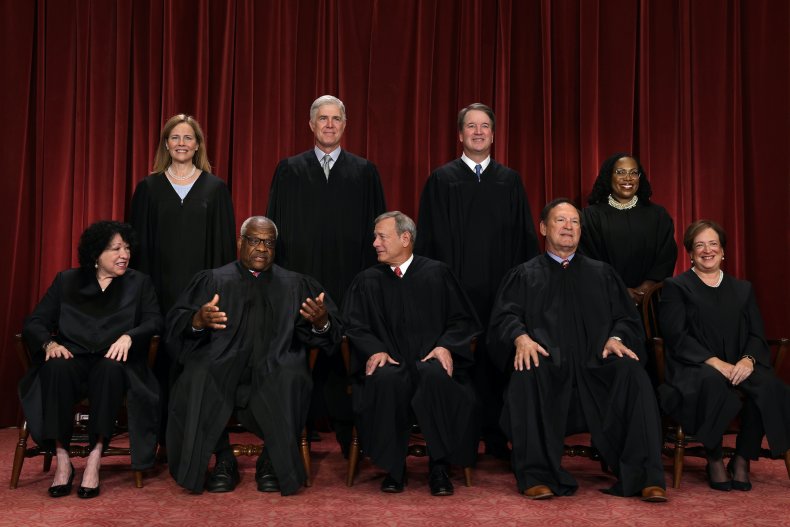 The absence of explicit constitutional language establishing that Congress' decision not to legislate trumps state law attempting to fill the void thus leads this area of jurisprudence to cut across conventional ideological lines. Justices Clarence Thomas and Neil Gorsuch, for example, tend to be skeptical of dormant Commerce Clause challenges, because they fear that reading the doctrine more expansively will increase federal power through the "positive" Commerce Clause.
But California's attempt to become the nation's agricultural commissioner is surely a bridge too far. Invalidating Prop 12 wouldn't implicate an expansion of the Commerce Clause because the American pork market is truly "interstate commerce" under any definition, so it's properly within Congress' regulatory purvey.
Moreover, the Supreme Court took the case to give guidance to state legislatures that increasingly pass laws affecting their neighbors, sometimes intentionally so. Specifically, the Justices will consider whether a state law that has dramatic economic effects largely outside of the state and requires pervasive changes to an integrated nationwide industry violates our constitutional structure; and, more narrowly, whether such a law, based solely on policy preferences regarding out-of-state housing of farm animals, intrudes on state-power limits the Court established in Pike v. Bruce Church, Inc. (1970).
Pike held that the power of states to pass laws interfering with interstate commerce is limited when those laws pose an "excessive burden" on businesses. What's an excessive burden? Pike's half-century-old balancing test says that "the extent of the burden that will be tolerated will, of course, depend on the nature of the local interest involved, and on whether it could be promoted as well with a lesser impact on interstate activities."
That gobbledygook has allowed plenty of lawyers to bring home the bacon without giving lower courts, let alone regulated industries, clear direction. But even under Pike's messy standard—which the Supreme Court should take this opportunity to clarify—Prop 12 violates the dormant Commerce Clause by imposing a significant burden on interstate commerce that's hugely disproportionate to the claimed local benefits. After all, California is claiming the authority to regulate an industry that's almost entirely out-of-state.
Not every state law that affects interstate commerce is necessarily unconstitutional; for example, Congress gave California a waiver to create its own auto emissions standards that set the regulatory floor for most manufacturers nationwide. But under Prop 12, the Golden State will have agents traveling around the country to ensure that farmers everywhere comply with California law—while, of course, raising the national price of pork. That situation would be anathema to the Framers, who sought to end state incursion on the national economy, a key motivation for replacing the Articles of Confederation.
Under our system of government, it's Congress, not the states, that hogs the power to regulate interstate commerce—which includes the choice not to regulate it in a particular way.
Ilya Shapiro is the director of constitutional studies at the Manhattan Institute and author of Supreme Disorder: Judicial Nominations and the Politics of America's Highest Court, and writes the Shapiro's Gavel Substack newsletter.
The views expressed in this article are the writer's own.