Bristol Palin Posts Graphic Photo After Ninth Breast Reconstruction Surgery
Bristol Palin has shared a graphic photo of herself on Instagram after undergoing her ninth breast reconstruction surgery related to what she described as a "botched" reduction operation several years ago.
The Dancing With the Stars alum, 32, took to her account on the social media platform Wednesday to share a photo of herself wearing a compression bra with filled surgical drains following her operation.
The eldest daughter of former Alaska Governor Sarah Palin revealed that she had gone under the knife for a ninth time on Tuesday, saying that multiple attempts have been made to correct damaged muscle tissue and scarring.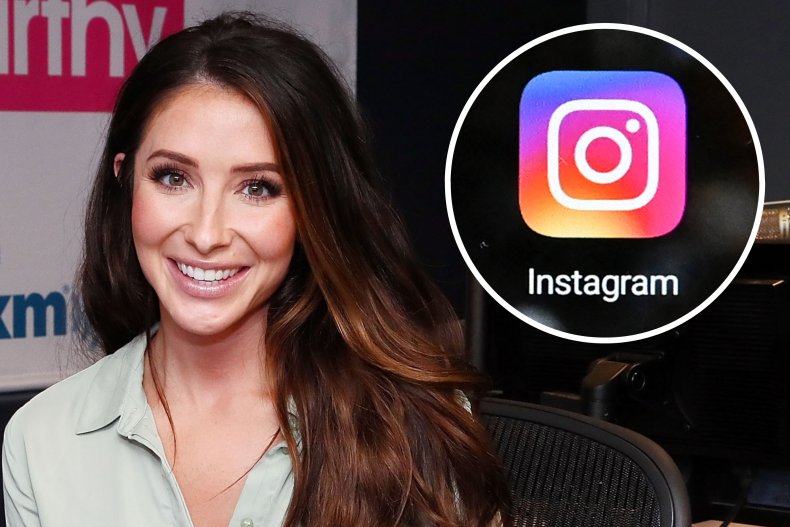 "Sharing wayyyyy [too much information] right now, but had my 9th breast reconstruction surgery last night—yes, NINTH," she wrote in a caption on her Instagram Story. "All stemming from a botched breast reduction I had when I was 19 [years old]."
She continued, "I've had previous surgeries trying to correct that initial damage of muscle tissue and terrible [scarring]. The whole situation has honestly made me feel very self-conscious my entire adult life.
"Praying this is the last surgery needed—I hate being a whiner but it kinda does put a setback/pause on life and that's why I've been fairly MIA," she said as she explained to her more than 570,000 followers why she was recently absent on social media.
"Trying my hardest to stay positive, hype myself up, and remind myself that I have so much to be thankful for," she went on. "I'm healthy, fully capable, and this is just an inconvenience cause things could always be way worse."
Palin, a real estate agent in Texas, concluded the post by asking her followers to "send show recommendations, or funny memes cause I'm already going stir crazzzzy."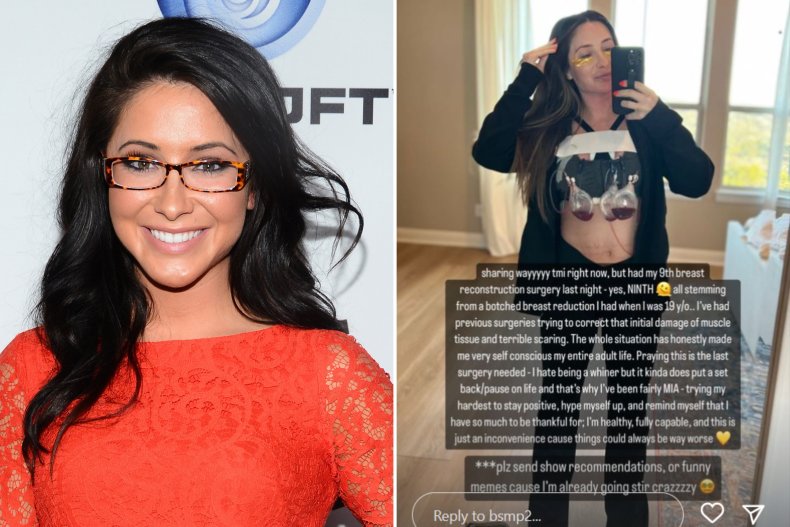 This is not the first time the former Teen Mom OG star has spoken candidly about her surgical procedures. In March 2021, she posted a video in which she displayed scars that she said she has from a tummy tuck years ago.
"Let's get reeeel for a sec," Palin wrote over the video footage at the time. "I post what I want y'all to see. From decent angles...and not from insecurities/scars.
"Here's something I don't share," she continued, before zooming in on the lower part of her stomach to show the scars. "Don't let this place have you comparing your own worth and stealing your joy."
She captioned the post: "Way 222 easy to compare ourselves on here, just a reminder not to."
After displaying an angular jawline in 2011, Palin sparked speculation that she had undergone cosmetic surgery to achieve her new look.
"It's not plastic surgery," she told Us Weekly at the time, explaining that she "had corrective jaw surgery" in December 2010, shortly after she competed on the 11th season of Dancing With the Stars, where she finished in third place.
"Yes, it improved the way I look, but this surgery was necessary for medical reasons," she told the magazine, "so my jaw and teeth could properly realign.... I don't obsess over my face."
She added, "I am absolutely thrilled with the results. I look older, more mature and don't have as much of a chubby little baby face."
Palin revealed in October 2018 that she had porcelain veneers added to her teeth as part of a smile makeover.
In 2008, she was thrust into the spotlight when her mother ran as a vice presidential candidate alongside John McCain. It was announced at the start of the 2008 Republican National Convention that the then-17-year-old was pregnant.
In December that year, Palin welcomed her son, Tripp Johnston, with her then-fiancé, Levi Johnston. She went on to have two other children with her now ex-husband Dakota Meyer, whom she divorced in 2018.