Great Britain's defense secretary is investigating a call he had with someone claiming to be the Ukrainian prime minister, but who the U.K. says was actually a Russian imposter.
U.K. government officials have become a common target of Russian scammers since the Ukrainian invasion began in February, with the defense secretary becoming just the latest. Other British politicians have also been targeted by these scammers as part of an ongoing Russian effort to sow division, with one of these calls even occurring four years ago.
The disinformation campaign continued Thursday when Defense Secretary Ben Wallace said that he engaged in a video call with someone calling themselves the prime minister of Ukraine. A source within the Defense Ministry told Reuters that the call had been set up following an email request from someone claiming to work for the Ukrainian Embassy.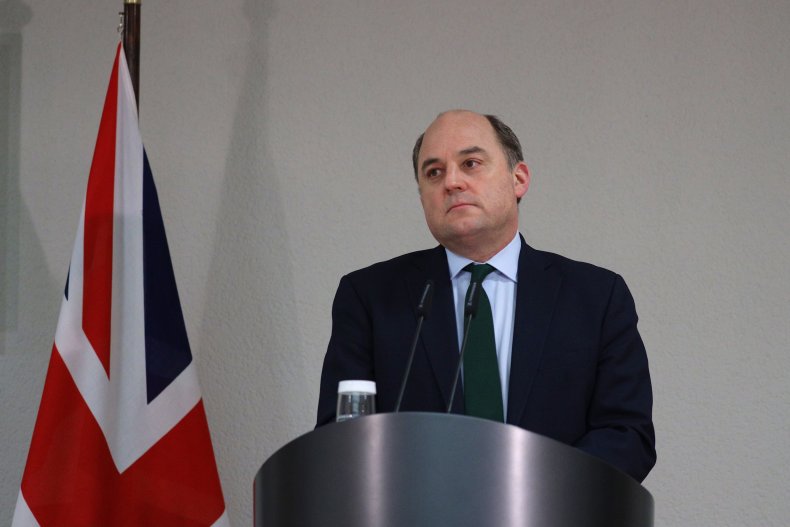 The call with Wallace lasted approximately 10 minutes, according to the source. The defense secretary reportedly ended the call early after becoming suspicious of the caller.
Wallace blamed the hoax call on a Russian imposter, condemning the country's efforts to spread incorrect information. He added that an internal inquiry into the call was underway.
"Today an attempt was made by an imposter claiming to be Ukrainian PM to speak with me," Wallace tweeted. "He posed several misleading questions and after becoming suspicious I terminated the call."
"No amount of Russian disinformation, distortion and dirty tricks can distract from Russia's human rights abuses and illegal invasion of Ukraine," Wallace continued, adding that the call was "a desperate attempt."
It appears that Russia's efforts to infiltrate U.K. officials was not limited to just Wallace.
Following Wallace's tweet, Home Secretary Priti Patel responded, tweeting that she had fallen victim to a similar hoax. "This also happened to me earlier this week," Patel said. "Pathetic attempt at such difficult times to divide us. We stand with Ukraine."
These are not the first instances of British officials being plagued by fake callers, including some at the top levels of government.
In 2018, Prime Minister Boris Johnson—then serving as the country's foreign secretary—spoke on the phone to someone purporting to be the prime minister of Armenia. It was later revealed that this had also been a Russian prankster.
At the time, the Foreign Office said that Johnson "realized it was a hoax, and ended the call. We checked it out and knew immediately it was a prank call."
Beyond disinformation abroad, Russia is also reportedly cracking down on press freedoms within their own borders. Last week, the country passed a law making it a crime to publish "fake news" about the Ukrainian invasion.
This includes stopping any reports of Russian activities using the words "war" or "invasion." Instead, the law requires that Russian reporters use the term "special military operation."
The Kremlin has used "fake news" as a defense against a variety of military operations in recent years, according to The Washington Post. This includes reports of Russian airstrikes on civilian buildings, among other descriptions of attacks.
Newsweek has reached out to the Russian Embassy in London and the U.K. Prime Minister's Office for comment.