British Prime Minister Boris Johnson Says Pfizer Vaccine Is 'Not a Slam Dunk'
Britain's prime minister says the world cannot rely on the vaccine breakthrough by American pharmaceutical company Pfizer Inc. as a solution to the COVID pandemic just yet.
Pfizer, which is partnering with German biotechnology company BioNTech SE in the development of the vaccine, said its vaccine is "more than 90 percent effective" at preventing COVID-19 after an initial analysis of data from a large trial.
Boris Johnson said the U.K. has ordered enough of the Pfizer vaccine for a third of the population but warned the public that it is not ready yet. At a press conference held at 10 Downing Street, the PM said: "Of course it's good news, but there's a long way to go before we've got this thing beaten."
"I'm very hopeful that we will get the [vaccine] samples that we have ordered and I thank the vaccine task force, they've been out securing supplies for the U.K. for a long time now and it's right that they've been doing that," the PM said.
"But just on a speculative basis, yes, of course, I remain buoyantly optimistic about the prospects of this country next year, I just don't want to let people run away with the idea that this development today is necessarily a home run, a slam dunk, a shot to the back of the net yet."
Britain's deputy chief medical officer, Professor Jonathan Van-Tam, said it is too early to say what the vaccine means for "getting life back to normal" and added that he does not think the vaccine will make any difference to the second wave currently engulfing the U.K. and much of Europe.
Both Johnson and Van-Tam urged Britons not to relax and warned people that they must continue to follow the rules. England is currently under a month-long national lockdown, Wales emerged from a two-week shutdown today while Scotland and Northern Ireland have imposed their own tough restrictions.
"I must stress, these are very, very early days," Johnson said. "We have talked for a long time, or I have, about the distant bugle of the scientific cavalry coming over the brow of the hill.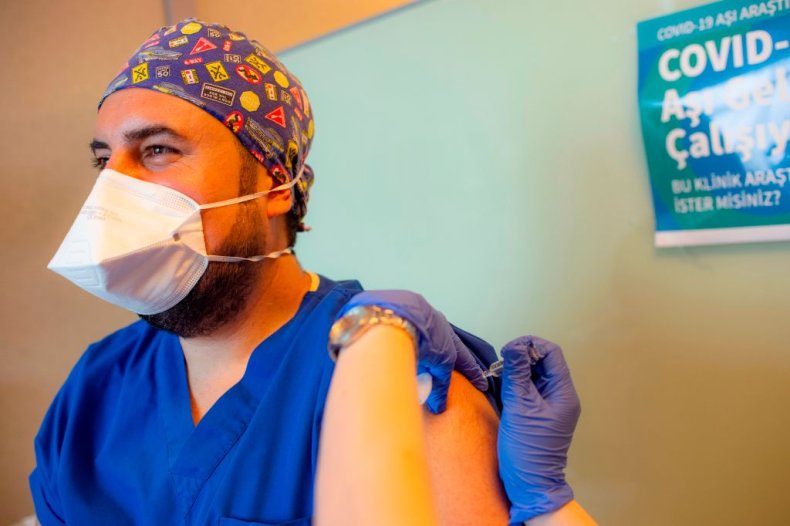 "And tonight that toot of the bugle is louder. But it is still some way off. And we absolutely cannot rely on this as a solution. The biggest mistake we could make now would be to slacken our resolve at such a critical moment."
Pfizer said that no serious safety concerns have been observed so far in its trial of the vaccine. It expects to apply to the U.S. Food and Drug Administration for an Emergency Use Authorization (EUA) for the vaccine later in November once they have collected more safety data.
The company expects to produce up to 50 million vaccine doses globally in 2020 and up to 1.3 billion doses in 2021. "Today is a great day for science and humanity," Pfizer chairman Albert Bourla said in a statement on Monday.
"We are reaching this critical milestone in our vaccine development program at a time when the world needs it most with infection rates setting new records, hospitals nearing over-capacity, and economies struggling to reopen."
The data is yet to be published in a peer-reviewed scientific journal, although Pfizer said it would do so once the Phase III trial had been completed.
It comes as the worldwide total of coronavirus cases has surged past 50 million, with 1.25 million deaths recorded across the globe, according to Johns Hopkins University.