Watch: British Prime Minister Locked In Car As She Arrives for Visit With Germany's Merkel
British Prime Minister Theresa May had some difficulties leaving her car when she arrived in Berlin to meet German Chancellor Angela Merkel on Tuesday.
In a video of the incident, Merkel can be seen waiting on a red carpet as the British leader's black vehicle pulled up. A female aide attempted to open the prime minister's passenger door, but the handle wouldn't budge as it appeared to be locked.
An agent sitting in the front seat then stepped partially out of the car, attempting to unlock the door from buttons on the panel below his window. The woman standing outside again attempted to open the door but to no avail. Finally, after more button pushing, the door was opened and May stepped out of the vehicle. Merkel and May then exchanged pleasantries, smiling together as they shook hands for the camera.
The British prime minister has traveled to mainland Europe in a bid to rescue her failing Brexit agreement, the BBC reported. In addition to Merkel, May plans to meet with Mark Rutte, prime minister of the Netherlands. Jean-Claude Juncker, president of the European Commission, has already said that the EU would not "renegotiate" the deal, but allowed that there may be room "further clarifications."
May has faced significant backlash over her Brexit deal, which will see the United Kingdom become the first nation to depart from the EU. A summer 2016 referendum was narrowly passed by British voters to approve the move. However, negotiations over the kingdom's exit have often faltered, with the political opposition calling for a new referendum altogether.
Jeremy Corbyn, who leads the left-wing Labor party, slammed May's return to Europe as a "waste of time and public money," dubbing her the "runaway prime minister," according to the BBC.
The U.K. plans to officially leave the EU on March 29, but May and her government are attempting to hammer out a deal that will ensure the nation's continued economic success outside of the block. Ominous predictions have suggested that a "no deal Brexit" could lead to food shortages and economic crisis for the U.K.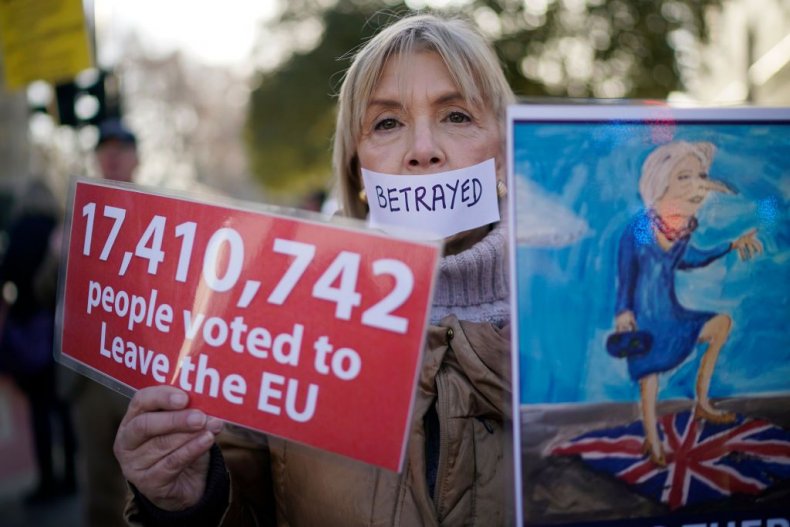 British parliamentarians must vote on any agreement before it can take effect. May's office has said such a vote will happen before January 21, but political in-fighting has made the process difficult.
The European Court of Justice, the continent's top court, has said that it would be legal for the U.K. to cancel Brexit altogether without the permission of the rest of the EU. An August poll revealed that 53 percent of British voters said they would now vote to remain in the EU, compared to 47 percent who still wish to leave. Nonetheless, analysts believed it's unlikely that May's government will reverse course on Brexit.