Pop star Britney Spears has lashed out at those who did not help her while she was "drowning" but are now showing support publicly to "save face."
Spears shared an image reading "Never forget who ignored you when you needed them and who helped you before you even needed to ask," alongside a lengthy accompanying comment in an Instagram post on Friday. The post came days after a judge allowed Spears to choose her own lawyer as she continues a quest to cancel the controversial conservatorship she has been under for 13 years.
"There's nothing worse than when the people closest to you who never showed up for you post things in regard to your situation whatever it may be and speak righteously for support," Spears wrote. "There's nothing worse than that !!!! How dare the people you love the most say anything at all ... did they even put a hand out to even lift me up at the TIME !!!???
"How dare you make it public that NOW you CARE," she added. "Did you put your hand out when I was drowning ???? Again ... NO ... so if you're reading this and you know who you are ... and you actually have the nerve to say anything about my situation just to save face for yourself publicly !!! ... Please stop with the righteous approach when you're so far from righteous it's not even funny."
While it is not clear who Spears was referring to in the post, her bid to end the conservatorship has attracted a large and growing number of supporters, with a "Free Britney" movement having coalesced around the issue.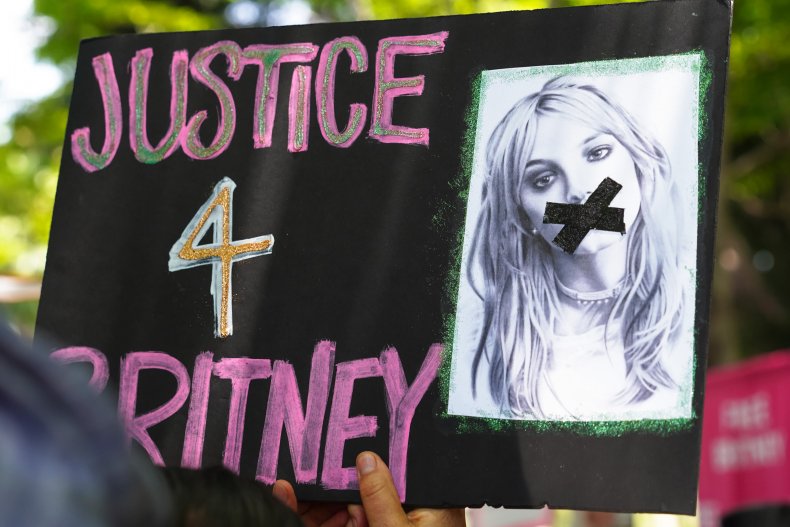 Some of Spears' most publicly vocal supporters come from the world of entertainment. Fellow pop stars who have expressed support include Miley Cyrus, Ariana Grande, Madonna, Christina Aguilera, Iggy Azalea and Justin Timberlake.
Under the conservatorship, Spears' father Jamie Spears has maintained control over the singer's finances and business decisions, as well as many of her personal decisions. Britney Spears has accused her father of attempting to "ruin" her life and is pushing to press charges against him for "conservatorship abuse."
Wednesday's hearing in Los Angeles, where Judge Brenda Penny gave the singer and her fans a glimmer of hope by granting her request for new counsel, drew a large crowd comprised of a wide range of Spears supporters.
Staunchly conservative Republican U.S. Rep. Matt Gaetz of Florida, the subject of a federal investigation into underage sex trafficking allegations, appeared outside the hearing and addressed the colorful crowd by offering "one thing we can agree on is that Jamie Spears is a dick."
Newsweek reached out to Spears' representative for comment.