Rep. Matt Gaetz Speaks at #FreeBritney Rally, Says Spears 'Abused By Grifter Father'
Florida Rep. Matt Gaetz spoke at a #FreeBritney rally outside the Los Angeles courthouse where the latest hearing surrounding Britney Spears' controversial conservatorship case is scheduled for Wednesday, telling the gathered media and fans Spears has "been abused" by her "grifter father."
Gaetz also claimed Spears, who has been under a conservatorship for 13 years that she has said "traumatized" her, "has been abused by the American justice system."
Gaetz is working on legislation that would change the way conservatorships like the one Spears is currently under, work in the United States. The Florida Republican recently invited Spears to testify before Congress about conservatorship.
"We need to come together, create a federal cause of action, a federal change in the law that will free Britney," the congressman said to cheers from the crowd, "and the millions of Americans who are impacted by a corrupt guardianship system that empowers people to take advantage of the weak."
Gaetz has been the subject of a Justice Department investigation into underage sex trafficking allegations and is a controversial figure in Congress.
"One thing we can all agree on is the Jamie Spears is a dick," he told the #FreeBritney demonstrators Wednesday.
"This case should open our eyes to the broader abuse that occurs in this system to the millions of Americans impacted," Gaetz said, speaking of the conservatorship system. More than a fifth of Florida residents are over 65, and many have accumulated wealth, making them vulnerable to abuse via conservatorship and guardianship, Gaetz has said.
"The momentum that Britney Spears' case has generated...should be seized for broader reform," Gaetz previously told Politico.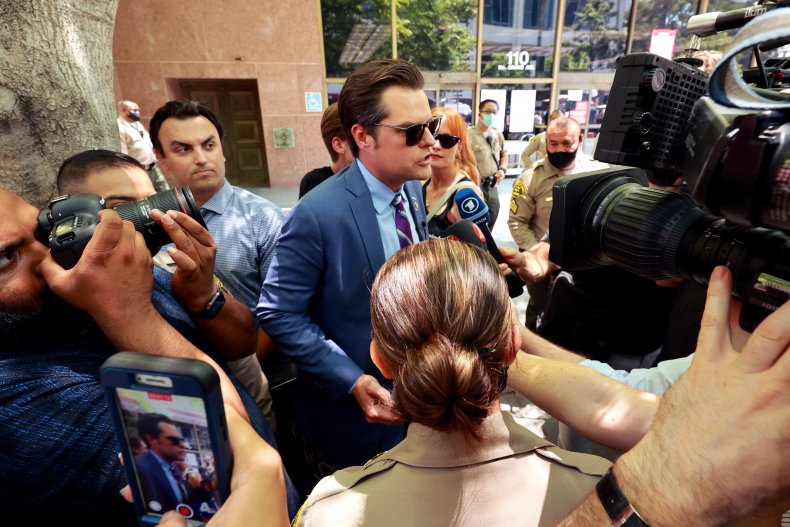 The main focus of Wednesday's hearing is for Judge Brenda Penny, who last month denied Spears' request to remove her father as co-conservator, to consider Spears' request to be allowed to appoint an attorney of her own choosing, rather than receive another court-appointed lawyer. Her previous court-appointed counsel, Samuel D. Ingham III, asked to resign last week. Probate conservatorships do not generally allow conservatees to appoint their own lawyers.
Spears is scheduled to attend the Wednesday hearing virtually.
Britney Spears' mother, Lynn Spears, petitioned the court on July 1 to allow her daughter to choose her own attorney, saying, "Now, and for the past many years, Conservatee is able to care for her person and in fact has, within the parameters of this conservatorship, earned literally hundreds of millions of dollars as an international celebrity."
Newsweek reached out to Rep. Matt Gaetz's office for comment.