Britney Spears Concerns Fans With 10 Nude Instagram Posts in a Row
Britney Spears has posted a string of nude selfies to Instagram, sparking concerns for her well-being from fans.
The 40-year-old pop star posted at least 10 new photos to Instagram and in them she is mostly topless, wearing just a thong, covering her breasts with her hands.
She appears to be in a hotel room, and she captioned one of the posts: "Waking up in London 🇬🇧 with my Cabo thong !!!"
In another caption she wrote: "Not sure ... tea or coffee [hot beverage, thinking face emojis] ???? I held my phone up with a book and a remote control to shoot this ...."
While some fans are hyping the star up, many are expressing their concern.
"I am so sorry for you. Guys stop encouraging her please! She clearly needs help!" reads one Instagram comment.
While another added: "What is going on!? No wedding ring? Shabby hotel? Series of naked pics!?"
Another comment reads: "Are you ok?? I feel something is still wrong!"
"These photos feel weird," said another.
One photo in particular featured the star fully nude, showing her behind, with emojis covering her modesty.
While this photo appears to have been deleted, it also sparked a conversation on Twitter.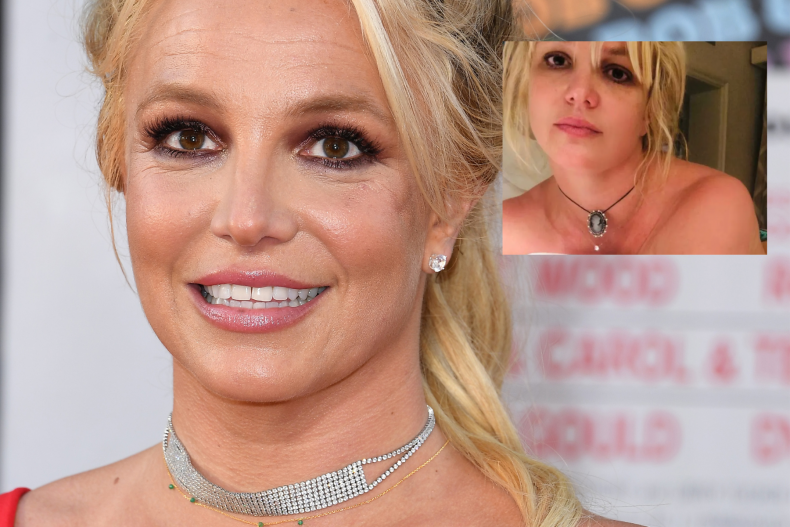 "Opening instagram in public while following Britney Spears is a dangerous game," reads one tweet.
Another Twitter user pointed out that Spears previously posted photos of that hotel room and that it is seemingly not in London.
"Britney Spears is NOT in London! These photos were taken at @FSWestlake The same wall art in another room is displayed. Why lie? Who is controlling her Instagram account?" the tweet reads.
Newsweek has contacted Spears' representatives for comment.
Until recently, Spears lived under a strict conservatorship, with all of her personal and financial decisions controlled by her father.
After a tumultuous year of court drama, the "Toxic" hitmaker's assets are now back under her control—and her Instagram has been reflecting how she is now living her life on her own terms.
Of course, the pop star's dedicated fans are also rushing to her defense, with many insisting that she is just having fun. One user wrote: "You're amazinggggg! I love uuuu Britneyyyyy!!!!"
The star is an active Instagram user and has posted several topless photos over the last several months, which always prompt a discussion among fans.
Back in January, she posted a fully nude photo to Instagram, with her modesty just about protected by emoji flowers.
"Free woman energy has never felt better," she captioned the photo and disabled comments.
Despite some fans sharing concern for the star's well-being, most celebrated Spears' newfound freedom.
The singer expressed her reasons for sharing such intimate photos on social media last August, when she told fans: "I bet you're wondering why I'd expose my body NOW ... well it's because I was born into this world naked and I honestly feel like the weight of the would has been on my shoulders and it's made me view myself that way !!!!
"I wanted to see myself in a lighter way ... naked ... like the way I was born and to me looking back at my pictures when I shoot it's insane the psychology in seeing myself in my purest form gives evidence that pain ... hurt ... tears ... and heavy burdens aren't who I am.
"I am a woman .... a beautiful ... sensitive woman who needs to look at myself in my purest form !!! No ... I'm not going to do topless pics for the rest of my life cause that would get boring but it sure as hell helps when you need to be enlightened [woman shrugging emoji] !!!!"