On June 23, the world listened in as Britney Spears delivered testimony about how "unhappy" and "traumatized" she has been for 13 years under the court-appointed conservatorship and control of her father, Jamie Spears.
Britney Spears spoke negatively of the nature of her conservatorship and pleaded her case to have it removed.
Jamie Spears has had control over her life, finances and health decision since her public breakdown in 2007.
Leaked court documents seen by The New York Times this week showed the singer has been trying to end her father's control over her life and finances for more than a decade.
The 39-year-old has now explained it all to a judge in her own words, in 24 minutes, in her most public statement on her situation to date.
Here are the most shocking revelations from Britney Spears' testimony.
Family Involvement
"The people who did that to me should not be able to walk away so easily," Spears said of her conservatorship.
She later said of her father: "The control he had over someone as powerful as me—he loved the control to hurt his own daughter 100,000%. He loved it."
She also said: "Ma'am, my dad and anyone involved in this conservatorship and my management who played a huge role in punishing me when I said no—ma'am, they should be in jail."
Spears later said that she wants to sue her family.
"I would honestly like to sue my family, to be totally honest with you. I also would like to be able to share my story with the world, and what they did to me, instead of it being a hush-hush secret to benefit all of them."
She said that she expects that her family will want the conservatorship to continue.
"And considering my family has lived off my conservatorship for 13 years, I won't be surprised if one of them has something to say going forward, and say, 'We don't think this should end, we have to help her.' Especially if I get my fair turn exposing what they did to me."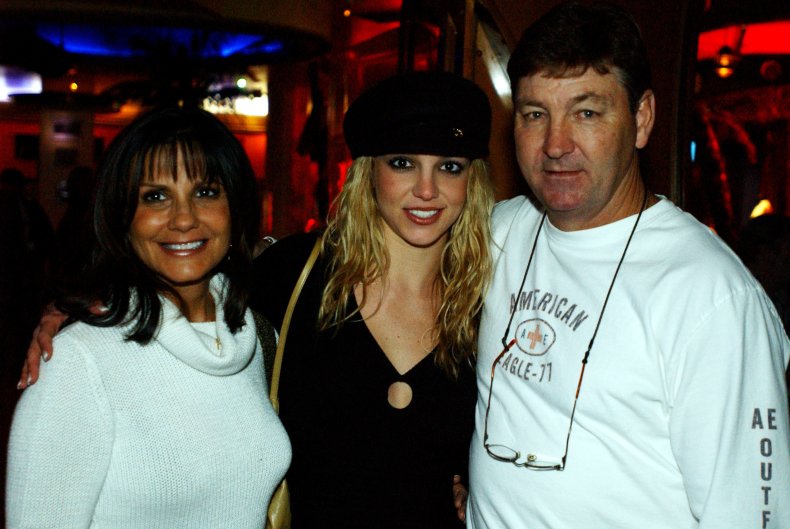 Reproductive Control
Spears confirmed that she wanted to have another baby but said her team won't let her take out her IUD.
"I would like to progressively move forward and I want to have the real deal, I want to be able to get married and have a baby. I was told right now in the conservatorship, I'm not able to get married or have a baby, I have an [IUD] inside of myself right now so I don't get pregnant," she said.
"I wanted to take the [IUD] out so I could start trying to have another baby. But this so-called team won't let me go to the doctor to take it out because they don't want me to have children— any more children. So basically, this conservatorship is doing me way more harm than good."
Forced to Work
"I was on tour in 2018. I was forced to do... My management said if I don't do this tour, I will have to find an attorney, and by contract my own management could sue me if I didn't follow through with the tour. He handed me a sheet of paper as I got off the stage in Vegas and said I had to sign it. It was very threatening and scary. And with the conservatorship, I couldn't even get my own attorney. So out of fear, I went ahead and I did the tour."
Spears' conservatorship has always raised questions from fans as such an arrangement is usually reserved for older people who can no longer make decisions for themselves.
But the pop star still worked steadily for a number of years while under the conservatorship, releasing four albums, holding a Las Vegas residency and appearing as a judge on The X Factor.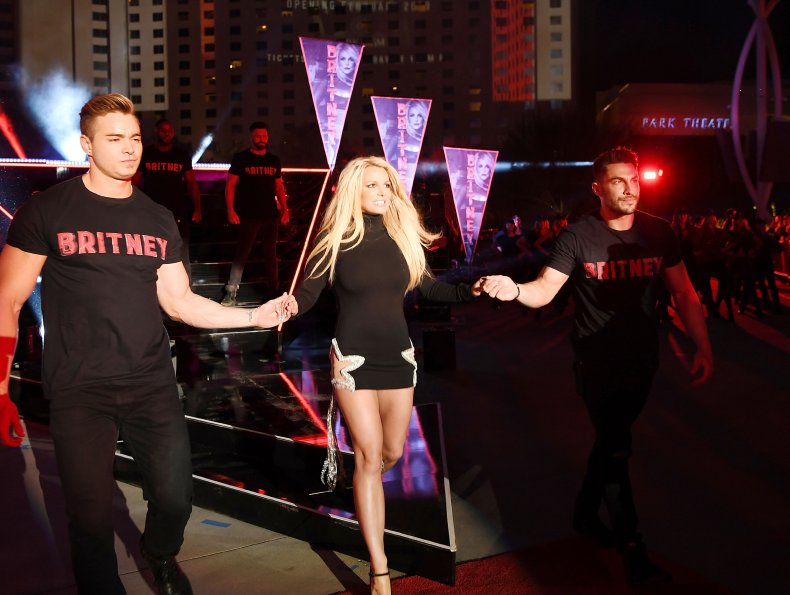 Forced Medication
Following her refusal to do a second Las Vegas residency, Spears claims she was immediately forced to take lithium— a mood stabilizer drug used to treat mood disorders such as bipolar disorder.
"He immediately, the next day, put me on lithium out of nowhere. He took me off my normal meds I've been on for five years," she said.
"And lithium is a very, very strong and completely different medication compared to what I was used to. You can go mentally impaired if you take too much, if you stay on it longer than five months.
"But he put me on that and I felt drunk. I really couldn't even take up for myself. I couldn't even have a conversation with my mom or dad really about anything. I told him I was scared, and my doctor had me on six different nurses with this new medication, come to my home, stay with me to monitor me on this new medication, which I never wanted to be on to begin with. There were six different nurses in my home and they wouldn't let me get in my car to go anywhere for a month."
Spears added that her father was "all for it."
Pleading to Be Heard
Spears pleaded with the judge to take her concerns seriously.
"The last time I spoke to you, it made me feel like I was dead, like I didn't matter, like you thought I was lying," she said. "I'm not lying, so that maybe you understand the depth and degree, I deserve changes."
Instagram
Spears' Instagram posts have long confused fans, who have wondered if she was the one posting.
In her testimony she revealed that her happy content is all a lie.
"And that's why I'm telling you this again two years later, after I've lied and told the whole world "I'm OK and I'm happy." It's a lie. I thought I just maybe if I said that enough maybe I might become happy, because I've been in denial.
"I've been in shock. I am traumatized. You know, fake it till you make it. But now I'm telling you the truth, OK? I'm not happy. I can't sleep. I'm so angry it's insane. And I'm depressed. I cry every day."
She later added: "And maybe I'm wrong, and that's why I didn't want to say any of this to anybody, to the public, because I thought people would make fun of me or laugh at me and say, "She's lying, she's got everything, she's Britney Spears."
Forced Rehab as Punishment
Spears spoke about being sent to a mental health facility as a punishment for refusing to continue her Las Vegas residency.
She explained: "Then after, I got a phone call from my dad, basically saying I'd failed the test or whatever, whatever. 'I'm sorry, Britney, you have to listen to your doctors. They're planning to send you to a small home in Beverly Hills to do a small rehab program that we're going to make up for you. You're going to pay $60,000 a month for this.' I cried on the phone for an hour and he loved every minute of it."
Spears likened her experience at this facility to being sex trafficked.
"I packed my bags and went to that place. I worked seven days a week, no days off, which in California, the only similar thing to this is called sex trafficking. Making anyone work against their will, taking all their possessions away—credit card, cash, phone, passport—and placing them in a home where they work with the people who live with them.
"They all lived in the house with me, the nurses, the 24-7 security. There was one chef that came there and cooked for me daily during the weekdays. They watched me change every day—naked—morning, noon and night. My body—I had no privacy door for my room. I gave eight vials of blood a week."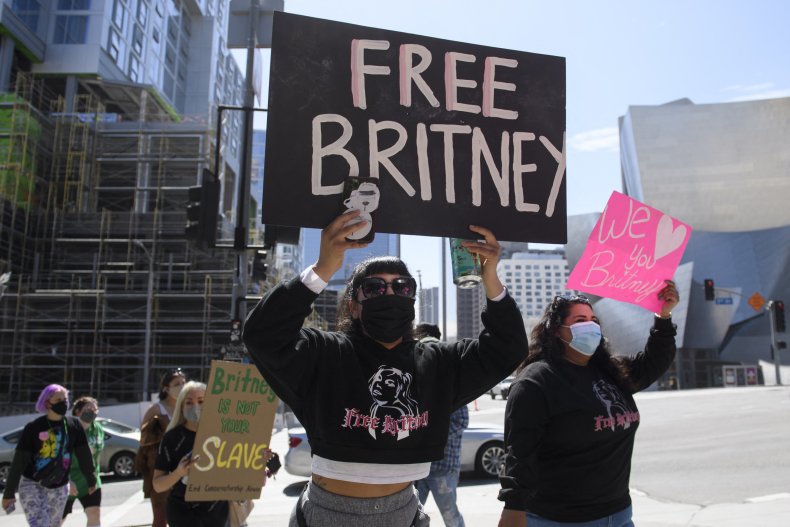 Paparazzi Set Up
Spears spoke about how her team requires her to attend a number of therapy sessions each week and that she now has to travel to a new exposed location where paparazzi are always waiting.
"And the clever setup of being in Westlake, one of the most exposed places in Westlake, which, yesterday, paparazzi showed me coming out of the place literally crying in therapy. It's embarrassing, and it's demoralizing. I deserve privacy when I go and have therapy, either at my home, like I've done for eight years. They've always come to my home."
Vivian Thoreen, attorney for Spears' father, gave a brief statement on his daughter's testimony, per The Associated Press.
"He is sorry to see his daughter suffering and in so much pain," Thoreen said. "Mr. Spears loves his daughter, and misses her very much."