Britney Spears has deleted an Instagram post praising Jeffree Star, after her fans reacted by sharing negative comments he had made about her in the past.
The pop superstar, 39, took to the image-sharing platform on November 17 to reveal that the controversial makeup mogul had sent her a care package.
After thanking the influencer, she wrote: "Jeffree Star's Holy Mist is BOMB and I mean it. I don't wake up or go to sleep without it... I wanna open the cute packaging and freaking drink it!!! It smells that good... not to mention the adorable bullet lipsticks..."
She added: "Sorry I had to share cause if I didn't know I would wish somebody would tell me about it!!! Jeffree Star, you're a genius!!!!"
However, the post sparked a mixed reaction among Spears' dedicated fans, with a number of them pointing to Star's controversies, including using violent and racial slurs, as they urged the singer to rethink her association with him.
The most liked comment under her post came from a fan who referred to her recently dissolved conservatorship, writing: "Ok a lot has happened since you've been locked up so we're gonna have to talk about Jeffree but we love you xoxo."
Conversation around Spears' post soon spilled onto Twitter, where disparaging comments he made made about the "Toxic" singer back in 2007 resurfaced.
In a video interview with TMZ at the time, Star was seen standing alongside Perez Hilton, who said to the camera: "Boycott Britney Spears."
"Immediately," replied Star, before blogger Hilton went on to say: "Do not enable Britney Spears. She is a drug addict."
"Don't support her habit," said Star in the video, which was recorded at a time that Spears was going through a host of personal issues that would eventually lead to her 5150 involuntary psychiatric hold and conservatorship.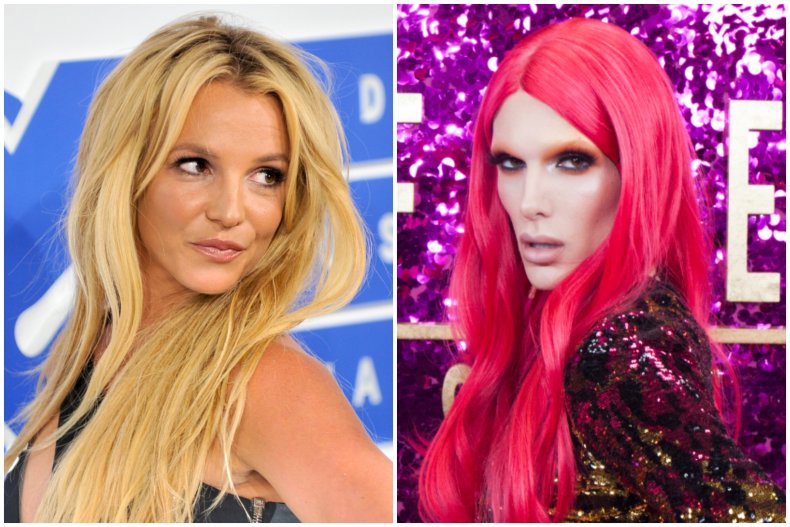 Commenting on Star's past comments about Spears, one of the singer's fans wrote: "This you @JeffreeStar? Nice of you to send her makeup. But this fan base is going to protect @britneyspears and has a history of finding receipts 😉."
As outrage spread across social media, Spears' post about Star was deleted without explanation, prompting other fans to caution against controlling the star, after campaigning for the mother of two to be freed from her conservatorship.
"Guys, I don't like him either but we didn't campaign to free Britney to then question her choices or tell her someone is taking advantage of her because she's vulnerable," wrote on. "That's what Team Con did for 13 years! All Jeffree did was send her some fucking makeup!"
Wrote another: "Y'all want to free Britney but dictate who she wants to support online... get out of here if she likes jeffree star then it is what it is. Stop trying to control her. People have bullied Britney Spears and she deleted her post about jeffree star so sad :-/."
When it was announced on November 12 that Spears' conservatorship had been dissolved after 13 years, Star wrote on Twitter: "Finally. So long overdue. Should have never happened... So glad she finally gets some peace!!! 💯"
For his part, Hilton—real name Mario Lavandeira, Jr.—also became a supporter of Spears after publicly criticizing her.
In June, it was revealed that his site continued to hosts posts from 2007, in which he scrawled "I miss rehab" and "loser" on her face.
When contacted by Newsweek in June, the blogger said that he made the decision to leave the posts online as a "reminder and a warning" to readers.
He explained: "I have removed posts before that celebrities have reached out and said, 'That article caused me pain.' Or their reps have reached out.
"But, typically, I have left my past awfulness up to speak for itself and serve as a reminder and a warning. I am ashamed of my past but I'm not trying to scrub it from the internet or pretend it never existed.
"If I keep all my old posts up, I'm criticized. If I take them down, I'm criticized. I'm genuinely sorry for my behavior over a decade ago and I think my change and growth is obvious. I know I'm a different and better person today."