The court-ordered conservatorship that has controlled pop star Britney Spears for more than 13 years is coming to an end, a judge said Friday.
Los Angeles County Superior Court Judge Brenda Penny decided to grant the singer's request to end the conservatorship during a Friday afternoon hearing. Penny's decision came five months after Spears spoke publicly about her experiences under the arrangement, which led to the suspension of her father as conservator in September.
"The conservatorship of the person and estate of Britney Jean Spears is no longer required," Penny said, according to The New York Times.
The conservatorship is to end effective immediately, though the conservator overseeing Spears' estate will continue tying up financial loose ends associated with the case, the Times reported.
The Friday decision comes as a win for Spears and the #FreeBritney movement that has been fighting for her release.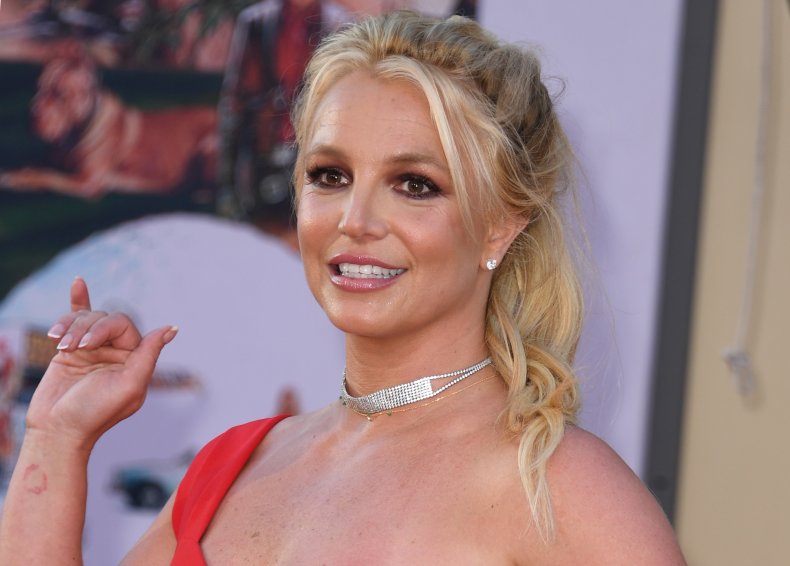 On Friday afternoon, Spears posted a video on Instagram that was taken outside the Los Angeles courtroom where her conservatorship had just been terminated. In the video, crowds of her supporters could be seen cheering as pink confetti fluttered around them.
"Good God I love my fans so much it's crazy!!! I think I'm gonna cry the rest of the day !!!! Best day ever ... praise the Lord ... can I get an Amen ???? #FreedBritney," her post read.
Addressing her fans outside the courtroom, Spears' attorney, Mathew Rosengart, attributed the singer's "courage" in speaking up earlier this year with raising awareness about conservatorships across the country.
"Not only did she shine a light on this conservatorship, but she shined a light on conservatorships from California to New York," Rosengart said. "Some of you may know that as a result of Britney—not me, but Britney; I'm just her lawyer—California has passed legislation to try to ensure that conservatorships like this, that were corrupted by her father, do not happen again."
Rosengart acknowledged Spears' conservatorship case has also received attention from federal lawmakers.
"The United States Senate and the United States House of Representatives on the far right to the left are looking at this conservatorship, and conservatorships generally, with an eye toward passing legislation to ensure that people are not abused," Rosengart said.
"If this happened to Britney, it can happen to anybody," he added.
Spears, now 39, was first placed in the conservatorship in early 2008 amid concerns about her ability to manage her own personal and professional responsibilities. In California, the state defines a "conservatorship" as a legal arrangement where "a responsible person or organization" is appointed by a judge to "to care for another adult" when it is determined that adult "cannot care for himself or herself or manage his or her own finances."
Spears' father, Jamie Spears, petitioned the court in February 2008 to put his daughter under a conservatorship after she was placed on two involuntary psychiatric holds that January. Though the conservatorship was initially approved as a temporary arrangement, it was extended a few months later to continue through the end of 2008 and later that year was extended indefinitely.
Spears' fans have been critical of the conservatorship over the years as the singer continued recording new music and performing, activities that to some seemed to conflict with the state's definition of a person in need of a conservator. The documentary Framing Britney Spears produced by The New York Times Company and Left/Right Productions brought further attention to Spears and the details surrounding the legal arrangement that was still in place at the time of the project's release in February 2021.
During a hearing earlier this year in June, Spears told Penny she wanted her conservatorship to end. She argued that she was not in control of when or how often she worked, or of which medications she was required to take by her doctors.
"I'm not happy. I can't sleep. I'm so angry. It's insane and I'm depressed. I cry every day," Spears told Penny in June. "And the reason I'm telling you this is because I don't think how the state of California can have all this written in the court documents from the time I showed up and do absolutely nothing."
Spears also said her team was not allowing her to get married or have more children, both of which she said she wants to do.
"I shouldn't be in a conservatorship if I can work and provide money and work for myself and pay other people," she told Penny. "It makes no sense."
Calls from the public for Spears' conservatorship to end surged in the wake of that June hearing. Politicians on both sides of the aisle also began calling for a reassessment of court-ordered conservatorships, with many citing Spears' case as a driving force behind their inquiries.
Three months after Spears made the case for her conservatorship to end, Penny in September suspended Spears' father from his conservator role, delivering a win to Spears and her legal team. Spears' father has also said in recent months that he believes the conservatorship should end entirely. Though he now supports ending the legal arrangement for his daughter, Spears' attorneys have raised questions about his role throughout the conservatorship and have suggested another legal battle may be ahead.
Updated 11/12/2021, 6:16 p.m. ET: This story has been updated with comments from attorney Mathew Rosengart and additional information.