Britney Spears has revealed that she hopes to one day direct a movie, after creating a series of her own videos at home.
On Wednesday, the "Gimme More" singer, 39, took to Instagram, where she shared a video of herself dancing to her 2003 track, "Brave New Girl."
And after revealing that she had worked on all elements of the clip herself, the star disclosed that she's considering directing a movie "similar" to Quentin Tarantino's classic Kill Bill films.
Captioning the clip, the star wrote: "I was researching on my computer and was checking out some of my songs that haven't been released as singles ... and holy smokes there's a lot [flushed face emoji] !!! Where the hell did it all come from anyway ???
"I came across one song and was like this is kinda cool ... even though I forgot what I'm saying at the end ... you know the cool part is that I added it last minute because I wanted a 'Ray of Light' @madonna breakdown !!! Well I could have sworn I was saying 'I just eat my honey' [honey pot emoji] but I remembered it's actually 'I just keep on running' !!!"
The pop icon went on to reveal that she made the video—which showed her writhing energetically while sporting eye-catching catsuits—in two hours, before editing it herself.
"Just a little insight ...this is definitely me experimenting with what I can do ... you know a home studio with no lights and a four year old phone [woman shrugging emoji] !!!" Spears continued. "I made this video in a two hours ... edited all of it ... I know some videos can be made in a day or two ... pulling all nighters and then some movies talk almost a year !!! Phone Booth was made in 10 days ... HOLY CRAP [flushed face emoji] do I know the challenge in waiting around during a shoot ..."
In apparent reference to her conservatorship, which has seen her personal and financial affairs taken out of her hands since 2008, Spears added: "I feel like I have been a caged animal for half of my life ...that's exactly why I choose to direct myself ... do my makeup myself ... produce myself ... dress myself ... make music myself ... feed myself ... and shoot videos and pics myself [woman shrugging emojis] !!!
"And I'm thinking about directing a movie similar to KILL BILL ... considering YELLOW has always been my favorite color [yellow heart emoji] ... do you think it might upstage RED ??? Messy edit ??? Well what do you expect from a woman whose hands are smaller than a 12-year-old's ???"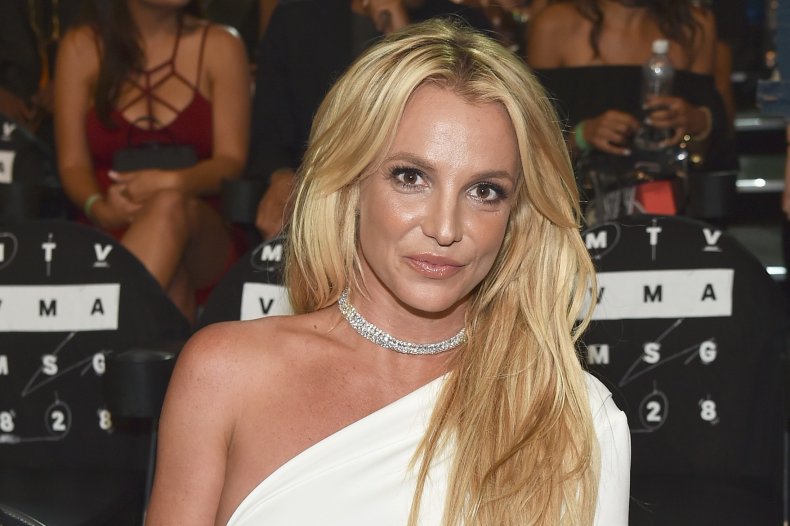 She concluded: "Pss I've been holding onto this for a while because it's one of the first times I've shared my music [musical notes emoji] !!!"
The singer famously made her movie debut in the 2002 teen drama Crossroads, which was written by Shonda Rhimes and also starred Kim Cattrall, Taryn Manning, Zoe Saldana, and Dan Aykroyd, among others.
Spears, who announced her engagement to Sam Asghari in September, last week scored a major victory in her conservatorship battle, when her father was suspended from her conservatorship after 13 years at the helm.
Jamie Spears began overseeing the personal and financial arms of his famous daughter's conservatorship in 2008, following concerns for her mental health.
He remained in his position until 2019, when he stepped down from overseeing Britney Spears' person in 2019, citing health reasons.
While he remained in charge of the financial branch of the conservatorship, he was replaced on the personal side by Jodi Montgomery, who remains in the position.
Jamie Spears, who had previously petitioned to step down from his position, has now been succeeded by accountant John Zabel in the conservatorship, which Britney Spears' team is working to end altogether.
In a June 23 court testimony, the pop star spoke about her experiences under the conservatorship, alleging that she had been forced to perform, take medication, and wear a contraceptive device against her will.
The legal teams on both sides of the conservatorship battle will return to court on November 12 to discuss the logistics of dissolving the conservatorship.