Britney Spears Reveals How Justin Timberlake Helped Her Iconic VMAs Performance
Britney Spears looked back at one of her most memorable stage performances in an Instagram post shared on Thursday.
The pop icon, 39, took to the image-sharing platform to share a series of photos of herself at the MTV Video Music Awards back in 2001.
At the star-studded awards ceremony, which was hosted by Jamie Foxx at New York City's Metropolitan Opera House, Spears caused a stir when she hit the stage with a live albino Burmese python draped around her neck while performing "I'm a Slave 4 U."
And as she looked back on the moments leading up to the iconic performance, she also revealed that Justin Timberlake, her boyfriend at the time, had a hand in helping her get prepared for her big moment on the stage.
Captioning her selection of shots, which showed her in a lacy black minidress as she spoke with Rolling Stones rocker Mick Jagger on the red carpet, Spears wrote: "Geez ... this is me before my VMAs performance with @MickJagger 20 years ago !!!! This is one my my favorite dresses I've ever worn 👗 and it's simple black lace !!!!"
Turning her attention to her performance, which also featured a caged live tiger, the mother-of-two went on: "I will tell you this ... before I went on that night I was feeling kinda out of body with nerves ... I mean ... I was in a cage with a live tiger 🦁😳 !!!!! I will never forget the moment before I went in the cage !!!!
"Justin saw I could hardly talk so he held my hand and gave me a 5 minute pep talk which obviously worked 🤷🏼‍♀️🤷🏼‍♀️🤷🏼‍♀️🦁🦁🦁🌹🌹🌹 !!!!!"
She concluded her caption: "Psssss guess I'm sleeping 💤 because my eyes are closed in half of these pics 😂😂😂 !!!!"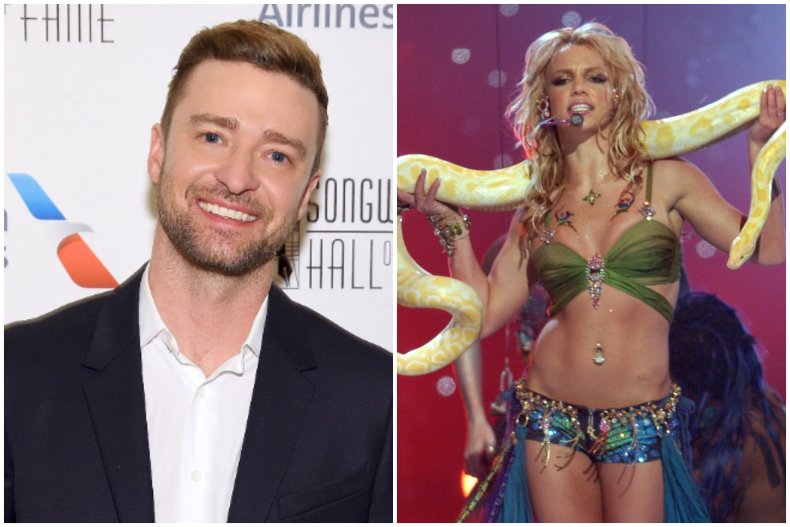 Spears and Timberlake were one of Hollywood's most famous couples during the time they dated between 1999 and 2002.
In June, Timberlake spoke out in Spears' defense, following her court testimony during a hearing about her controversial conservatorship, which has been overseen by her father, Jamie Spears, since its 2008 inception.
After Britney Spears told how she had been living under stringent control for well over a decade, Timberlake took to Twitter to express support for his ex-girlfriend.
"After what we saw today, we should all be supporting Britney at this time," he wrote. "Regardless of our past, good and bad, and no matter how long ago it was... what's happening to her is just not right. No woman should ever be restricted from making decisions about her own body.
"No one should EVER be held against their will... or ever have to ask permission to access everything they've worked so hard for."
Timberlake, who is now married to actress Jessica Biel, concluded: "Jess and I send our love, and our absolute support to Britney during this time. We hope the courts, and her family make this right and let her live however she wants to live."
Jamie Spears had been overseeing his daughter's personal and professional affairs from 2008 until 2019, when he stepped down from being in charge of her person.
He continued to control her business dealings, while Jodi Montgomery took over as conservator of Britney Spears' person, a position she continues to hold. Earlier in September, Jamie Spears petitioned to step down from the conservatorship altogether.
Britney Spears, who recently announced her engagement to Sam Asghari, has been seeking to bring an end to the conservatorship, which was drawn up amid concerns for her mental health. The next hearing on the case is scheduled for September 29.