Justin Timberlake Defends Britney Spears Over Conservatorship—'Just Not Right'
Justin Timberlake publicly expressed his support for Britney Spears, his former girlfriend, after she spoke during a hearing on her controversial conservatorship on Wednesday.
Spears, 39, is seeking to end the 13-year conservatorship, that has involved her father, Jamie Spears, overseeing key business, financial and health decisions in her life since her mental health troubles in 2007.
Timberlake—who dated Spears from 1999 to 2002—took to Twitter to add his name to the list of celebrities threw their support behind the pop star.
"After what we saw today, we should all be supporting Britney at this time," he wrote. "Regardless of our past, good and bad, and no matter how long ago it was... what's happening to her is just not right. No woman should ever be restricted from making decisions about her own body."
"No one should EVER be held against their will... or ever have to ask permission to access everything they've worked so hard for."
Timberlake, who is married to actress Jessica Biel, concluded: "Jess and I send our love, and our absolute support to Britney during this time. We hope the courts, and her family make this right and let her live however she wants to live."
His relationship with Spears goes back far beyond their romance, as he co-starred with her as a Mouseketeer in The All-New Mickey Mouse Club in 1993 and 1994—alongside Christina Aguilera, Ryan Gosling, Keri Russell, and JC Chasez.
During her court hearing, Spears—who shares two teenage sons with ex-husband Kevin Federline—branded the conservatorship "abusive," adding that the stress of its continuation left her depressed, unable to sleep, and often in tears.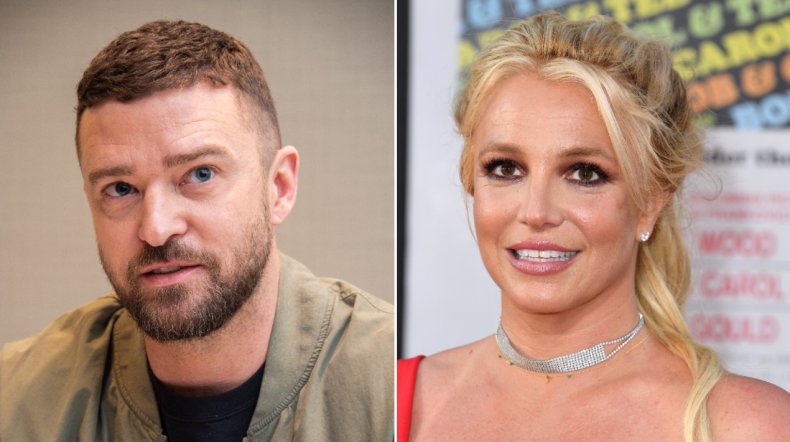 She also revealed that the conservatorship requires her to wear a contraceptive intrauterine device (IUD), which she wishes to remove in order to have a baby.
"I want to be able to get married and have a baby," Britney said as she spoke at the hearing remotely, via the phone. "I have an IUD inside of myself so that I don't get pregnant, but [my team doesn't] want me to have any more children."
"They have me going to therapy three times a week and to a psychiatrist," she added. "I truly believe this conservatorship is abusive. I don't feel like I can live a full life."
"I deserve to have a life," she said. "I've worked my whole life. I deserve to have a two-to-three year break and just, you know, do what I want to do. But I do feel like there is a crunch here and I feel open and I'm okay to talk to you today about it.
"But I wish I could stay with you on the phone forever, because when I get off the phone with you all of a sudden all I hear all these no's—no, no, no. And then all of a sudden I get I feel ganged up on and I feel bullied and I feel left out and alone.
"And I'm tired of feeling alone. I deserve to have the same rights as anybody does, by having a child, a family, any of those things, and more so."
In response, Jamie Spears' lawyers told the court, "He is sorry to see his daughter suffering and in so much pain. Mr. Spears loves his daughter very much."
Jamie Spears successfully petitioned the Los Angeles County Superior Court to be granted an emergency "temporary conservatorship" over his daughter's estate and physical well-being in 2008, with the role becoming permanent months later.
In the leadup to the conservatorship, Spears had visited drug rehab and been hospitalized for psychiatric issues. Her ex-husband later gained custody of their two children.
Spears' father has argued in court that the conservatorship must continue in order to protect her more than $50 million fortune from manipulation and fraud. Spears is required to prove her mental competency before her conservatorship can be dissolved.
While Spears has released platinum-selling albums and performed in a four-year Las Vegas residency, she said that the conservatorship prohibits her from making decisions on how the money is spent.
Jamie Spears stepped down as his daughter's sole conservator in 2019, citing his declining health. As such, Britney Spears' "care manager," Jodi Montgomery, was brought on as a new co-conservator, alongside Jamie Spears.
When Britney Spears filed a request to have her father permanently removed as a conservator in 2020, Jamie Spears responded with a claim that the star has dementia, and therefore should not be granted permission to oversee her estate.
Newsweek has contacted a representative for Britney Spears for comment.