Britney Spears Reveals She Went Out Just Twice During Four-Year Las Vegas Residency
Britney Spears has revealed that it was all work and very little play for her when she performed in Las Vegas during a four-year residency.
The pop icon, 39, kicked off her Britney: Piece of Me show at Sin City's Planet Hollywood Resort & Casino in 2013, going on to gross an estimated $138 million across nearly 250 shows, according to Billboard.
And while she may have entertained legions of fans and pulled in eye-watering amounts of cash during her stint, the star has revealed that she went out socially just twice over the course of her run.
In an Instagram post shared on Monday, the mother of two shared video footage of herself posing in a white dress as she looked back on her time in Nevada.
She wrote, in part: "I was thinking about when I did shows in Vegas ... the four years I was there I went out only two times !!!! Unfortunately I'm not lying 🤷🏼‍♀️🙄."
Elsewhere in her caption, Spears' thoughts went down a philosophical path as she said: "I've been thinking about life and what my version of success is ... to me it's knowing I've used my heart over my head and it's hard sometimes because of ego ... but sometimes ego is protection !!!!"
Spears embarked on her Las Vegas residency when she was under conservatorship, which has seen her father, Jamie Spears, overseeing her personal and professional life since 2008. Jamie Spears agreed to step down from his position earlier this month.
Following the residency, which concluded in December 2017, Britney Spears embarked on a tour across North America and Europe.
In an emotional testimony during a conservatorship hearing on June 23, Spears said that she didn't want to participate in the tour—but was allegedly threatened with legal action should she choose to back out.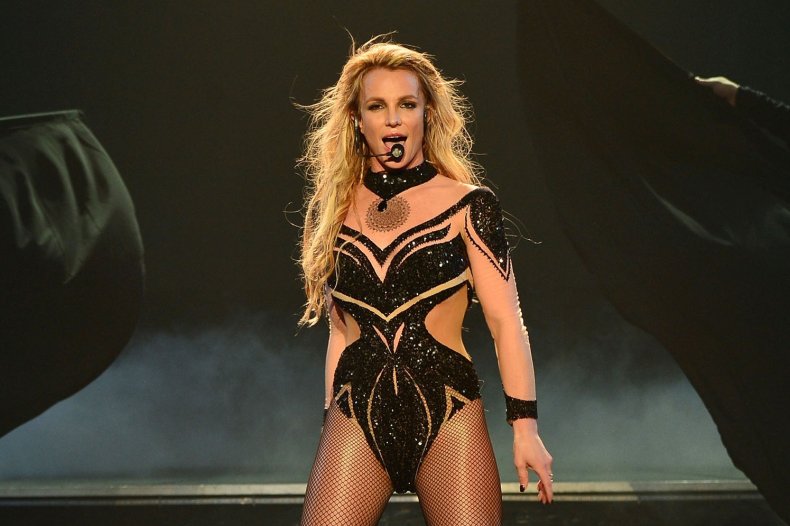 She told Los Angeles Superior Court Judge Brenda Penny: "I was on tour in 2018, I was forced to. My management said if I don't do this tour, I will have to find an attorney and by contract my own management could sue me if I didn't follow through with the tour.
"He handed me a sheet of paper as I got off the stage in Vegas and said I had to sign it. It was very threatening and scary. And with the conservatorship I couldn't even get my own attorney. So out of fear, I went ahead and I did the work.
"When I came off that tour, a new show in Las Vegas was supposed to take place. I started rehearsing early but it was hard because I'd been doing Vegas for four years and I needed a break in between. But no, I was told this is the timeline and this is how it's going to go."
In January 2019, Spears announced that her follow-up Las Vegas residency, Britney: Domination—which was supposed to kick off the following month—had been canceled as she went on an indefinite work hiatus.
Sharing a photo of herself as a child with her dad and her mother, Lynne Spears, she wrote: "I don't even know where to start with this, because this is so tough for me to say. I will not be performing my new show Domination. I've been looking forward to this show and seeing all of you this year, so doing this breaks my heart.
"However, it's important to always put your family first... and that's the decision I had to make. A couple of months ago, my father was hospitalized and almost died. We're all so grateful that he came out of it alive, but he still has a long road ahead of him.
"I had to make the difficult decision to put my full focus and energy on my family at this time. I hope you all can understand."