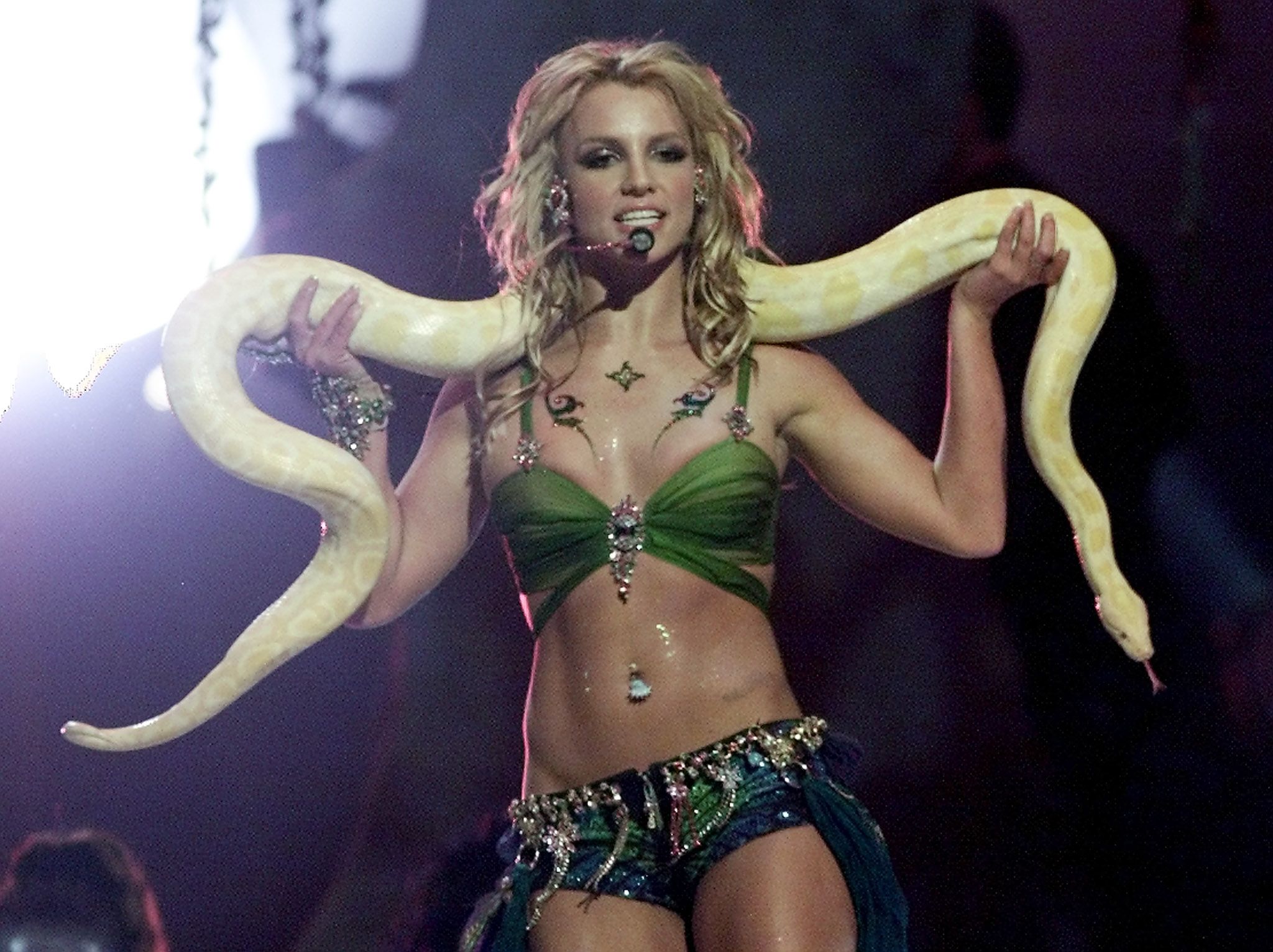 You can now recreate Britney Spears's iconic 2001 MTV Video Music Awards performance featuring that giant python —if you've got a spare six figures lying around. (Snake not included.)
Seven of the pop star's most famous costumes, worn in music videos and live performances, are being auctioned on eBay. The listing has attracted 188 bids, as of the time of writing, and the highest bid sits at just under $100,000.
The eBay auction, which ends Saturday, comes from the owner of a Canadian surfwear store, Surfco, located in Edmonton, Alberta.
In the listing, the proprietor writes: "I've collected theses outfits since 2003 when Britney auctioned them off. These are arguably the most iconic costumes in music history."
The most coveted collector's item for any Britney fan is the bejeweled green-and-blue costume worn at the VMAs in 2001 where the singer gave her career-defining performance of "I'm a Slave 4 U."
The costume Spears wore in the music video for "I'm a Slave 4 U" —pink chaps and a bejeweled halter neck top—is also included in the sale.
The singer's outfit from her 2003 "Me Against the Music" video is another piece of pop history. In the video featuring Madonna, the pair played a game of cat-and-mouse; Spears wore a sheer black halter neck with leather detailing, as well as a black hat and pants.
Both of the music video outfits were designed by famed costume designers Kurt and Bart, who also designed the memorable air stewardess outfit she wore in the "Toxic" music video in 2004. The pair have served as costume designers on movies including The Hunger Games: Mockingjay Part 1 and 2 , the Oscar-winning Dallas Buyers Club and Ghost in the Shell .
Spears sold 170 personal items, including more than 60 stage costumes, at an auction in May 2003 to raise funds for her arts charity for children, the Britney Spears Foundation. The singer held a press conference in New York to announce the auction, where she posed with the "I'm a Slave 4 U" costume and the famous schoolgirl outfit from her very first music video, "...Baby One More Time."