Brittany Commisso Calls for Andrew Cuomo To Face Criminal Charges—'He Groped Me'
An aide who accused New York Gov. Andrew Cuomo of groping her has called for him to be criminally charged, saying he is lying when he denies having ever touched a woman inappropriately.
Cuomo's administration has been in crisis since the release of a scathing 165-page report by state Attorney General Letitia James that concluded Cuomo sexually harassed 11 women.
The report detailed Cuomo's "pattern of inappropriate conduct" with Brittany Commisso first, identifying her only as Executive Assistant #1.
In an interview with CBS This Morning and the Times-Union of Albany that aired Monday, 32-year-old Commisso said she believed she is listed first in the report because of the "nature of the inappropriate conduct that the governor did to me."
"I believe that he groped me," she said. "He touched me, not only once, but twice."
Commisso started working as an executive assistant in the governor's office in 2017. She alleged that the governor groped her for the first time on December 31, 2019, while she was at the governor's mansion in Albany to help him with his upcoming State of the State address.
She said Cuomo suggested they take a selfie together, and then fondled her. "I then felt while taking the selfie, his hand go down my back onto my butt, and he started rubbing it," she said.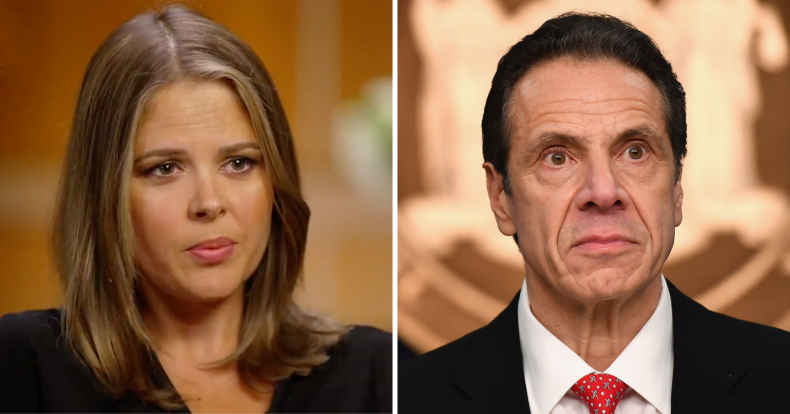 Commisso alleged that Cuomo groped her a second time at the governor's mansion in November last year. He reached under her shirt and grabbed her breast over her bra, she said.
Commisso also alleged Cuomo would hug her inappropriately and that he kissed her on the lips without consent.
Cuomo has denied any wrongdoing, insisting that the report and allegations were politically motivated. "I never touched anyone inappropriately or made inappropriate sexual advances," he said in a taped statement.
Commisso also said she never intended to go public with her allegations, fearing retaliation. But she changed her mind when she saw Cuomo insist he had never touched a woman inappropriately during a March press conference.
"I broke down. I said 'He is lying.' I felt like he was personally saying it to me that 'I never touched anyone inappropriately.' And, yes, you did," she said.
She has filed a criminal complaint against Cuomo, saying it was "the right thing to do" and that "the governor needs to be held accountable."
She added: "What he did was a crime. He broke the law."
Albany County Sheriff Craig Apple said on Saturday that Cuomo could face misdemeanor charges if investigators substantiate Commisso's complaint.
Cuomo has resisted calls to resign, despite calls for him to step down from numerous Democrats, including President Joe Biden.
Cuomo's lawyer said on Saturday that the governor has no plans to resign, and attacked the state attorney general's report as biased and "shoddy."
The state Assembly's judiciary committee are scheduled to meet on Monday to discuss impeachment proceedings—a battle Cuomo will face without his top aide, Melissa DeRosa.
DeRosa resigned from her role as secretary to the governor after also coming under fire in the state attorney general's report.
She didn't mention Cuomo in a statement released on Sunday or specify the reason for her departure, saying only that the past two years had been "emotionally and mentally trying."
The state attorney general's report detailed how DeRosa fostered a hostile work environment and spearheaded a campaign to discredit Lindsey Boylan, the first woman to publicly accuse Cuomo of sexual harassment.