Melissa DeRosa's Resignation Likely Marks the End for Andrew Cuomo
In a major blow to his fight for political survival, New York Gov. Andrew Cuomo's top aide, Melissa DeRosa, has resigned.
DeRosa's departure leaves the embattled governor without one of his most trusted and loyal strategists as he faces the prospect of impeachment and criminal investigations following a report from the New York Attorney General Letitia James that concluded he had sexually harassed 11 women.
The report also described how DeRosa had allegedly spearheaded efforts to retaliate against Lindsey Boylan, the first woman to publicly accuse the governor of sexual harassment.
"It's been the greatest honor of my life to serve the people of New York for the past 10 years," DeRosa said in a statement that was first provided to NY1's Zack Fink on Sunday.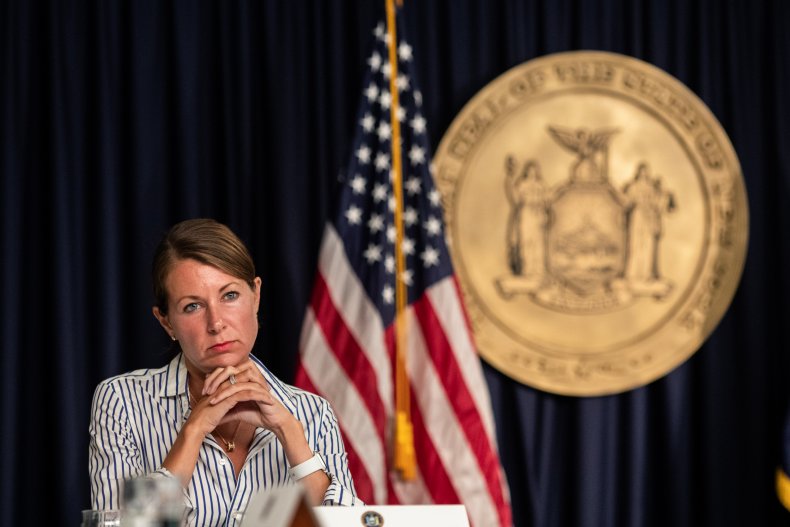 She didn't mention Cuomo or specify the reason for her resignation, other than to say that "the past two years have been emotionally and mentally trying."
She added: "I am forever grateful for the opportunity to have worked with such talented and committed colleagues on behalf of our state."
DeRosa joined the Cuomo administration in 2013 as communications director and was later promoted to chief of staff. She was appointed secretary to the governor in 2017, becoming the first woman to serve in the role and the state's most powerful unelected official. She has fiercely defended Cuomo for years and was a frequent presence next to Cuomo during his coronavirus briefings in 2020.
Her resignation comes as the state attorney general's report led to widespread calls for Cuomo's resignation, including from President Joe Biden.
But Cuomo's personal attorney Rita Glavin told CNN on Saturday that Cuomo had no plans to step down. She called the report "shoddy" and "biased."
DeRosa had determined that Cuomo had no path to remain in office after the report's release, and she was no longer willing to defend him in public, The New York Times reported, citing a person with knowledge of the discussions between Cuomo's aides.
Some interpreted her exit as a sign that the end is nigh for Cuomo.
"DeRosa is a cautionary tale that a long public career isn't necessarily a good or helpful one," Max Burns, a Democratic strategist who serves as the communications director for New York State Assemblywoman Yuh-Line Niou, told Newsweek.
"And her departure leaves the governor scrambling without a long-time ally who, as the [state attorney general's] report shows, was willing to do anything to help the governor stay in power."
Washington Post reporter Josh Dawsey noted on Twitter that it was "hard to overstate the importance of her resignation." Shane Goldmacher, a New York Times reporter, added: "For years, Cuomo's inner circle has been static or shrinking—and DeRosa has been at the epicenter."
DeRosa's resignation came ahead of a New York State Assembly committee meeting to discuss possible impeachment proceedings on Monday.
It also came before an interview with an executive assistant who accused Cuomo of groping her breast is reportedly set to air on CBS This Morning.
Brittany Commisso, who had remained anonymous until Sunday, told CBS and the Times Union of Albany that what Cuomo did to her was a crime and that the governor "needs to be held accountable." She has filed a criminal complaint with the Albany County Sheriff's Department.
Cuomo denied touching any women inappropriately after the release of the 165-page report.
The report also revealed an incident where DeRosa confronted Cuomo over a complaint from former aide Charlotte Bennett.
"She told the governor, 'I can't believe that this happened. I can't believe you put yourself in a situation where you would be having any version of this conversation,'" the report said. DeRosa told investigators she was so upset that she got out of Cuomo's car when it stopped at a traffic light.
DeRosa could not immediately be reached for comment. The governor's office has been contacted for comment.
Update 8/09/21, 10:00 a.m. ET: This article has been updated with comment from Max Burns.