Brittney Griner's Detention Extended as Russia Holds WNBA Star Hostage
Brittney Griner's detention in Russia has been extended, weeks after she was initially held captive on drug charges.
The American basketball player, 31, was detained by the Russian Federal Customs Service (FCS) on an undisclosed date back in February at Sheremetyevo Airport near Moscow. It was reported that she was carrying cannabis oil.
On Thursday, Russian news agency TASS reported that the Khimki City Court of the Moscow region has ruled to detain Griner for at least two more months.
"The court granted the petition of the investigation and extended the term of detention of U.S. citizen Griner until May 19," the court said.
Ekaterina Kalugina, a member of human rights group Public Monitoring Commission, said she visited the Texas native in the detention center where she is being held, revealing that she is sharing a cell with two other individuals.
Kalugina said that Phoenix Mercury ace Griner has accepted the detention and has not complained about the conditions on which she is being held.
"The only objective problem was the height of the basketball player—203 centimeters," the activist is quoted as telling TASS. "The beds in the cell are clearly designed for a shorter person." Griner stands at 6 feet, 9 inches.
Kalugina went on: "In addition, for an unknown reason, the U.S. consul does not come to [see Griner], although the administration of the pre-trial detention center is ready to create all conditions for a visit.
"[Griner's cellmates] also had no previous convictions and are charged with drug-related [offenses]. They speak English and help Griner communicate with the prison administration."
Revealing how else Griner's cellmates have been helping her during her time in detention, Kalugina said: "They helped her order books: she reads F. M. Dostoevsky and biography of the members of the Rolling Stones."
Newsweek has contacted the U.S. State Department and the WNBA for comment.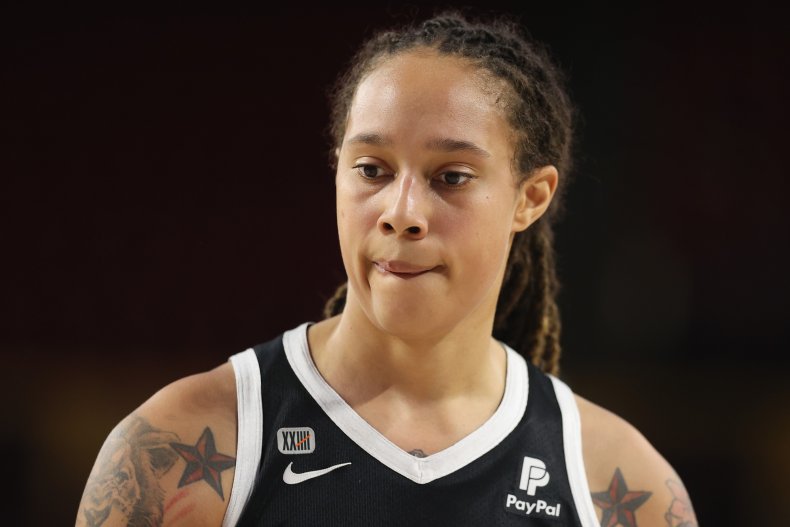 After Griner's detainment was first revealed by The New York Times earlier this month, a petition was launched on Change.org, calling for her safe return to the U.S. The petition has garnered more than 63,000 signatures.
Tamryn Spruill, an activist and journalist who started the petition, said that supporters should "call on elected officials in this country to secure the safe and swift return of Brittney Griner to the U.S."
Spruill wrote on the petition page: "Griner is a beloved global citizen who has used her platform since her entry into the WNBA to help others.
"Griner was in Russia for work: playing for UMMC Ekaterinburg, where in 2021 she helped the team win its fifth EuroLeague Women championship."
Pointing out the pay inequality between men and women basketball players, Spruill went on: "Like many athletes competing in the WNBA, Griner plays abroad during the WNBA offseason because her salary is exponentially higher in other countries.
"For WNBA players, that means playing abroad, while NBA rookies who haven't played a professional game yet are handed salaries many-times higher than what title-winning, All-Star designated WNBA veterans could ever hope for.
"These realities are not the fault of the players. They simply want to be paid their worth like their male counterparts, and they do not deserve to be entangled in geopolitical turmoil for doing so."
The basketball star's wife, Cherelle Griner, took to Instagram earlier this month to dedicate a heartfelt post to her partner.
"We love you babe!" Cherelle captioned a photo of her wife with loved ones. "People say 'stay busy.' Yet, there's not a task in this world that could keep any of us from worrying about you. My heart, our hearts, are all skipping beats everyday that goes by.
"I miss your voice. I miss your presence. You're our person! There are no words to express this pain. I'm hurting, we're hurting. We await the day to love on you as a family."
Brittney Griner's detainment comes amid rising increased tensions between the U.S. and Russia as the nation's President Vladimir Putin's troops invade neighboring Ukraine.
Earlier this month, Secretary of State Antony Blinken said the U.S. was working to free Americans detained in Russia, while also urging Americans in Russia to leave the country.
Referring to Griner, Blinken said: "There's only so much I can say given the privacy considerations at this point.
"More generally, whenever an American is detained anywhere in the world, we of course stand ready to provide every possible assistance, and that includes in Russia."
A WNBA spokesperson previously told Newsweek that Brittney Griner has their "full support and our main priority is her swift and safe return to the United States."