Brittney Griner has been sentenced to nine years in prison in Russia in a shocking verdict that will serve as a steep learning curve for Americans, a lawyer has said.
The American professional basketball player was sentenced to nine years in prison Thursday in Russia after being found guilty of drug smuggling with criminal intent.
"Brittney Griner is sadly learning the hard way that life is different when you leave U.S. borders," Andrew M. Lieb, Attorney at Lieb at Law told Newsweek.
Griner, who also was fined one million rubles (a little more than $16,000), is expected to serve her sentence in a forced labor colony.
Lieb told Newsweek that "every citizen" should learn from this situation and be aware of the law of the land of other countries before traveling.
"Nine years for bringing a cannabis-infused vape cartridge is cringeworthy to every American, but that is the reality of travel when you don't first study up on the laws and the political climate of where you are headed," the attorney said.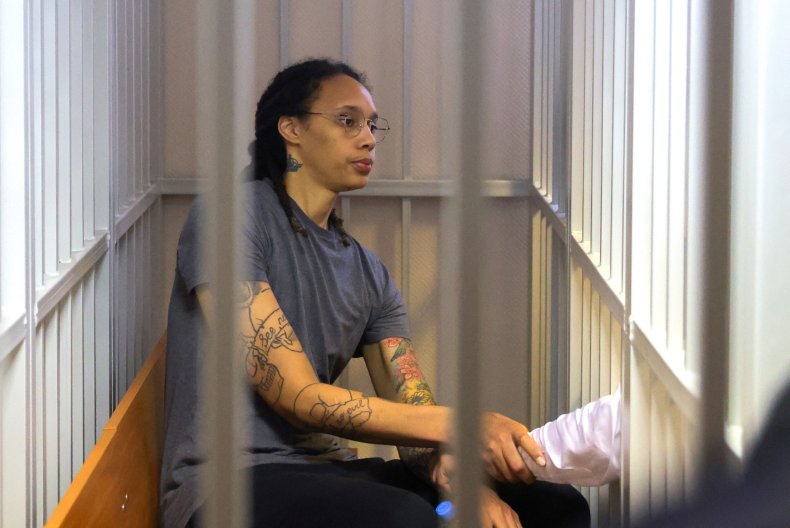 "Hopefully, the Biden Administration can get Brittney home, but, regardless, every citizen should learn from her experience before boarding a plane that crosses any border."
He added: "This is not just about cannabis. It can be spitting gum in Singapore or just being in the middle of a political fight, like Brittney is certainly experiencing now that she is a pawn in the Russian-Ukraine war."
The ruling has caused mass outrage with president Joe Biden immediately calling on Russia to release the 31-year-old athlete.
"Today, American citizen Brittney Griner received a prison sentence that is one more reminder of what the world already knew: Russia is wrongfully detaining Brittney," the president said in a statement. "It's unacceptable, and I call on Russia to release her immediately."
Biden's administration had been in talks with Russia about a trade of Russian arms dealer Viktor Bout for Griner and American Paul Whelan, who has been detained in Russia for alleged spying since 2018.
Russian President Vladimir Putin could try to use Griner's conviction as a bargaining chip amid increasingly tense U.S.-Russia relations.
Griner's Russian law firm told Newsweek in a statement: "We are very disappointed by the verdict. As legal professionals, we believe that the court should be fair to everyone regardless of nationality. The court completely ignored all the evidence of the defense and, most importantly, the guilty plea. This contradicts the existing legal practice."