WNBA star Brittney Griner was found guilty of drug smuggling with criminal intent by a Russian court on Thursday. She was sentenced to nine years in prison and fined 1 million rubles (about $16,300).
Griner, 31, was arrested and accused of possession of vape cartridges containing cannabis oil at a Moscow airport in February, during the lead-up to Russian President Vladimir Putin's invasion of Ukraine later that month. Maria Blagovolina, a lawyer for the Russian firm representing Griner, argued that the basketball star did not use marijuana while in Russia. Her defense team has maintained that Griner mistakenly packed the cartridges and that she was prescribed medical marijuana by a doctor for pain treatment.
In a statement, Griner's Russian law firm told Newsweek, "We are very disappointed by the verdict. As legal professionals, we believe that the court should be fair to everyone regardless of nationality. The court completely ignored all the evidence of the defense and, most importantly, the guilty plea. This contradicts the existing legal practice."
The statement added, "Taking into account the amount of the substance (not to mention the defects of the expertise) and the plea, the verdict is absolutely unreasonable. We will certainly file an appeal."
Griner pleaded guilty in early July to bringing the cartridges into Russia, where she was playing during the WNBA's offseason. Her lawyers have said the guilty plea was made as an admittance of responsibility and should be considered during sentencing.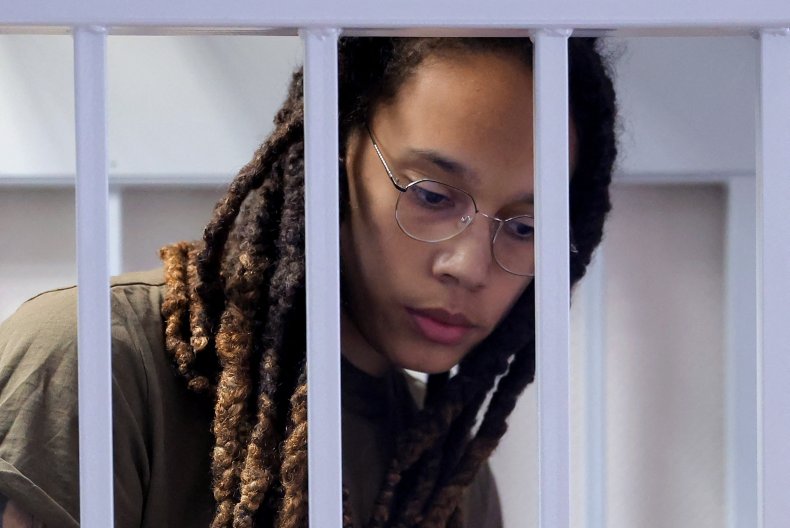 Last week, officials from President Joe Biden's administration announced a proposed deal that would exchange Griner and former Marine Paul Whelan—who is also detained in Russia—for Viktor Bout, a Russian arms dealer nicknamed the "Merchant of Death." The trade has been criticized by many people, including former President Donald Trump, who called Bout an "absolute killer" while referring to Griner as "spoiled" during a recent podcast talk.
Appearing on The Clay Travis & Buck Sexton Show podcast, Trump said that Bout is "absolutely one of the worst in the world, and he's going to be given his freedom because a potentially spoiled person goes into Russia loaded up with drugs. She knew you don't go in there loaded up with drugs, and she admitted it. I assume she admitted it without too much force because it is what it is, and it certainly doesn't seem like a very good trade, does it?"
Before the verdict was announced, Griner apologized and asked for leniency during a speech in the court, which is in Khimki, a suburb of Moscow.
"I never meant to hurt anybody. I never meant to put in jeopardy the Russian population. I never meant to break any laws here," she said. "I made an honest mistake, and I hope that in your ruling that it doesn't end my life here."
She continued, "I know everybody keeps talking about political pawn and politics, but I hope that that is far from this courtroom. I want to say again that I had no intent of breaking Russian laws. I had no intent. I did not conspire or plan to commit this crime."
After the court announced its sentence, Biden released a statement that said, "Today, American citizen Brittney Griner received a prison sentence that is one more reminder of what the world already knew: Russia is wrongfully detaining Brittney.
"It's unacceptable, and I call on Russia to release her immediately so she can be with her wife, loved ones, friends and teammates. My administration will continue to work tirelessly and pursue every possible avenue to bring Brittney and Paul Whelan home safely as soon as possible," the president said.
Update 8/4/22, 12 p.m. ET: This story has been updated to include statements from Brittney Griner's defense team and President Biden.