How Much Jail Time is Brittney Griner Facing? Basketball Star Pleads Guilty
U.S. basketball star Brittney Griner pleaded guilty to drug charges on Thursday in a Russian court and could be facing up to 10 years in prison.
Griner was arrested in Moscow's Sheremetyevo International Airport on February 17 for allegedly carrying vape cartridges that contained hashish oil—illegal in Russia despite being decriminalized in the U.S.—in her luggage.
After nearly five months of incarceration in Russia, Griner's trial began last week. On Thursday, the WNBA star pleaded guilty. According to a Reuters reporter inside the courtroom, Griner told the court in English: "I'd like to plead guilty, your honor. But there was no intent. I didn't want to break the law.
"I'd like to give my testimony later. I need time to prepare," added Griner, whose statement was translated into Russian for the court.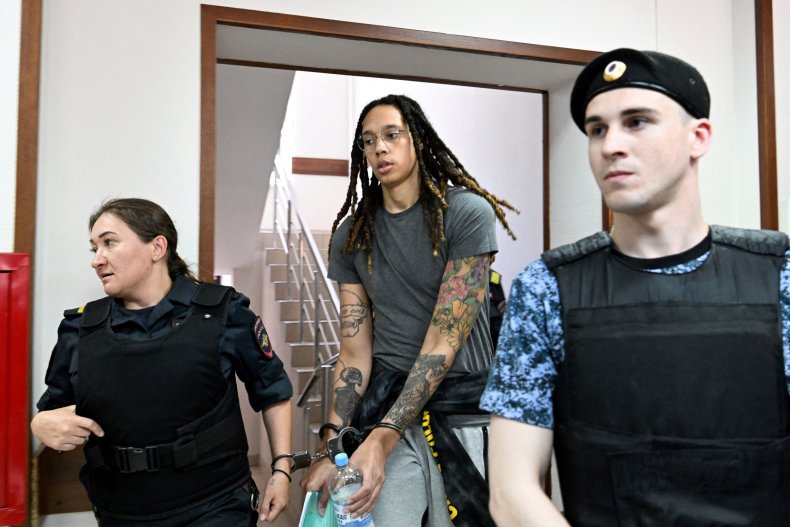 Griner was arrested days before Russia's invasion of Ukraine, and tensions between Washington and Moscow have run high since. Celebrities and athletes have called for Griner's release, and President Joe Biden's administration has said that the Olympic gold medalist is "wrongfully detained."
Griner's wife, Cherelle, told Good Morning America in May that Griner was being used as a "political pawn" by Russia and the U.S.
"I just keep hearing that, you know, he has the power. She's a political pawn," Cherelle Griner said before speaking indirectly to Biden. "So if they're holding her because they want you to do something, then I want you to do it."
Griner pleaded with the White House on July 4, writing in a letter to Biden that she feared she will be imprisoned in Russia forever.
"I realize you are dealing with so much, but please don't forget about me and the other detainees," Griner wrote. "Please do all you can to bring us home."
Biden met with Griner's wife on Wednesday, telling her he was working to have Griner released "as soon as possible," the White House said.
Despite reassurances from the White House, those closest to Griner have continued to push for more action from the U.S. Phoenix Mercury head coach Vanessa Nygaard told media outlets on Monday that Griner would be home already if she was a straight man.
"If it was LeBron, he'd be home, right?" Nygaard said. "It's a statement about the value of women. It's a statement about the value of a Black person. It's a statement about the value of a gay person. All of those things. We know it, and so that's what hurts a little more."
White House press secretary Karine Jean-Pierre said on Tuesday that Biden is "doing everything that he can."
"The White House is closely coordinating, as well, with the special presidential envoy for hostage affairs, who has met with Brittney's family, her teammates and her support network. So we're going to continue to have those conversations, and we're going to make sure that she and others get home safely," Jean-Pierre said.
Griner's next court hearing is scheduled for July 14.
Newsweek reached out to the White House for comment.
Update 7/7/2022, 11:19 a.m. ET: This story has been updated with additional information.