What Did Brittney Griner Do in Russia? Charges Against WNBA Star Explained
On Monday, U.S. basketball star Brittney Griner appealed to President Joe Biden to secure her release from jail in Russia, admitting in a handwritten letter that she was "terrified" that she might remain behind bars forever.
Griner, a 31-year-old Women's National Basketball Association (WNBA) all-star and two-time Olympic gold medallist, was arrested at Moscow's Sheremetyevo International Airport on February 17 on charges of carrying vape cartridges that contained hashish oil in her luggage. Hashish oil is illegal in Russia, despite it being decriminalized in many U.S. states. She could face a sentence of up to 10 years in jail.
Her incarceration comes at a time of high tensions between Washington and Moscow over the Ukraine war. Griner was entering Moscow to play in Russia's Premier League during her WNBA offseason.
The Biden administration has said that Griner is "wrongfully detained", while the basketball star's wife Cherelle told Good Morning America in May that Griner was being used as a "political pawn."
Griner's trial was due to begin in Moscow on July 1, but the trial was later adjourned after two witnesses did not show up. The next session was set for July 7.
Griner's plea to Biden came on Monday, July 4, Independence Day, a public holiday in the U.S.
"As I sit here in a Russian prison, alone with my thoughts and without the protection of my wife, family, friends, Olympic jersey, or any accomplishments, I'm terrified I might be here forever," Griner said in the letter.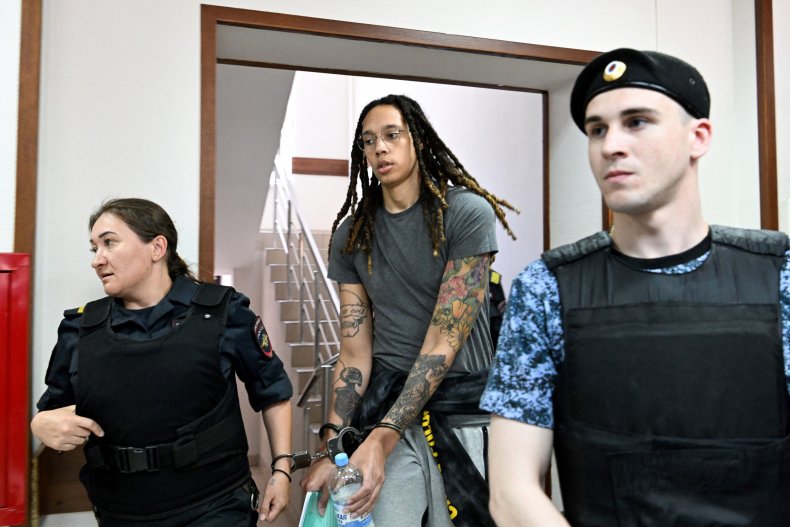 "On the 4th of July, our family normally honors the service of those who fought for our freedom, including my father who is a Vietnam War Veteran," she added. "It hurts thinking about how I usually celebrate this day because freedom means something completely different to me this year."
The Biden administration has previously said that it is working diplomatically to bring Griner and another American, Michigan corporate security executive Paul Whelan, back home to the U.S.
In her letter on Sunday, Griner said that she supported and voted for Biden in the 2020 election against Donald Trump.
"Please do all you can to bring us home. I voted for the first time in 2020 and I voted for you. I believe in you. I still have so much good to do with my freedom that you can help restore," Griner said. "I miss my wife! I miss my family! I miss my teammates! It kills me to know they are suffering so much right now. I am grateful for whatever you can do at this moment to get me home."
The WNBA Players Association tweeted on Monday that it was "pretty tough" enjoying Independence Day while Griner was "still wrongfully detained."