Brittney Griner, an American basketball star considered by the U.S. government to be "wrongfully detained" in Russia, should not be described as a "hostage," a Russian official told NBC News.
Vladimir Putin's spokesman Dmitry Peskov made the comments in an exclusive interview with Keir Simmons published Monday.
Griner, a two-time Olympic gold medalist and member of the Phoenix Mercury WNBA team, has been held in Russia since February 17 on allegations of drug charges.
Russian authorities reported she was found in possession of vape cartridges containing cannabis oil. The U.S. State Department considers Griner to be "wrongfully detained," and the Special Presidential Envoy for Hostage Affairs is involved in her case.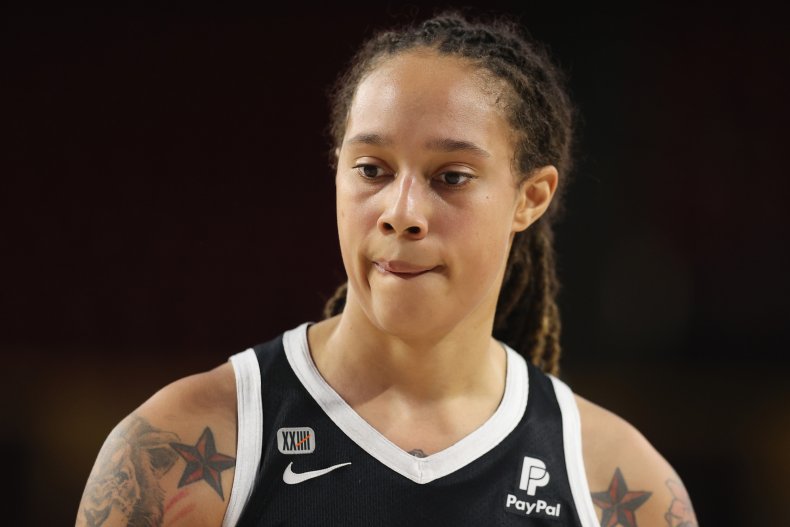 In the published report Monday, Simmons said "the U.S. government is now approaching this as a hostage situation," a term Peskov contradicted.
"I would strongly disagree with that," Peskov told Simmons. "We cannot call her hostage."
Griner "violated Russian law and now she's being prosecuted. It's not about being a hostage," he continued.
Simmons pressed Peskov on Griner's detention, saying she was "coming to take part in sport in Russia, effectively trying to build bridges through sport" and that her detention sends "a terrible message."
Peskov also disputed that statement.
"I think it is also a terrible message to bring some forbidden essences and materials for this country while trying to build some bridges," he told Simmons. "It is prosecuted by law, so we can do nothing about that."
News outlets, citing Russia's state-run media organization TASS, have reported that Griner's detainment was extended by Russian authorities on June 14. The extension keeps her in custody of Russia until at least July 2, according to the Associated Press.
As news of her extended detainment spread, people expressed outrage on social media.
"It's been 112 days since Brittney Griner was wrongfully detained in Russia. I urge and fully support the efforts of the U.S. Government and NBA Commissioner Adam Silver to bring Brittney home quickly and safely. This is unacceptable," sports star Magic Johnson tweeted on June 9.
Simmons' interview with Peskov also focused on Alexander Drueke and Andy Huynh, two veterans of the U.S. military who have been captured while fighting in Ukraine.
Peskov told NBC they are "soldiers of fortune" and were "involved in illegal activities."
"Those guys on the battlefield were firing at our military guys. They were endangering their lives," he said to Simmons. "There will be a court, and there will be a court decision."
Newsweek reached out to the Russian government for comment.