NBA Working With 'Hostage Negotiators' to Bring Brittney Griner Home
The NBA is working to get U.S. basketball star player Brittney Griner home, according to NBA commissioner Adam Silver.
In an interview with ESPN on Tuesday, Silver said he is working "side by side" with WNBA Commissioner Cathy Engelbert, cooperating with the White House and even working with hostage negotiators to get Griner out of custody and back to her family in the U.S.
"The league — and by that, [I mean] both the WNBA and its brother league, the NBA — have a huge responsibility to Brittney Griner as one of our players," the Silver said.
"Cathy Engelbert, the commissioner of the WNBA, is on this issue every single day. I'm working side-by-side with her," Silver added.
Griner, a two-time Olympic champion, has been detained in Russia since February when she was arrested by Russian authorities on the charge of possessing of marijuana.
The star center for the WNBA's Phoenix Mercury was heading back home after playing for the UMMC Ekaterinburg team last winter, according to the Associated Press (AP), when she was arrested at Moscow's Sheremetyevo International Airport in an unspecified date in February.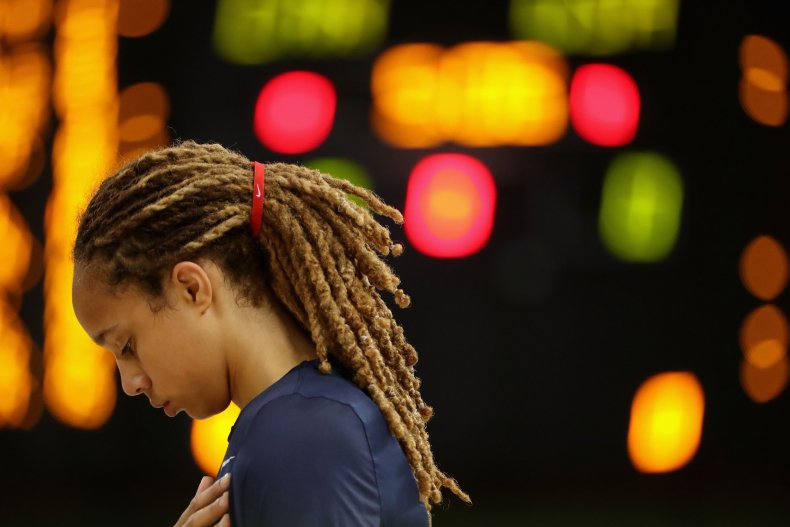 Russian Customs Service claimed they found vape cartridges containing oil derived from cannabis in her luggage. In Russia, marijuana is illegal for both medical and recreational purposes, and being found in possession of cannabis is an offense that can carry a sentence of up to 10 years in jail.
The U.S. State Department has since been involved with the case, with consular officers reportedly visiting Griner while in detention, as a spokesperson told Newsweek in late March, to make sure the basketball player was treated fairly and kept in good health.
"Our No. 1 priority is her health and safety and making sure that she gets out of Russia," Silver said on Tuesday.
Earlier this month, the U.S. government openly condemned Griner's arrest, saying that the WNBA champ is being "wrongfully detained" and pledging to "continue to undertake efforts to provide appropriate support to Ms. Griner."
Access to Griner has not always been possible. Earlier this week, US Ambassador to Russia John Sullivan said his staff had been denied permission to visit her for the third time in a month.
Sullivan tweeted: "This is unacceptable. We call on @mfa_russia to provide timely consular access, in line with Russia's intl & bilateral obligations."
This year's WNBA season started without Griner, who was honoured by the league with an opening show in her support. A floor decal bearing her initials "BG" and her jersey number, 42, was printed on the sideline of all 12 WNBA teams as the season kicked off on May 6.