Oscar Winner Ben Proudfoot Tells Joe Biden 'Bring Brittney Griner Home'
Ben Proudfoot, director of the Oscar-winning documentary The Queen of Basketball, has called on President Joe Biden to "bring Brittney Griner home" from detention in Russia.
U.S. basketball player Griner, a two-time Olympic champion, has been detained in Russia since she was arrested at Moscow's Sheremetyevo International Airport in February after the Russian Customs Service said they found vape cartridges containing oil derived from cannabis in her luggage.
Proudfoot made his plea after winning an Oscar for The Queen of Basketball, which tells the story or Lusia "Lucy" Harris, the first and only woman officially drafted by the NBA in 1977 and the first Black woman to be honored in the Naismith Memorial Basketball Hall of Fame in 1992.
"If there is anyone out there who doubts that there is an audience for female athletes and questions whether their stories are valuable or entertaining or important ... let this Academy Award be the answer," said Proudfoot during his Oscar acceptance speech for Best Documentary Short Subject.
"And one last thing: President Biden, bring Brittney Griner home. Thank you. Long live the queen."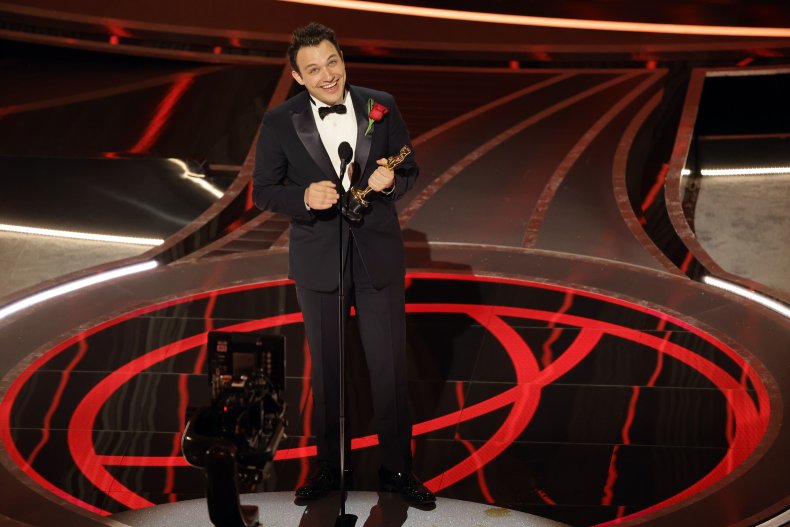 What Is Going On With Brittney Griner?
Russian authorities have not revealed the exact date of Griner's arrest, but it is believed to have happened in mid-February. Her detention comes at a time of high U.S.-Russia tensions following Moscow's invasion of Ukraine.
In Russia, marijuana is illegal for both medical and recreational purposes. Being found in possession of cannabis is an offense that can carry a sentence of up to 10 years in prison.
Griner, a star center for the WNBA's Phoenix Mercury, was in Russia playing for the UMMC Ekaterinburg team, according to the Associated Press (AP). She has played in Russia for the last seven years during the winter, earning over $1 million per season, as reported by AP.
Playing in Russia during the winter season is a common practice among WNBA players, and more than a dozen were in the country—and in Ukraine—this winter. All returned home to the U.S. apart from Griner, according to the WNBA.
The last time Griner was seen in public was on CCTV footage at the Moscow airport. Little is known about the exact location of where the player is being held, or the conditions of her detention.
In mid-March, Russian authorities declared Griner, 31, was to be held in detention until May 19, according to Russian media. The WNBA season opens on May 6.
"The court granted the request of the investigation and extended the period of detention of the U.S. citizen Griner until May 19," the court said, according to the state news agency TASS. A trial date has not been set.
According to AP, Griner, a seven-time All-Star, has been held at a pre-trial detention center in Moscow since her arrest. Her lawyers have been visiting her regularly and are working for her release, but have refused to speak out about the case.
A U.S. State Department spokesperson told Newsweek that a consular officer had visited Griner on March 23.
"We continue to insist that they allow consistent, timely consular access to all U.S. citizen detainees in Russia," said the spokesperson.
"We are closely engaged on this case and in frequent contact with Ms. Griner's legal team. We have no higher priority than the safety and security of U.S. citizens. Whenever a U.S. citizen is arrested overseas, we provide all appropriate consular services. We take our responsibility to assist U.S. citizens seriously, and we press for fair and transparent treatment."
A member of a state-sponsored prison monitoring group told TASS that Griner was sharing a cell with two other women accused of drug possession. She was faring well apart from "the only objective problem" that the beds in the cell are too short for the player's height, Public Monitoring Commission's Ekaterina Kalugina was quoted as saying on TASS.
Griner was in "good condition" when an American official was finally allowed to meet with her in prison, State Department spokesperson Ned Price said last week.
What Will Happen To Brittney Griner?
Following Griner's arrest in Russia, there's been an outpouring of support from fans of the player, who's arguably considered the greatest female basketball player of all time.
Many among fans, sport analysts and even politicians such as Congresswoman Cori Bush have said that gender and race are playing a role in the way the case is being treated.
Griner's wife Cherelle has thanked fans on Instagram for their support, but asked them to "honor our privacy as we continue to work on getting my wife home safely."
Official statements on the case from U.S. State Department officials and Griner's lawyers have been just as cautious.
Talking about Griner's detention on March 6, U.S. Secretary of State Antony Blinken said: "There's only so much I can say given the privacy considerations at this point. Whenever an American is detained anywhere in the world, we of course stand ready to provide every possible assistance, and that includes in Russia."
"We have an embassy team that's working on the cases of other Americans who are detained in Russia," he added. "We're doing everything we can to see to it that their rights are upheld and respected."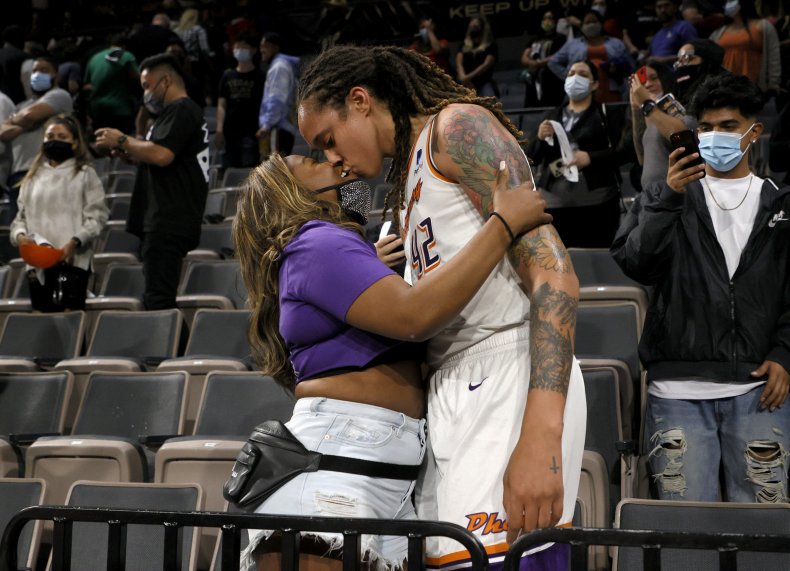 Talking to reporters on March 18, Blinken offered more details.
"What I can tell you is that we're in very active contact with her team, with – literally with the WNBA, as well as with her lawyers and other representatives. We are and have been seeking consular access because we want to see firsthand how she's doing. We want to make sure that we know that she's okay."
Blinken said that, at that time, Russian authorities were not giving U.S. officials direct access to Griner. "And this is, by the way, required under international law," he told journalists.
Speaking about the case on the "I'm an Athlete" podcast on March 25, former WNBA star Lisa Leslie said she was told not to make a "big fuss" about Griner's detention.
"What we were told, and again this is all sort of passed along through hearsay, but what we were told was to not make a big fuss about it so that they could not use her as a pawn, so to speak, in this situation in the war," Leslie said in the interview released on the podcast's YouTube channel.
"So, to make it like it's not that important or don't make it where we're like, 'Free Brittney' and we start this campaign, and then it becomes something that they can use."
The war in Ukraine has certainly exacerbated the conditions for Griner's return home.
Politicians have also weighed in on the case, with Black Caucus Chair Joyce Beatty, an Ohio Democrat, and Rep. Sheila Jackson Lee, a Texas Democrat, saying on March 10 that the "fight" was "on" to free Griner, as reported by Politico, and Hillary Clinton calling for "Free Brittney" on social media.