WNBA star Brittney Griner was in "good condition" when an American official was finally allowed to meet with her in the Russian prison where she has been held for over a month on drug charges, State Department spokesperson Ned Price said Wednesday.
"What I can say is that our official found Brittney Griner to be in good condition, and we will continue to do everything we can to see to it that she is treated fairly throughout this ordeal," Price said during a Wednesday morning appearance on CNN.
The 31-year-old WNBA champion and two-time Olympic gold medalist has been detained since February over allegations that officials at a Moscow airport found vape cartridges containing hashish oil, a cannabis product, in her luggage.
Griner's case has received significant public attention from prominent social and political figures like Cori Bush and Hillary Clinton. Family members of the Texas native declined to comment on the case in a Houston Chronicle report earlier this month that indicated the charges that Griner is facing could put her at risk of becoming a "political pawn."
Last week, Russian authorities said her detention would be extended until at least May, when a trial could possibly begin. Those close to Griner as well as those within the WNBA and women's sports community have been relatively quiet, sending few public messages of support and hope that she returns home safely, which reports have said is likely intentional.
"Experts will tell you that Russia has a criminal justice system with due process…until it doesn't," ESPN investigative reporter T.J. Quinn tweeted last week. "If Putin's government decides to make an example of her, the thinking goes, then she's in worse trouble."
Quinn said on a recent episode of the ESPN Daily podcast that he has spoken to people close to Griner and that they have been told it's likely in Griner's best interest to minimize public comments while maintaining pressure behind the scenes for Griner to be treated properly.
"In close collaboration with U.S. government agencies, elected officials, individuals and organizations with expertise in these matters, and Brittney Griner's representatives and family, we continue to work diligently to get her safely home to the United States," the WNBA said in a statement last week. "This continues to be a complex situation that is extremely difficult for Brittney, her family, and all who are hoping for a swift resolution. Our number one priority remains her safe return."
People close to Griner have said that they would like to have the public conversations about why Griner's arrest didn't receive more media attention when it first happened and why WNBA players have to play internationally to make more money than they can make playing in the U.S., but they are aware that Griner's safety is more important and now is not the time to focus on those other issues, Quinn reported.
Newsweek has reached out to the WNBA for comment on today's update from the State Department.
Update 3/23/22, 12:35 p.m. ET: This story has been updated with additional information.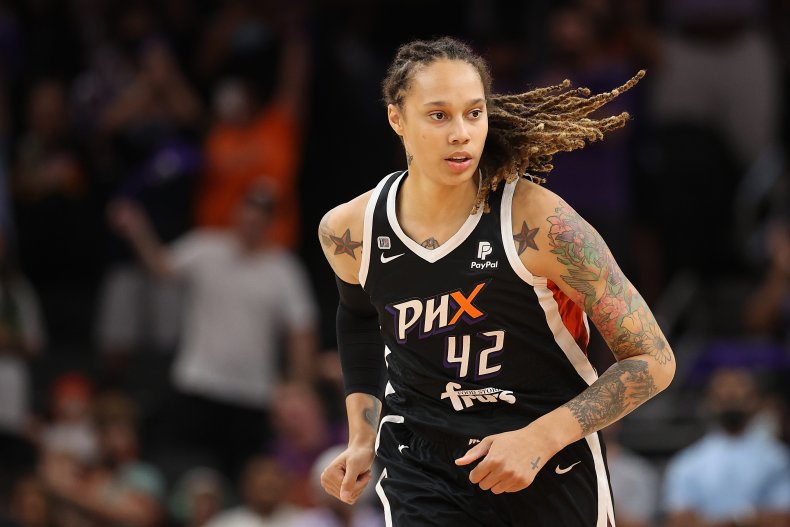 Uncommon Knowledge
Newsweek is committed to challenging conventional wisdom and finding connections in the search for common ground.
Newsweek is committed to challenging conventional wisdom and finding connections in the search for common ground.
About the writer
A 2020 graduate of Kent State University with a Bachelor's degree in Journalism, Aaron has worked as an assigning editor and reporter for KSU's student-run newspaper The Kent Stater, as well as a News Intern with WKSU Public Radio, Kent State's local NPR affiliate.