A TV program which pushes Kremlin propaganda has discussed the fate of two Americans who were fighting alongside Ukrainian troops before allegedly being captured by Russian forces.
The Russia-1 channel broadcast images of Andy Tai Ngoc Huynh, 27, and Alexander Drueke, 39, whose families said were former service members from Alabama who had volunteered to assist Ukrainian forces.
They have not been heard from since June 9, when they were outside of the Kharkiv area.
Host of the show 60 Minutes, Evgeny Popov, said on Friday that the pair had gone to Ukraine "to kill Russians" and their expressions in the images of them in captivity showed "this is clearly not what they anticipated."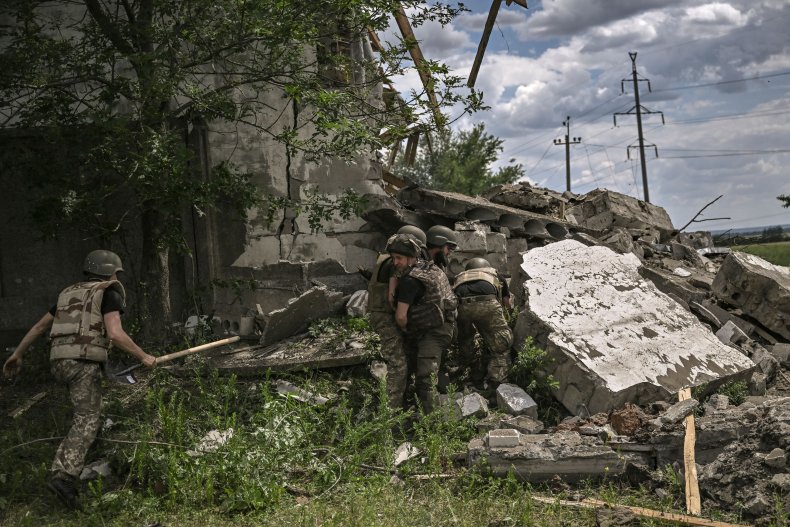 "Why did you come to us, you lowlifes?" Popov said about the captured soldiers followed by TV news clips of interviews with their upset families.
In one clip, Drueke's mother, Bunny Drueke, told CNN that her son did not go as a representative of the U.S. military but as a volunteer, prompting Popov to say, "the poor mother of this mercenary just gave him up."
This was because in his view, if he went as a volunteer, "then he is a mercenary," meaning he would not be subject to the Geneva Conventions and thus cannot be considered a prisoner of war.
Popov suggested that "same fate awaits the American coyotes of war" as that faced by the two British prisoners, Aiden Aslin and Shaun Pinner, who were sentenced to death after being captured while fighting in the Ukrainian army in Mariupol.
Popov said "from now on dialogue with the U.S. will be harsh" and that President Joe Biden and British prime minister Boris Johnson are trying to figure out how to rescue them and "save them from the death penalty."
"We proposed for them to write to the Lottery Bureau or the League of Sexual Reforms, they will definitely be able to help them out."
"We strongly recommend the citizens of Alabama not to come to Ukraine," he said in the clip shared by journalist and Russia watcher Julia Davis, before warning, "don't become cannon fodder."
Other Russian state-controlled news outlets released videos they claim show the two Americans. The publication Izvestia released a video that it said depicts Huynh, in which he delivers a pro-Russian statement.
Meanwhile, a journalist from RT posted a video he said showed Drueke, during which he addresses his mother.
The U.S. State Department told Newsweek it had seen the photos and videos of "these two U.S. citizens reportedly captured by Russia's military forces in Ukraine."
"We are closely monitoring the situation and our hearts go out to their families during this difficult time," the spokesperson said.
"We are in contact with Ukrainian authorities, the International Committee of the Red Cross, and with the families themselves.  Due to privacy considerations, we have no further comment on these cases," the statement added.
Update 06/18/22, 12:15 p.m. ET: This article has been updated with a U.S. State Department response.