Three Americans who reportedly joined Ukraine's fight against Russia and are now allegedly being held by Russian forces in eastern Ukraine may not be getting any help from the U.S., according to a former U.S. Marine.
The former Marine, who spoke to CBS News but asked not to be identified by name, said that he knew and served alongside two of those Americans, 27-year-old Andy Tai Ngoc Huynh and 39-year-old Alexander Drueke, before they reportedly went missing.
"We knew that by going over there and serving for the government of Ukraine, that little to no protections would be extended to us, and that the United States government would be powerless to help us," the veteran said.
In addition to Huynh and Drueke, the U.S. has also said that it is looking into reports that a third American, retired Marine captain Grady Kurpasi, went missing in Ukraine, according to CBS. But the U.S. State Department has yet to provide any confirmation that the men were, in fact, captured by Russian forces.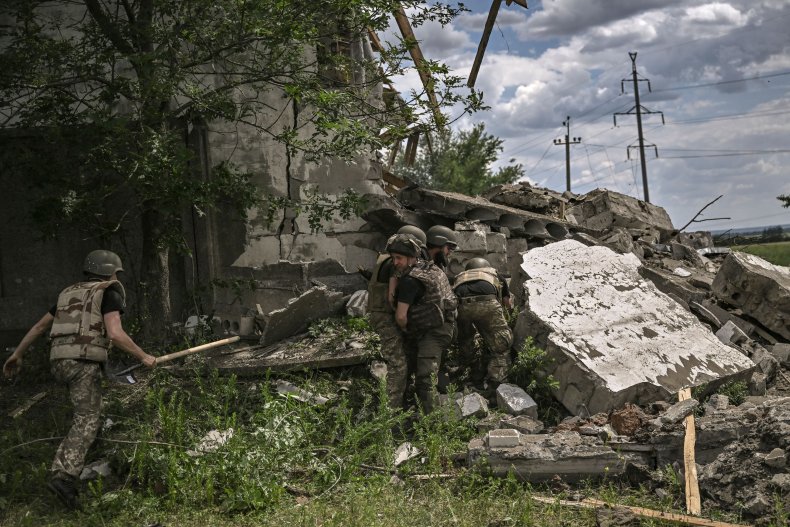 While speaking with CBS, the unnamed former Marine seemingly had little confidence that the U.S. would be able to help him and other Americans fighting against Russia in Ukraine. This still did not deter him and others from answering Ukrainian President Volodymyr Zelensky's call for aid after Russia launched its attack, he said.
"For the first time in my lifetime, we had a head of state making a public cry out for assistance — not just to fellow governments of the world, but to citizens of the world to help," he told the news outlet. "Given the nature of what he was asking for and why, it was hard for me not to answer the call."
But White House spokesperson John Kirby did say Wednesday while speaking about the reports that Drueke and Huynh went missing that "if it's true, we'll do everything we can to get them safely back home."
He also encouraged Americans to find alternative ways to show their support for Ukraine than traveling to the site of the conflict.
"It is a war zone. It is combat. And if you feel passionate about supporting Ukraine, there's any number of other ways to do that that are safer and just as effective," Kirby said.
Russian Foreign Ministry spokesperson Maria Zakharova told Russia's Solovyov Live program Thursday that the U.S. has yet to contact Russia about Huynh and Drueke, both of whom were living in Alabama before traveling to Ukraine. She also offered little details on their missing reports and potential capture.
"I don't have such information, I check every day, I'll check it today. We make all the information about the fate of detained mercenaries or those sentenced to trial public... Once again, I want to say—I will double-check if there is any additional information in this regard," Zakharova said.
In response to Newsweek's request for comment, the State Department pointed toward spokesperson Ned Price's Thursday briefing, when he said that the department couldn't share much on the matter due to privacy considerations and its limited knowledge.
"But I can tell you what we do know and what we can say," he added. "We are aware of unconfirmed reports of two U.S. citizens captured in Ukraine. We're closely monitoring the situation. We are in contact with Ukrainian authorities, as well as with the International Committee of the Red Cross and the families of the two reported missing U.S. citizens."
Price also said that as of Thursday, the department had not contacted Russia about the reports.
"If we feel that such outreach through our embassy in Moscow or otherwise would be productive in terms of finding out more information on the whereabouts of these individuals, we won't hesitate to do that," he said.
Newsweek reached out to Russia's Foreign Ministry for comment.
Updated 6/17/22, 2:10 p.m. ET: This story was updated with additional information from the State Department's Thursday press briefing.