U.S. Has Not Made Contact Amid Reports of Captured Americans, Russia Says
Russia says the U.S. hasn't contacted them over two Americans, both former servicemen, who are missing and may have been taken prisoner by Moscow during the conflict in Ukraine.
Unnamed soldiers who say they fought alongside the pair told British newspaper The Telegraph that Andy Tai Ngoc Huynh, 27, who served in the Marines, and Alexander Drueke, 39, an Iraq War veteran, disappeared during a fierce battle outside Kharkiv, in Ukraine's north-east.
Russian Foreign Ministry spokesperson Maria Zakharova told Russia's Solovyov Live program that Washington is yet to contact Moscow regarding the reports, state-run news outlet RIA Novosti reported.
Zakharova also appeared to deflect the reports when pressed on the issue on air.
"I don't have such information, I check every day, I'll check it today. We make all the information about the fate of detained mercenaries or those sentenced to trial public... Once again, I want to say—I will double-check if there is any additional information in this regard," Zakharova said.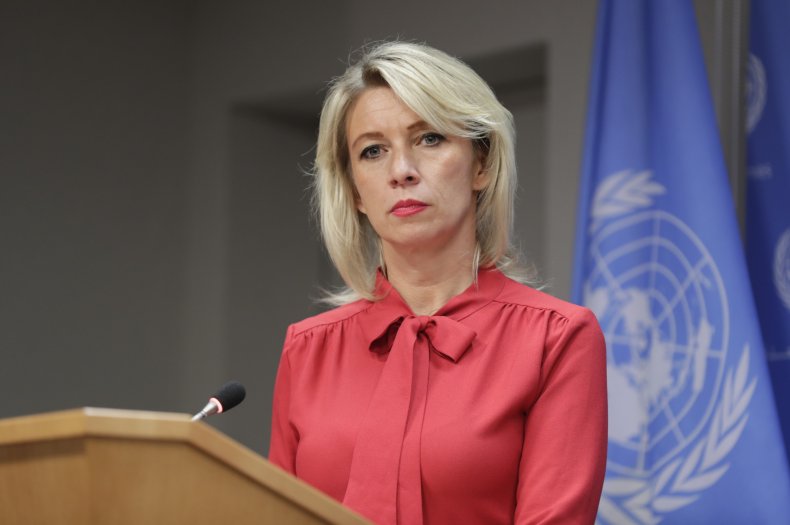 The Telegraph reports that if confirmed, Drueke and Huynh, who had been living in the state of Alabama, could be the first U.S. servicemen to end up as Russian prisoners of war.
White House spokesperson John Kirby said Wednesday that he could not confirm that Drueke and Huynh are missing, but added that "if it's true, we'll do everything we can to get them safely back home."
Kirby urged Americans against volunteering to fight in Ukraine.
"It is a war zone. It is combat. And if you feel passionate about supporting Ukraine, there's any number of other ways to do that that are safer and just as effective," Kirby said.
The State Department separately said that it is "aware of unconfirmed reports of two U.S. citizens captured in Ukraine."
"We are closely monitoring the situation and are in contact with Ukrainian authorities. Due to privacy considerations, we have no further comment," the department said in a statement to multiple news outlets.
Drueke's mother, Lois, told CBS News she hasn't received official word that her son has been taken prisoner.
The unnamed comrade claimed Drueke and Huynh were captured in the village of Izbytske, close to the Russian border.
"We were out on a mission and the whole thing went absolutely crazy, with bad intel," he said, noting that they couldn't be found during later search missions.
He said he grew concerned when he saw a message on a Russian Telegram channel l claiming that two U.S. servicemen had been taken as prisoners of war near Kharkiv—where they had been positioned.
"It is too much of a coincidence for that to have happened otherwise—we are the only Americans fighting in this area," the comrade said.
"We are not mercenaries, or part of some militia. We are serving under the command of the Ukrainian armed forces. I am speaking out on my missing comrades' behalf because I want it in the public domain that they are missing, so that the Russian high command is made aware too.
"That hopefully reduces the chances of them being quietly executed by whoever is holding them further down the chain."
Last week, two British men and a Moroccan who were fighting in Ukraine were sentenced to death by a court in the self-proclaimed People's Republic of Donetsk after they were tried as "mercenaries."
Newsweek has contacted the Biden administration and the U.S. defense department for comment.