Two British Fighters in Ukraine Sentenced to Death by Pro-Russian Court
Two British men who have been fighting against Russian forces in Ukraine have been sentenced to death by a court in the self-proclaimed People's Republic of Donetsk.
Aiden Aslin, 28, and Shaun Pinner, 48, were given the death penalty by the court in the pro-Russian breakaway republic on Thursday, according to Russian news outlets TASS and RIA Novosti. The legal proceeding has been criticized as a "show trial" and it's been suggested that Russia is using the two British men in an attempt to pressure the U.K. government. Russia may also be looking at a potential prisoner swap.
Moroccan-born Brahim Saadoun was also sentenced to death along with Aslin and Pinner on Thursday following a three-day trial. RIA Novosti shared footage on social media on Wednesday that apparently showed Aslin pleading guilty to charges.
The two British men are reported to have admitted to "training in order to carry out terrorist activities." Denis Pushilin, president of the Donetsk People's Republic, accused the men of having committed "monstrous" crimes.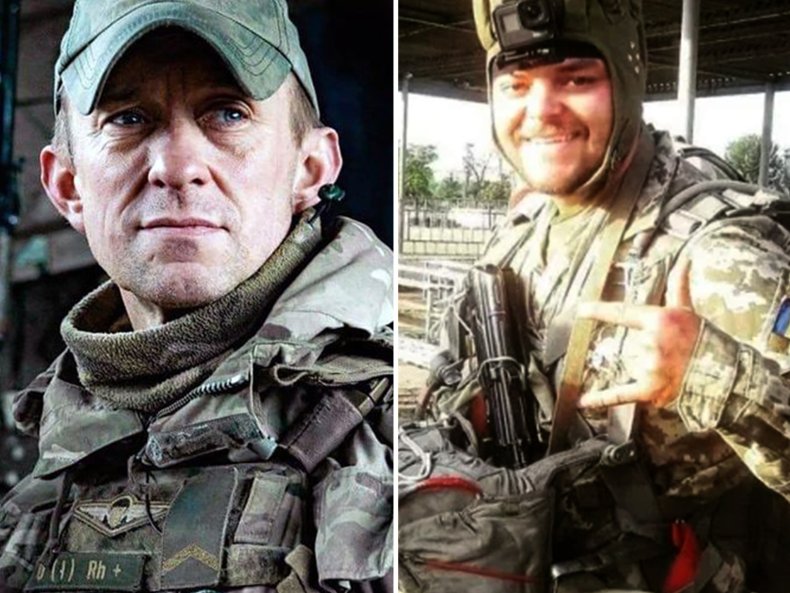 The men appeared on Russian state TV in April and asked to be exchanged for pro-Russian Ukrainian politician Viktor Medvedchuk, though it was not clear how free they were to speak. Medvedchuk is currently in Ukrainian custody and has been accused of high treason.
Aslin and Pinner have said they were serving in the Ukrainian marines when they were captured in April, which would make them active-duty soldiers covered by the protections of the Geneva Convention. However, Russian state TV has depicted the men as mercenaries and the separatist court on Wednesday convicted them on charges of "being a mercenary."
The men's fate was also the subject of a recent, heated debate on Russian state TV, during which pundits argued over whether Aslin and Pinner should be executed (and by what method) or if they should be used to ransom frozen Russian assets.
In April, British Conservative MP Brandon Lewis expressed sympathy with the men but said: "They shouldn't have been there, it is an illegal act to be there."
Lewis, who is secretary of state for Northern Ireland, told Sky News on April 19: "Obviously, anybody will have sympathy with somebody who has been taken hostage but we have got to make sure that we follow the proper processes, that we are dealing with this in the right way."
Another Conservative MP, Robert Jenrick, who represents the constituency Aslin is from, said hours before the sentencing on Thursday that the two men faced "trumped-up charges." Jenrick accused Russia of a "completely outrageous breach of international law."
"What I hope happens is that a prisoner exchange occurs in the near future. The Russian authorities have chosen to make an example out of these two British nationals and it is, I think, completely shameful," Jenrick said.
Update 06/09/22, 11.00 a.m. ET: This article was updated to include additional information and a new image.