Brittney Griner pleaded with President Joe Biden in a July 4 message to not forget her plight, as the WNBA star fears she'll remain imprisoned in Russia over drug charges and never see home.
Representatives of Griner reached out directly to Biden on Monday with a handwritten note from the Phoenix Mercury center. An excerpt of the note provided to Newsweek by Lindsay Kagawa Colas, Griner's agent, shows the direct appeal Griner made to Biden days after she went on trial for allegedly carrying cannabis oil in a Moscow airport on February 17.
Her high-profile arrest and detention come as U.S. officials have raised alarms that Moscow is using detained Americans as bargaining chips amid worsening diplomatic relations over Russia's war in Ukraine.
"As I sit here in a Russian prison, alone with my thoughts and without the protection of my wife, family, friends, Olympic jersey, or any accomplishments, I'm terrified I might be here forever," Griner, a two-time Olympic gold medalist, wrote in her letter to the president.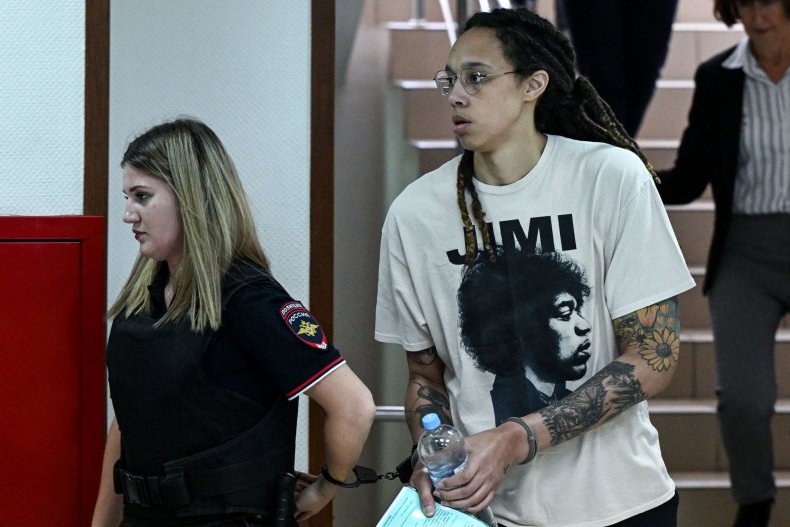 Griner noted her father is a Vietnam War veteran and how her family uses the Fourth of July holiday to honor "the service of those men who fought for our freedom."
"It hurts thinking about how I usually celebrate this day because freedom means something completely different to me this year," said Griner.
She wrote that she voted for Biden for the first time and still had faith in him.
"I realize you are dealing with so much, but please don't forget about me and the other detainees. Please do all you can to bring us home."
Griner, 31, has played for the Russian basketball team UMMC Ekaterinburg for several years. She was detained earlier this year on charges she had vape cartridges containing hashish oil in her luggage.
The WNBA has called for Griner's release and the WNBA star's supporters have used the #FreeBrittneyGriner hashtag to bring attention to her case. A Change.org petition seeking her return to the U.S. has nearly met its goal of 300,000 signatures as of Monday.
During a press briefing last week, National Security Advisor Jake Sullivan reiterated the White House's view that Griner is being wrongfully detained and should be released by Russian authorities.
"The United States government is actively engaged in trying to resolve this case and get Brittney home," said Sullivan.
Sullivan said he and Secretary of State Antony Blinken had spoken with Griner's wife, Cherelle, and that her detention had the "fullest attention of the president and every senior member of his national security and diplomatic team."
The U.S. government is treating Griner's detention as a hostage situation and the Special Presidential Envoy for Hostage Affairs has become involved with her case. Russian officials, however, have maintained that Griner is a lawbreaker.
Colas told Newsweek in an email that "Cherelle Griner and the Griner Family are not available for further comment at this time."
Newsweek has reached out to the White House for comment.
Update 7/4/22, 8:14 PM ET: The story has been updated with additional information.
Update 7/4/22, 9:30 PM ET: The story has been updated with comment from Lindsay Kagawa Colas.
About the writer
Jake Thomas is a Newsweek night reporter based in Portland, Oregon. His focus is U.S. national politics, crime and public health. He has won numerous awards while covering government, social services and a wide range of other topics for publications in Oregon and Washington. Jake joined Newsweek in 2021 after previously working as a contract reporter for United Press International and a staff writer at Salem Reporter. You can get in touch with Jake by emailing j.thomas@newsweek.com. Languages: English, intermediate Spanish.