Broadway Is Dark Until 2021 but You Can Still See Live Theater—Here's How
The show must go on, even if only from your couch instead of a theater. On June 29, the Broadway League announced that performances in New York City will be suspended for the rest of the year due to the coronavirus pandemic. Broadway shows are one of the many things canceled or postponed since March this year.
According to Variety, this is the fourth extension made by the Broadway League. It is also the longest time theaters have been shut.
"The safety of our cast, crew, orchestra and audience is our highest priority and we look forward to returning to our stages only when it's safe to do so" chairman of the Board of the Broadway League Thomas Schumacher said in a statement. "One thing is for sure, when we return we will be stronger and more needed than ever."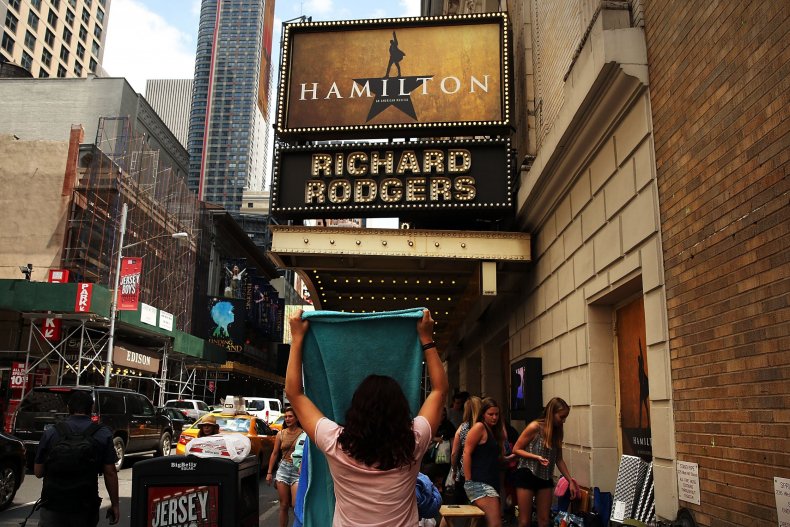 However, just because you can't go out to a venue doesn't mean that you can't enjoy the spectacle of live theater and immerse yourself in top-notch talent from around the world. Here are several ways you can still see live performances, and all that jazz.
Hamilton Reunion
With the upcoming July 3 premiere of Hamilton on Disney+, the cast of Hamilton will be reuniting on Sirius XM for a virtual reunion. Hosted by SiriusXM's Seth Rudetsky, the cast will meet up on Zoom to chat about their favorite moments of the show. Lin-Manuel Miranda will be part of the online event, along with Daveed Diggs, Renée Elise Goldsberry, Christopher Jackson, Jasmine Cephas Jones, Leslie Odom, Jr., Okieriete Onaodowan, and Phillipa Soo. Tune in on Thursday, July 2 at 6 p.m. on the Sirius Channel "On Broadway."
Lincoln Center Live
Since the cultural institution closed its doors for mass gatherings, it now hosts an array of live performances you can stream online. Wednesday evenings feature a Q&A session with Wynton Marsalis via Lincoln Center's Instagram Live. On Thursdays at 7:30 p.m., tune in for Dizzy's at Home, a weekly live stream of "the best jazz in the city" can be viewed on Facebook Live.
As part of its on Broadway Fridays series, the site will stream until July 3, Act One, the rags-to-riches story of playwright-director Moss Hart that stars Tony Shalhoub, Santino Fontana and Andrea Martin. Broadway Fridays will be available on Lincoln Center's YouTube channel, Facebook page, and on Lincoln Center at Home. The next live stream coming up on Friday, July 10, is the golden age musical Carousel, starring Kelli O'Hara Nathan Gunn, Stephanie Blythe and John Cullum.
Additionally, the Concerts for Kids series is the perfect way for families to enjoy music together. Dozens of performances, operas and dances can also be streamed on Lincoln Center's homepage, Instagram Live or Facebook Live. For more information on all upcoming online events, check out LincolnCenter.org/lincoln-center-at-home.
Stars in the House
Part of Stars in the House's online content is its Plays in the House series, in which "luminaries of stage and screen read classics and new works" to raise money for the Actors Fund to help entertainment professionals in need during the COVID-19 pandemic. Past performers on the show since it began on March 16 have included Jason Alexander, Kristen Chenoweth, Jeremy Jordan and Audra McDonald, to name a few. Upcoming performances include a reading of Die, Mommie, Die! on Wednesday, July 1 at 2 p.m. It will be available online until Saturday, July 4 at 2 p.m. The series can be live-streamed daily on its YouTube channel and StarsInTheHouse.com daily at 2 p.m. and 8 p.m.
Producer James Wesley, co-creator of Stars in the House, told Newsweek that theater is something audiences need now more than ever. "There are two things that make theater magical and transformative: It's live, and it's interactive—whether through applause, laughter or gasps. And we need that now more than ever. I'd like to think that we provide that in our own way during COVID—we're always live (where anything can happen and usually does) and viewers can write comments that we share with the stars on our show and with our audience."
The Public Theater
The New York City arts organization be hosting a virtual world premiere. The Line is a new play crafted in a documentary-style that confuses on the coronavirus pandemic. It was created by Jessica Blank and Erik Jensen by conducting interviews from New York City based medical responders. The show "cuts through the media and political noise to reveal the lived experiences of front-line medical workers in New York and their battle to save lives in a system built to serve the bottom line." The run of Blank and Jensen's moving production of Coal Country, about the 2010 the Upper Big Branch mine explosion in West Virginia that killed 29 men, was cut short by the shutdown. The Line can be streamed on the Public's website or through its YouTube Channel on Wednesday, July 8, at 7:30 p.m.
The 24 Hour Plays
The 24 Hour Plays bring together creative communities to produce plays and musicals that are written, rehearsed and performed in 24 hours. Before the pandemic, performances were held in New York City; London; Los Angeles; Dublin; Minneapolis; San Francisco; Athens; Mexico City; Florence, Italy, and in Finland, Germany and Denmark. They can be streamed on The 24 Hour Plays' Facebook and YouTube channels.
On June 30 at 6 p.m. in honor of Pride Month, 24 Hour Plays and Pride Plays will unite to mark the end of Pride Month with a special edition of The 24 Hour Plays: Viral Monologues. New York–based performers and folks on the West Coast will unite for this celebration, forming an all-star cast of LGBTQIA+ talent. The stacked cast includes Philippe Bowgen, Yin Chang, Travis Coles, Lea DeLaria, Drew Droege, Scott Evans, Lola Kelly, Jordan Kisner, L Morgan Lee, Larry Owens, Josh Rivas and Ianne Fields Stewart.
Artistic director, Mark Armstrong, told Newsweek about the importance of theater amid the pandemic. "There's a quote by Sheila Heti that I'm fond of using to describe our Viral Monologues initiative—'I made what I could with what I had'—because that's what we did. Our stages may be silent, but the voices of theater artists have gotten even louder and their creativity has gotten even bolder."
Dozens of past performances from 24 Hour Plays can be streamed on its website 24HourPlays.com.
The Seth Concert Series
This weekly virtual series based on Sirius XM Radio personality Seth Rudetsky's international Broadway series is a great way to see award-winning theater stars perform during the pandemic. Upcoming performances are Melissa Errico on July 5, and Audra McDonald on July 12. These concerts can be live-streamed on Sundays at 8 p.m. with a second screening the following day at 3 p.m. Past performers include Jeremy Jordan and Kelli O'Hara.
Seth Rudetsky told Newsweek that despite the pandemic, the show really can go on. "It's incredible that the technology now exists that I can do my Seth Concert Series with Broadway stars while we're in different locations…and it's completely live! The weirdest thing is what happens right after the final note of a big song; complete silence. We just have to hope that people all over the world are applauding…many of them in their underwear," he quipped.
Take Me to the World: A Sondheim 90th Birthday Celebration
The two-and-a-half hour live stream, which originally aired this April and was an early highlight of streamable shows, paid tribute to Stephen Sondheim's 90th birthday is still available to view on YouTube. Broadway.com teamed up with ASTEP (Artists Striving to End Poverty) to create the the beautiful compilation, which was filmed remotely and edited together for duets, etc. The two-hour-plus-long video features Lin-Manuel Miranda, Neil Patrick Harris, Jake Gyllenhaal, Sutton Foster, Melissa Errico, Lonny Price, Meryl Streep, Audra McDonald and Christine Baranski, to name just a few.
Red Bull Theater
The off-broadway theater has a virtual festival coming in July. The 10th Annual Short New Play Festival will feature eight world premieres from up-and-coming writers. Red Bull's recent hilarious production of Jeffrey Hatcher's adaptation of Nikolai Gogol's farce, The Inspector General starring Michael Urie, was the talk of the chat rooms. The New Play Festival airs on Monday, July 20 at 7:30 p.m.
The Mint Theater
The off-Broadway Theater company recently announced the Mint Theater Company's Summer Stock Streaming Festival. The virtual event features three plays: The Fatal Weakness, The New Morality and Women Without Men. Two plays by Elizabeth Baker are also streamable now through August 29.
Richard Nelson
Tony Award winner Richard Nelson's latest endeavor is And so We Come Forth: The Apple Family: A Dinner On Zoom, that will live-stream on Wednesday, July 1 at 7:30 p.m. It will be available for eight weeks after its premiere to watch on YouTube and at TheAppleFamilyPlays.com. The play is set in early July 2020, amid massive protests over the killing of George Floyd and against racism in America, as well as the anxious easing of restrictions imposed during a worldwide lockdown, according to the play's website. Over a family dinner, and over Zoom, the Apples talk about their fears and hopes, who they are, what has been lost, and where they now belong in a world that keeps becoming more and more uncertain.
The cast is made up of Stephen Kunken, Sally Murphy, Maryann Plunkett, Laila Robins and Jay O. Sanders, who will be performing from their homes. The live stream will support the Actors Fund, a national human services organization that fosters stability and resiliency and provides a safety net for performing arts and entertainment professionals over their life span.