Broadway's 'Grand Horizons' Is a Sophisticated Comedy for Adults—for a Change
Adult comedies used to be a staple on Broadway, but as that audience became less New York–based and more tourist-based, they have largely faded from the picture. Other than slapstick, humor doesn't usually travel well. This season, Second Stage Theater seems to be on a mission to rescue the form, first with Tracey Letts' Linda Vista, and now with Bess Wohl's smart, funny and thoughtful Broadway debut, Grand Horizons.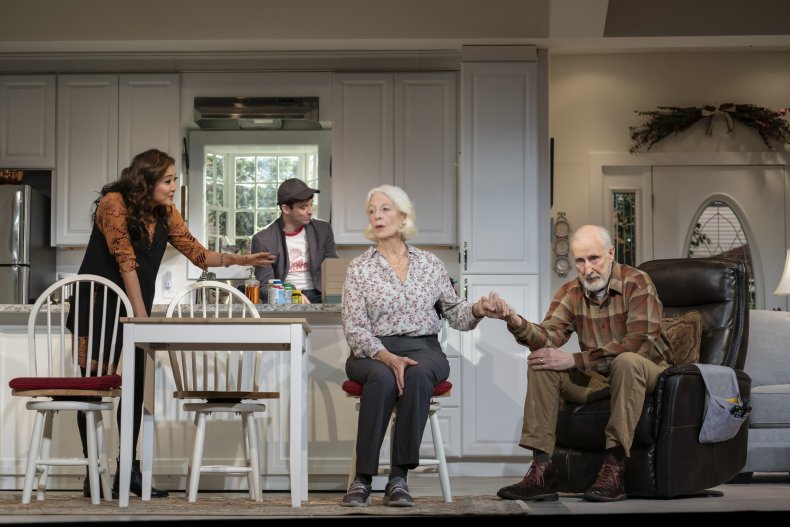 To the outside world, the Frenches are a seemingly normal, red-blooded American family. Nice home, in a nice neighborhood in a nice retirement community in suburban Philadelphia—perhaps it's a little sterile, but it's livable. Nancy (Jane Alexander) and Bill (James Cromwell) a nice-looking 80-ish couple. Everything is nice, nice, very nice. They sit down for a bite to eat as they apparently have done (exactly the same way) for years, but boy do things change.
Out of the blue, Nancy announces that she wants a divorce, and surprisingly—to the audience at least—Bill's OK with that. Then they tell their sons, Brian (Michel Urie) and Ben (Ben McKenzie). What follows is a series of revelations. Some innocuous: Bill is taking a stand-up comedy class at the local center. Some not so innocuous: Nancy's true love was someone else.
That's when things get complicated. Brian is holding fast to the illusion that they have been living this 1950s television show dream life, and he wants it to continue. Oh: Brian also picks up men on the internet. So the illusion doesn't even extend as far as himself. And then Nancy tells Brian some stories including the most intimate details an intimate relationship. One can almost see his face turning to stone. (As well it should: Being forced to hear details of your parents' sex life has to violate some tenet of some human rights accord. Jesus wouldn't have to, why should anyone else?)
Ben and Jess (Ashley Park), his very pregnant wife (I'd ballpark her at being in about her 12th month), are having their own problems. Jess is on edge all the time. The smallest thing sets her off, and being subjected to the craziness of this family is not helping. Is this what the future holds for her and Ben's relationship? So it's best to tread lightly around her, or get the hell out of her way.
Into this rabbit hole come two outsiders, Brian's pickup Tommy (Maulik Pancholy) and Bill's girlfriend Carla (Priscilla Lopez. (When a family is this interesting, it's usually dysfunctional.) These two are emissaries from the real world who quickly put things into sharp perspective. Families can be weird, but that doesn't make their problems any less real. All this makes for one seriously crazy time.
The cast—and it is truly an all-star cast—make shifts in emotion and tone quickly and easily. Alexander and Cromwell navigate the toughest scenes in which they discuss geriatric sex; it would have been too easy—and very wrong—for them to channel some hormonal 16-year-old former self. But they act their age, and they act it perfectly. And Urie, whose Brian has not—at least emotionally—left home, shows that he is as adept at being a straight man as he is in landing a comic line. McKenzie and Park find nuance in Ben and Jess' relationship and exchanges as they experience life on the cusp of some very big change.
Wohl's writing is clever, but not self-consciously so. The play is well-structured—how refreshingly quaint—and well-appointed. It is filled with details, little details that enrich the play. For instance, Brian is one of the rare gay characters whose preference is not a problem for his parents, in fact I don't remember it ever being referred to by any of the straight characters. He has other problems, a bunch, but that's not one. And the names of the housing developments in the community are ironic and funny. If you can't move to Del Boca Vista, you really ought to try Vista View, Rose Court or Grand Horizons.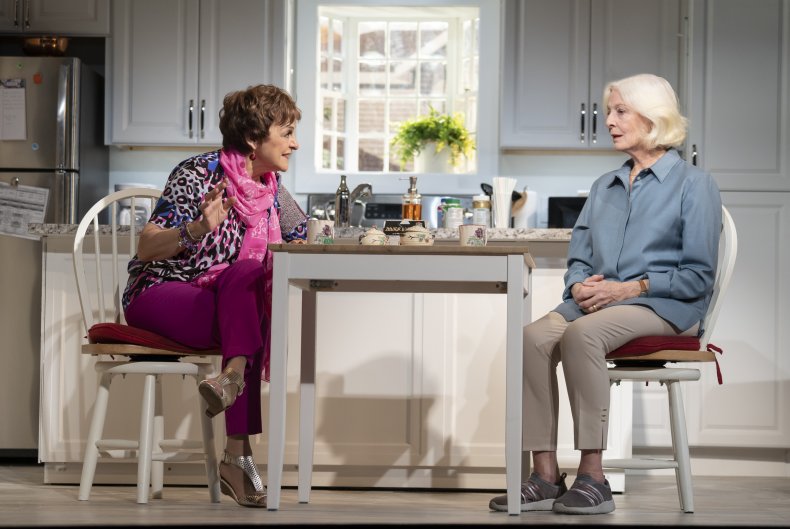 The dialogue here is, as in her other plays, smart and funny. And while a vulgar joke or two does make it into the play, at least it is a really funny one. I don't have much hope for Bill's future as a standup, but I think he could enliven a party or two—depending on the crowd.
Finally, there are no major epiphanies to be had here, just some minor ones. No group hugs or feel-good summations. This is no sitcom. These are real people with complex problems. That we can laugh at the people and their problems without ridicule is just good writing. All the problems may not get resolved here, but at least they get examined and attempts to solve them are made—and for the Frenches that is a major step forward.
Broadway has undervalued comedies for years, but it really ought to make room every season for intelligent, well-written, well-constructed comedies, especially those on as high a level as Grand Horizons.
Grand Horizons is now playing at the Hayes Theatre 240 West 44th Street for more information go to 2St.com.