Video: Bronx Mom, 49, Wrestles Teenage Would-be Car Thief to the Ground—'Not Today'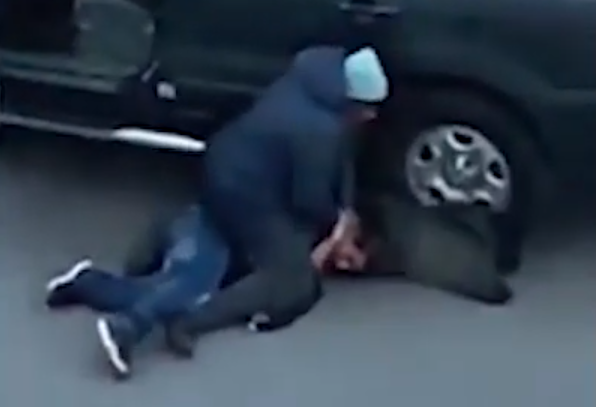 A Bronx mother who was captured on video fending off an attempted carjacking this week has told local media that the offender, aged 19, is lucky to be alive.
Tihisha Jones, aged 49, was seen on cellphone footage holding down Bernado Santiago on Tuesday until New York police arrived on the scene. By that point, his shirt had been torn off. "He's lucky I didn't kill him," Jones told NBC 4 New York. "That's the thing."
Read more: Florida man with pink eye tried to use pot to pay at McDonald's
The mother said she had remote-started her vehicle, a Honda Pilot, as she was leaving her apartment. But as she approached it her son—who Jones was taking to school—spotted someone was already inside. She quickly opened the car door and pulled the man out.
The incident occurred at about 7:30 a.m., reports said.
"I came to the side to try and drag him out, but I couldn't get him out this way—he pulled the door to close it on me," Jones said. "I jumped across the car, opened this door and I pull him out and then after that, I couldn't tell you what happened. I just had to do what I had to do."
She told WREG: "Not today, he didn't win today I won today, I'm the hero today."
The video, taken by a witness, showed the mother pinning the suspect down. Jones told NBC 4 New York her adrenaline had spiked and, referring to her car, noted she "was just worrying about black beauty." She said her car is vital as she needs it to travel to doctor appointments.
WABC-TV reported that Jones's car had recently been targeted in the area. Someone broke a window last week and someone stole the rear spoiler the week before that, she said.
"I had to take matters into my own hands because I work, I saved to get that car myself," Jones added, WABC-TV reported. "I'm a single parent, I saved to get that, I saved."
She said: "I just had enough. It was time to fight back. I don't think this is fair. That people work hard for their things, for somebody to take your things away, I don't think that's fair."
The news outlet reported Santiago had appeared to be intoxicated when he was approached by police officers. He allegedly attempted to claim that the vehicle was his Uber.
The 19-year-old suspect was charged with attempted grand larceny, attempted petit larceny and criminal stolen possession of stolen property, local media reported, citing the NYPD.