Brooklyn Center Mayor Says Biden Offered Support After Daunte Wright Shooting Unrest
President Joe Biden has offered his administration's support to the city of Brooklyn Center, Minnesota, in the wake of Daunte Wright's death and Sunday night's subsequent protests, according to Mayor Mike Elliott.
"Just got off the phone with the @WhiteHouse. I appreciate @POTUS reaching out to offer his administration's support," Elliott tweeted with a photo of him on the phone.
Wright, a 20-year-old Black man, died Sunday afternoon after being shot by a Minneapolis police officer during a traffic stop in the suburb of Brooklyn Center.
The shooting sparked unrest late into the night during a time when the city is already on edge amid the trial of former Officer Derek Chauvin, who is standing trial for the death of George Floyd. At a courtroom less than 10 miles away, Chauvin's trial resumed for the 11th day just hours after protestors clashed with police.
Wright's mother, Katie Wright, told reporters her son had called her around 1:40 p.m. when he was being pulled over for allegedly having air fresheners in the car. She said she heard someone yell, "Daunte, don't run," before the call ended and Wright's girlfriend called her back to inform her he had been shot.
Police Chief Tim Gannon said an officer shot Wright after pulling the car over for a traffic violation and discovering that the driver had a warrant for his arrest. Gannon said he has asked the Minnesota Bureau of Criminal Apprehension, which led the probe into Floyd's death, to investigate the shooting of Wright.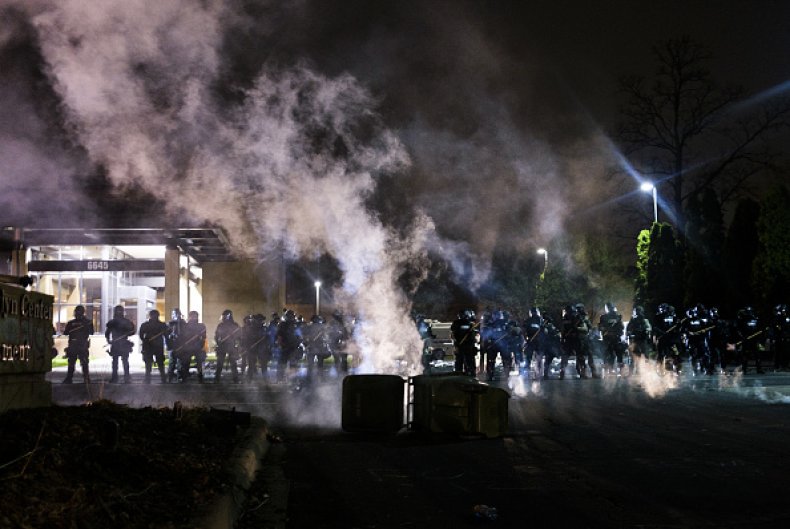 Hundreds of people took to the streets of Brooklyn Center, where officers fired rubber bullets and chemical agents at protesters gathered outside of the Brooklyn Center Police Department into early Monday morning.
On Sunday night, Elliott ordered a citywide curfew until 6 a.m. and the local school superintendent moved the district to remote learning on Monday "out of an abundance of caution."
The mayor identified Wright as the victim early on Monday.
"Our entire community is filled with grief following today's officer-involved shooting of Daunte Wright, a 20 year old young man. Our hearts are with his family, and with all those in our community impacted by this tragedy," Elliott said in a video statement early Monday morning.
"While we await additional information from the BCA who is leading the investigation, we continue to ask that members of our community gathering do so peacefully, amid our calls for transparency and accountability," he added.
Elliott thanked Governor Tim Walz, whom the mayor said offered the state's help, and said he was in close contact with Minnesota Public Safety Commissioner John Harrington.
On Sunday, Walz tweeted, "I am closely monitoring the situation in Brooklyn Center. Gwen and I are praying for Daunte Wright's family as our state mourns another life of a Black man taken by law enforcement."
Newsweek reached out to the White House for comment but did not hear back before publication.