'Brooklyn Nine-Nine' Canceled: Why the Show Is Ending (Again)
Brooklyn Nine-Nine has been canceled by NBC, two years after it was saved by the network following its cancelation by Fox. The show will end after its shortest season yet, a 10 episode Season 8, set to air in fall 2021.
In a statement from executive producer Dan Goor, he hinted that they had decided to stop the show now and give it a definite end rather than being abruptly canceled again as they were the first time.
The EP wrote, with a fun reference to a running joke from the cop comedy: "Ending the show was a difficult decision, but ultimately, we felt it was the best way to honor the characters, the story and our viewers. I know some people will be disappointed it's ending so soon, but honestly, I'm grateful it lasted this long. Title of my sex tape."
The show's ratings have stayed fairly steady since moving from Fox to NBC. The last two seasons on Fox got an average total viewership of 2.87 and 2.71 million respectively, compared to 3.11 and 2.69 million for the first two NBC seasons.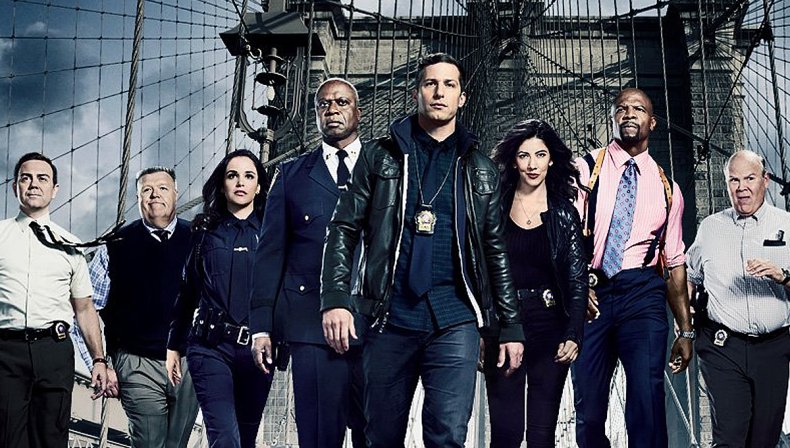 This, however, makes it one of NBC's lowest-performing scripted shows. Per TVSeriesFinale, the show was 14th in the ratings out of the 19 scripted shows NBC aired in the 2019-2020 season.
The fact that it got renewed at all may be down to the lack of successful comedies NBC currently has. The three sitcoms that beat Brooklyn Nine-Nine in the ratings have either already ended (the Will and Grace reboot and The Good Place) or are ending in 2021 (Superstore, whose season finale is airing on March 25.)
The ongoing conversations about so-called "copaganda" probably did not help the show's chances of being renewed. The police comedy has frequently been criticized after the Black Lives Matter protests, something that has led to much soul searching on the show, and episodes based on racial profiling in the past.
This was something discussed by show star Andy Samberg, who told People in July. "We're taking a step back," he said. "And the writers are all rethinking how we're going to move forward, as well as the cast. We're all in touch and kind of discussing how you make a comedy show about police right now, and if we can find a way of doing that that we all feel morally okay about."
Brooklyn Nine-Nine was first canceled in 2018, with the show being picked up by The Peacock Network the following day.
Explaining why the show was canceled, Fox Television Group CEO Dana Walden told Entertainment Weekly in 2018: "Ultimately we felt like we didn't have the exact right place to schedule it this year. It performed best in our Sunday night lineup [but] we wanted to give Bob's Burgers an opportunity to have a plum time period and really grow.
"It really limited the opportunities to schedule Brooklyn. With Thursday Night Football, there were two fewer hours to program. We were trying to create a more cohesive program, and scheduling Brooklyn would prevent us from promoting something new. Ultimately we decided we just didn't have room for it."
Brooklyn Nine-Nine Season 8 is coming soon to NBC.