Brooklyn Subway Shooting Prompts Major U.S. Transit Security Response
Several people were shot in a subway attack in Brooklyn on Tuesday morning, prompting New York City and other major cities to ramp up transit security.
The attack in Brooklyn took place around 8:30 a.m. According to an official with the New York Police Department (NYPD), the suspect got on a northbound R train and detonated a smoke bomb. The train continued to the next stop, where gunfire erupted.
The New York Fire Department said 16 people were injured, and NYPD reports no life-threatening injuries.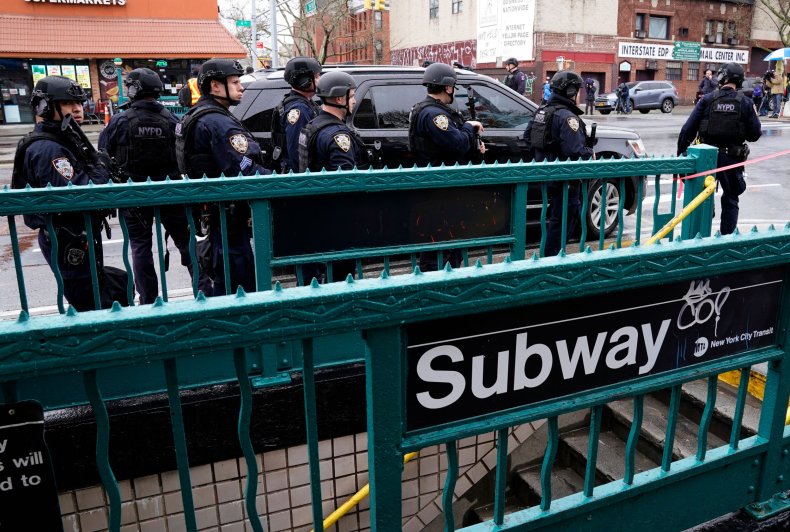 Several transit systems across the nation have commented on the attack, stating that they are ramping up security and patrols on subway stations in major cities, including Philadelphia, Los Angeles, San Francisco, Washington D.C., Atlanta, and Boston.
On Tuesday, shortly after the attack, Philadelphia Police tweeted, "Police to monitor subways and transportation hubs in our city. While there is no apparent nexus to Philadelphia at this time, people should remain vigilant & immediately report suspicious activity to 911."
The Massachusetts Bay Transportation Authority (MBTA) released a statement, saying, "To reassure our riders, the Transit Police Department has increased the number of uniformed officers on the system and deployed additional Explosive Detection K9 teams to perform protective sweeps. There are also actions police will employ that will not be visible to the riding public."
MBTA also stated that "At this time, there is no evidence, credible or otherwise, to suggest the MBTA system is a potential target."
Metro Transit Police in Washington D.C. told passengers to "be vigilant" on Twitter, writing that they "continue to monitor security of our system w/heightened awareness; there are currently no known credible threats."
Washington Metropolitan Area Transit Authority spokesman Ian Jannetta told WTOP, "Additional K-9 sweeps and patrols are being implemented in the system as a precaution."
In Atlanta, the Metropolitan Atlanta Rapid Transit Authority (MARTA) also released a statement, according to CBS46, offering condolences and saying, "While there are no credible threats against MARTA, the MARTA Police Department (MPD) has placed additional officers, K-9 units, and special operations teams on trains and in train stations. MPD is in contact with our law enforcement and transit agency partners and will continue to monitor the situation."
On the other side of the country, cities in California are also doubling down on security as a precaution.
On Tuesday, the Los Angeles Police Department (LAPD) tweeted, "The LAPD is closely monitoring reports of a multiple victim shooting this morning at a subway train station in Brooklyn. We're in contact with our local, state & federal partners, and as always, providing high visibility patrols throughout the city, including bus & rail stations."
And Bay Area Rapid Transit (BART), which operates in San Francisco, stated that it is in "direct contact with federal authorities" about the situation.
Ed Alvarez, the chief of BART police, told KRON4, "BART Police will continue to conduct high visibility patrols through trains and stations and will use our system of more than 4,000 cameras to monitor the system."
NYPD said that the suspect, a Black male, 5'5" with a heavy build, is still at large. He was wearing a green construction-like vest and a gray hooded sweatshirt. Police say the suspect dawned a gas mask and opened a gas canister inside the subway car as it pulled into the station. He then opened fire, striking people in the car and on the platform.
NYPD is "not ruling out" any particular motive in the attack as they search for the suspect.
Newsweek reached out to the MBTA and the Chicago Transit Authority for comment.
For live updates on the Brooklyn subway shooting, visit our live blog.
Update: 04/12/22 3:31 p.m. ET: This article was updated with comment from MARTA.