Early Person of Interest, Not Frank James, Known Previously to FBI: Source
A federal law enforcement source told Newsweek that early on the investigation of Tuesday morning's Brooklyn subway attack, authorities were looking at a different person of interest that was entered into the Guardian lead system.
The NYPD have apprehended a different suspect, 62-year-old Frank R. James, on Wednesday afternoon. Officials say, James called police on himself after being on the run for 30 hours.
The subway attack that injured multiple people in the New York City borough of Brooklyn Tuesday morning was initially considered an act of terrorism, an NYPD official told Newsweek shortly after the bloody incident. But the federal law enforcement source said the attack could not be classified as terrorism until a motivation is established.
At a press briefing hours after the attack, NYPD Commissioner Keechant Sewell said the attack was "not being investigated as an act of terrorism at this time." Asked if she would rule that out, she said law enforcement was "not ruling out anything" as officials continued to pursue the suspect and determine his motives.
At least 10 people were shot and dozens more injured, and several undetonated devices were found at the station, which is at 36th Street and Fourth Avenue in Brooklyn's Sunset Park neighborhood. The incident is believed to have begun just before 8:30 a.m., rush hour for the most populous borough of the nation's largest city.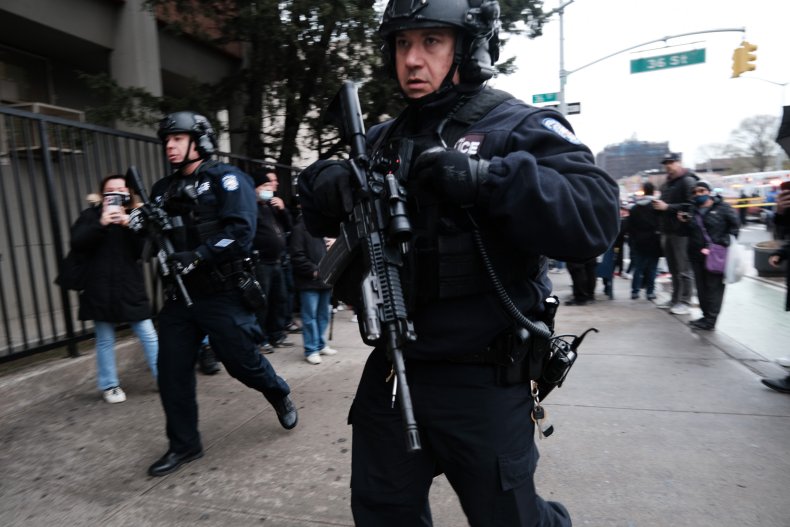 Earlier, the NYPD official told Newsweek that the suspect is believed to be a Black male, 5 feet, 5 inches tall and 175 to 180 pounds. After he entered a northbound R train, a dispute allegedly ensued, followed by the detonation of a smoke bomb. The nature of the altercation remains unknown.
The train continued to the next stop, where gunfire erupted, according to the NYPD official, who said the suspect was believed to be wearing a gas mask, a construction vest and a gray hoodie. The description was confirmed to Newsweek by the federal law enforcement source, who also said the suspect may have worn an MTA uniform and utility belt.
The suspect is believed to have fled in the direction of a Manhattan-bound R train. A manhunt is underway, and power has been cut for the N and R lines from 59th Street to Atlantic Avenue.
The federal law enforcement source said that he was believed to have driven to New York from New Mexico and that authorities were on the lookout for a U-Haul van with Arizona plates and the number AL31408. The van was later found at King's Highway and West 3rd Street in nearby Bensonhurst, according to the federal law enforcement source and the NYPD official.
"In regard to the multiple people shot at the 36th Street subway station in Brooklyn, there are NO active explosive devices at this time," the NYPD said after news emerged of the incident.
Citing the NYPD, the New York City emergency notification system has asked people to "avoid the area of 3rd Ave to 5th Ave from 20th-40th Street in Brooklyn."
New York City Mayor Eric Adams and President Joe Biden were briefed on the incident, according to their respective press secretaries, Fabian Levy and Jen Psaki.
"White House senior staff are in touch with Mayor Adams and Police Commissioner Sewell to offer any assistance as needed," Psaki said.
Since being sworn into office in a New Year's Day ceremony, Adams has set out to reduce the rising violence in the city's subway system. His new safety plan, involving an expanded police presence and stricter enforcement of minor violations such as fare beating and sleeping across seats, went into effect in late February.
But the complexity of Tuesday's attack appeared to be of a different nature, immediately gaining the attention of federal law enforcement because of indications of a premeditated attack.
"Mass gathering areas and soft target venues continue to be an attractive target for criminals and terrorists," Brian Harrell, a former Department of Homeland Security assistant secretary for infrastructure protection, told Newsweek.
"All casualties are unacceptable, but this event could have been significantly worse had additional explosive devices detonated in such a confined area," he added. "Given New York City's extensive camera and facial recognition systems, I suspect we will have answers soon to what looks like a planned terror event."
Update 4/12/22, 6:28 p.m. ET: This story has been updated with additional information and background.
Correction: 4/13/2022, 6:00 p.m ET: A previous version of this story incorrectly stated that James was on an FBI watchlist before Tuesday's attack in Brooklyn. Newsweek's reporting on a person of interest in the investigation who was previously on an FBI watchlist referred to someone who was not James.
The FBI has clarified to Newsweek that James was not on a watchlist before Tuesday's attack.