At least 10 people were shot and dozens more were injured early Tuesday in New York City's subway system in Brooklyn, according to Fire Department (FDNY) officials.
Laura Kavanagh, the acting FDNY commissioner, said at a press conference that five of the victims were in critical but stable condition at local hospitals. Several undetonated devices were found at the subway station at 36th Street and Fourth Avenue in Brooklyn's Sunset Park neighborhood. Details on the type and number of undetonated devices found at the station were not immediately reported.
Many details about how and why the attack took place were unclear by early in the afternoon. Meanwhile, authorities said a suspect was at large and the target of a manhunt. New York Police Department (NYPD) Commissioner Keechant Sewell said at the press conference that authorities were not investigating the attack as an act of terrorism.
Police found a U-Haul van with Arizona license plates in Brooklyn that they believe is "connected to" the Tuesday morning shooting, but the suspect who allegedly rented it is still at large, according to The New York Times.
Officials said earlier Tuesday that 16 people were taken to hospitals by emergency responders, meaning the 13 others likely went to local hospitals themselves, according to CNN. Local hospitals told CNN that at least 10 people have already been discharged.
The suspect, who authorities described as a 5-foot-5-inch Black man in a gray hooded sweatshirt and green construction vest, is still at large. However, CNN reported later Tuesday afternoon that police may have identified the suspect through a credit card used to rent the U-Haul, but that information is not yet confirmed by police and no name has been released.
The NYPD tweeted Tuesday morning that people should avoid the area around 36th Street and Fourth Avenue because of the investigation. The department also said that people should expect delays and emergency vehicles in the surrounding area.
Photos posted on Twitter by a WPIX-TV reporter showed what appeared to be a group of law enforcement officers and other first responders gathered aboveground near the scene of the attack.
A video posted on Twitter, said to be taken in the aftermath of the shooting, showed at least one bloodied victim receiving aid on the ground in the station.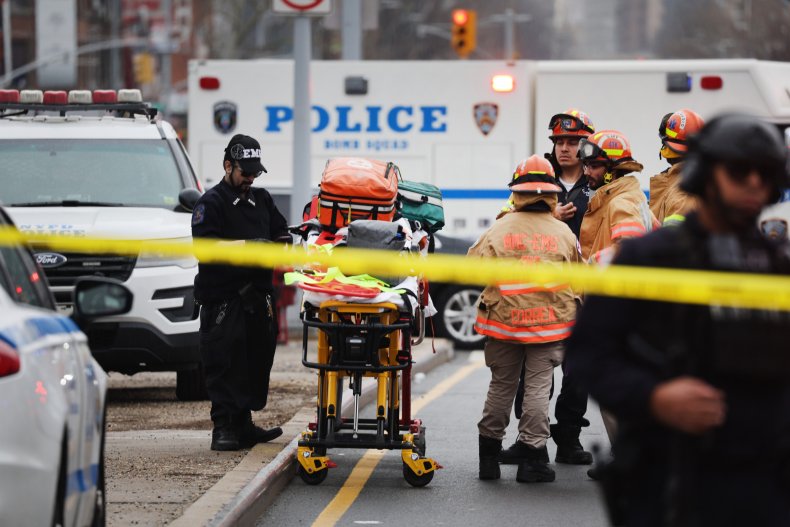 A city Fire Department spokesperson said that fire personnel responded to reports of smoke at the subway station and found multiple people shot and the undetonated devices when they arrived, according to the Associated Press.
Preliminary information indicated that a suspect in the incident was wearing a gas mask and construction vest, according to law enforcement.
The attack and investigation have caused delays in subway services. The Metropolitan Transit Authority tweeted that there is no D, N or R train service in Brooklyn and some parts of Manhattan.
Schools in the area of the shooting reportedly have students and staff sheltering in place, according to a Spectrum News NY1 reporter who cited education authorities.
New York Governor Kathy Hochul said that she had been briefed on the situation and that updates would be provided as the investigation progressed.
President Joe Biden was also briefed on the incident. Senior White House staffers were communicating with Sewell and New York City Mayor Eric Adams to offer assistance, White House press secretary Jen Psaki said.
Update 4/12/22, 6:00 p.m. ET: This story has been updated with additional information and background.