Brother Slammed for 'Awful' Comment to Crying Sister on Her Wedding Day
Whether it takes place in a fairytale castle or if it's a Back to the Future-themed event, everyone has a different idea of what the perfect wedding should look like. However, it's also common courtesy for guests to keep their opinions to themselves, no matter how ridiculous the event may be.
A man has been bashed on Reddit for his "dig" at his sister's wedding, delivered when the bride was already in tears. The post has received over 5,000 upvotes and more than 1,400 comments, many from Redditors berating the man for his "nasty attitude."
Big weddings are back
According to The Knot's most recent Real Weddings Study, big weddings are back for 2022. The wedding planning website surveyed 15,000 couples who got married in 2021 and found that 94 percent of couples were able to wed with no COVID-related hiccups. About 98 percent of couples planning to wed this year are feeling confident it will occur on the date planned, although 81 percent intend to implement health and safety features as a precaution.
The wedding industry is expecting to exceed pre-pandemic levels this year, with an estimated 2.6 million celebrations by the end of 2022, topping the previous average of 2.2 million. The Knot predicts that 129 guests will attend on average, which is 24 more than in 2020 and almost the pre-pandemic level of 131.
In 2019, WeddingWire surveyed 1,000 guests to find out what attendees really care about at weddings. Guests were most looking forward to catching up with friends (63 percent), celebrating the happy couple (68 percent), free food (50 percent), dancing (41 percent), and dressing up (36 percent).
However, attendees were not a fan of drunk guests, bad music, traveling off the grid, not knowing anyone else on the day, and mingling with strangers.
'Was it worth it?'
Posting to the Am I the A****** subreddit on Wednesday, user wedding-woes explained his sister had decided on a large wedding. This was in stark contrast to his own wedding, with him and his husband opting for a small ceremony with close family and friends.
In the year leading up to the nuptials, wedding-woes' mom and sister were busy planning, with the original poster sick of wedding talk dominating conversations.
"This wouldn't have bothered me if it was excitement fueling all of those conversations, but instead it was stress," wedding-woes wrote.
"I've never seen the appeal of a big wedding, but watching this play out has solidified my point of view."
When the big day finally came, wedding-woes said it was a "nightmare." There were 200-plus guests, many with children, which did not fit with his sister's detailed itinerary.
"It was over the top," he said.
"I already knew the whole thing was going to go terribly, as much as I hate to say it. You can't welcome that level of mayhem while also having your itinerary planned down to the minute."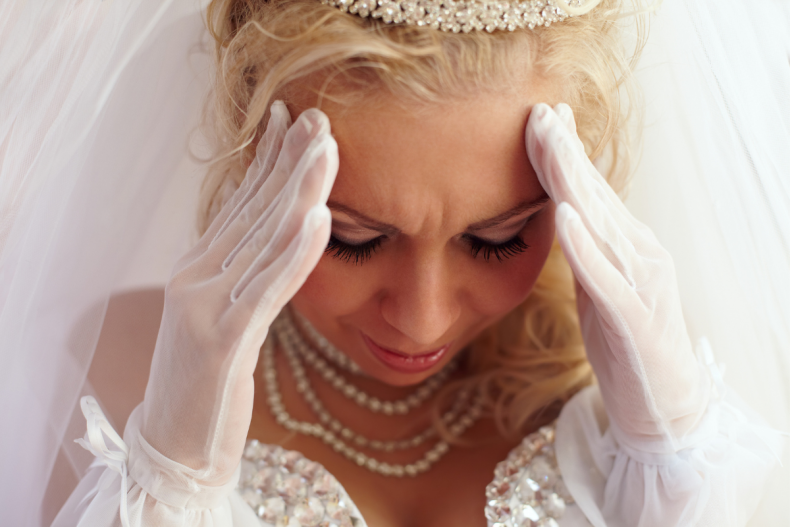 Describing the event as "ostentatious," wedding-woes complained there was nothing "intimate or personal" during the celebration, and many guests were friends or acquaintances that his sister hadn't seen in years.
"I have no idea who she was trying to impress," he said. "Just because you have the money to pay for something doesn't mean you should."
wedding-woes and his husband wanted to leave once the ceremony was over, but stuck around for the reception. During the party, wedding-woes' sister "ended up in tears," with him getting "roped in" to comfort her.
He wrote: "I asked my sister if it was worth it. Was all the planning and stress and money dropped on this event worth the final outcome.
"My mom told me that my attitude the entire day had been terrible, the comments from my husband and I were distasteful, and that the question I had asked was awful and rude. I haven't spoken to either she or my sister since."
Reddit users agreed with wedding-woes' mom, with bippityboppityboop calling wedding-woes "insufferable."
"You sound like you enjoy ruining things for people," she said.
"Was making your sister feel bad on her wedding day in order to get a dig in and make yourself feel superior worth it?" asked ndcollector.
No_mames_guy believed the original poster was jealous, writing: "It was the whole 'Just because YOU have the money to spend on something doesn't mean YOU should.'
"I feel a lot of jealousy and now he's showing hate to displace some weird 'save face' mode."
Bluellan commented: "You know, while I was reading, I kept expecting OP [original poster] to mention how his sister was a total bridezilla. Instead, he just trashed on her because she invited a lot of people? She took a year to plan it?
"It sounds like she was crying and OP couldn't pass up to rub it in her face about how superior his wedding was. Like if that's the ONLY way you can feel superior. Do you also tell fast food workers to get better jobs when they complain about not being able to afford the food they serve?"
Newsweek has reached out to user wedding-woes for comment. We could not verify the details of the case.
Has a wedding come between your relationship with a loved one? Let us know via life@newsweek.com. We can ask experts for advice, and your story could be featured on Newsweek.