'Bridezilla' Bashed For Expecting Guests to Pay for Own Meal at Wedding
With the average US wedding costing $28,000, it's no surprise that couples might try to cut costs wherever they can. Although financial help from family is often a blessing, it can also lead to drama.
One woman took to Mumsnet to share her frustration with her "bridezilla" sister. Posting to the AIBU (Am I Being Unreasonable?) forum on 24 July, user HappyDays40 explained that her sister planned to have guests pay for their own food at the wedding, rather than provide it.
She wrote: "Long story short my sister gets married soon, all on a shoestring, but she has decided that people need to buy their own post-wedding meal from the pub after.
"It is up to her but my mum said that she will help her out with food costs."
To ease the financial pressure on her parents, she offered to pay for a buffet for the wedding guests. Unfortunately, her sister didn't like this idea.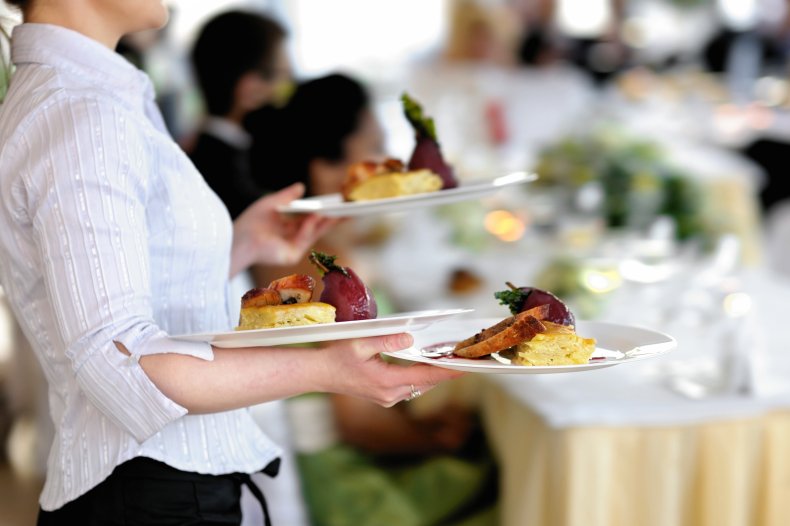 The poster said: "I have told her that I will agree to a buffet rather than a sit down meal [and] our parents and I will pay the cost as a wedding present (we can't afford to pay for sit down meals for 30 people).
"She spat her dummy out and said she wanted a sit down meal. I told her she needs to be a bit more grateful."
The poster explained that she had a sit-down meal at her own wedding, which the sister wants to emulate. However, they paid for their wedding themselves.
"I had a three course sit down dinner at my wedding and she thinks I should pay for something similar (with our parents contributing too)," she continued.
"The thing is we both earn a similar amount, I paid for all my wedding costs and had no additional money from parents. I saved and paid, she thinks I'm being mean with my money.
"I'm partly feeling like telling her to p*** off altogether, but know that our parents will pay the full costs. Please tell your stories of unbelievable ungrateful bridezillas!"
Wedding planning website The Knot conducted a survey of 15,000 couples between 1 January and 31 December 2021. They found that the average wedding cost £28,000 in 2021, £9,000 more than in 2020. However, the site suggests the increase is not due to rising costs, but smaller weddings during the height of the pandemic.
Although wedding costs have returned to pre-pandemic levels, the amount you pay varies by state. Wyoming and Idaho are best for weddings on a budget, with weddings costing $15,800 and $16,000 on average. The most expensive weddings last year took place in New Jersey, with the average wedding costing couples $47,000.
Mumsnet agreed the sister was being ungrateful, with one describing her as "hard work."
"Awful to expect people to buy their own meals at her wedding," they said. "How is she planning to explain that on the invitations?"
Another wrote: "This is ridiculous that your sisters expecting you to foot the bill for a sit down meal for 30 people for her wedding. I'd tell her that she can't have the buffet now. How ungrateful."
While a third commented: "What a spoiled attitude! I'm sure most guests coming would rather have a buffet provided than have to fork out the money themselves on a sit down meal.
"You can't be bridezilla on a shoestring!"
HappyDays40's sister isn't the only bride to go viral over questionable food choices. Mumsnet users were split earlier this week on whether a 14-year-old boy should be served a children's meal at a wedding breakfast, despite being 6ft tall.
A penny-pinching bride also went viral recently for planning to serve her guests finger food while she tucked into a roast chicken, while caterers turned down another "cheapskate" couple who planned to have guests pay for their own dinner.