Bruce Castor, Donald Trump's New Impeachment Lawyer, Declined to Prosecute Bill Cosby
Bruce Castor, one of the two attorneys picked by Donald Trump to represent him in his upcoming impeachment trial, declined to prosecute Bill Crosby on molestation charges in 2005. The other, David Schoen, met with Jeffrey Epstein in the final days of his life and says he does not believe his death was suicide.
Trump announced on Sunday that Castor and Schoen would head the legal team representing him when he appears before the Senate on February 8. Trump is set to answer charges relating to his alleged role in inciting the insurrection in Washington, D.C. on January 6 that led to the storming of the Capitol Building and the deaths of five people.
In making the announcement, Trump referred to Castor and Schoen as "highly respected trial lawyers."
Castor declined an opportunity in 2005 when serving as Montgomery County District Attorney to prosecute Cosby on charges relating to allegations he drugged and groped a woman. Cosby was later convicted of a number of sex offences in 2018.
At the time, Castor released a statement following an investigation of the 31-year-old woman's allegations that Crosby gave her medication that made her feel dizzy, before waking up to find her bra undone and her clothes in disarray.
The statement said the investigation "finds insufficient, credible and admissible evidence exists upon which any charge against Mr. Cosby could be sustained beyond a reasonable doubt." It followed a month-long investigation by Castor into the allegations.
Castor, 59, a former Republican politician and partner in law firm Rogers Castor, has been involved in other high-profile cases involving alleged sexual misconduct.
He represented professional basketballer Marko Jaric of the Memphis Grizzlies, defending accusations of sexual assault, and Mark Sargent, then-dean of Villanova University School of Law, investigated for patronizing a brothel while in the role.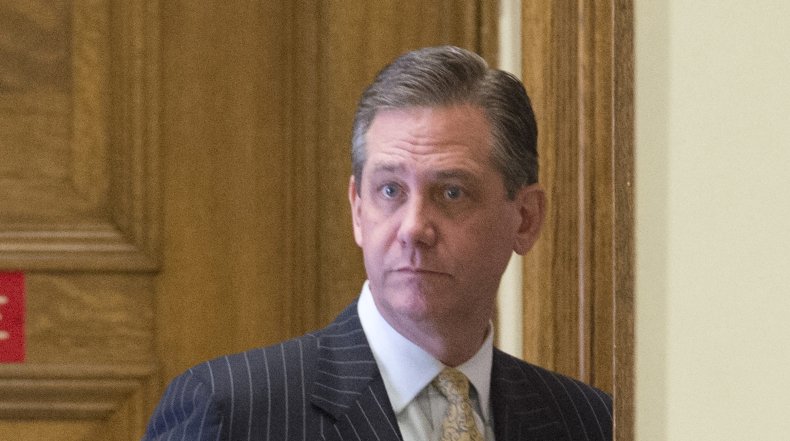 Schoen, who describes himself as a civil rights lawyer, represented Roger Stone in an appeal he made based on issues with the jury in his 2019 conviction. Schoen has previously stated he met Jeffrey Epstein in his final days and believes the financier and accused pedophile did not kill himself.
In a 2020 Discovery Channel docudrama on Epstein, he stated he "does not subscribe to conspiracy theories," but felt there was substance to the claims Epstein had not died as a result of suicide.
"Before he died Jeffrey Epstein had asked me to take over the defense of his criminal case," he claimed, adding, "nobody can say there's absolutely no basis to these conspiracy theories. I don't believe he took his own life."
Trump announced Castor and Schoen as his new lead attorneys after claims his previous defense team fell apart. Tensions reportedly emerged between the former president and the five lawyers he had appointed to represent him following his insistence the team focus on his claims of voter fraud in the 2020 election, rather than the constitutional validity of convicting a former president.
Trump's office said in a statement that both Schoen and Castor were well-prepared for the role: "Schoen has already been working with the 45th President and other advisors to prepare for the upcoming trial, and both Schoen and Castor agree that this impeachment is unconstitutional - a fact 45 Senators voted in agreement with last week."
Schoen said it was an "honor to represent the 45th President, Donald J. Trump, and the United States Constitution."
Castor said the upcoming impeachment trial on February 8 would test the constiution "like never before."
"I consider it a privilege to represent the 45th President. The strength of our Constitution is about to be tested like never before in our history. It is strong and resilient," Castor said in a statement. "A document written for the ages, and it will triumph over partisanship yet again, and always."
Castor and Schoen have been asked for comment.