Bruce Springsteen Jokes He'll Leave the Country if Trump is Re-elected
Correction: The headline and article of this story was updated to make it clear that Bruce Springsteen was joking when he said he would leave the country if Donald Trump wins the election.
Bruce Springsteen has joked he is planning on leaving the country if Donald Trump is re-elected in November.
The "Born in the USA" singer made the lighthearted remark that he'd even go as far as Australia if Democratic nominee Joe Biden doesn't top the polls.
"I love Australia," Springsteen told the Australian press. "Every time, we have nothing but good times down there. It's always a treat to come. Love the people, love the geography, great place for motorcycle trips, it's close to our hearts."
"If Trump is re-elected—which he will not be; I'm predicting right now he's gonna lose—if by some happenstance he should be, I'll see you on the next plane."
A lifelong Democrat and advocate of workers' rights, the 70-year-old's disdain for Trump has been well documented.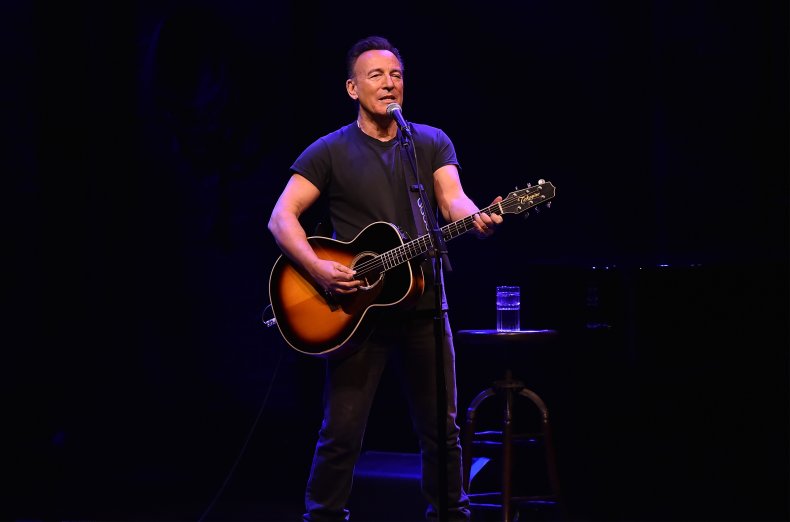 Springsteen has said recently that he believes a Biden presidency will help repair the U.S.' reputation on the global stage, telling Rolling Stone: "It's heartbreaking and terrible. The first thing is to get the Trump administration out of office and start again."
"The power of the American idea has been abandoned," he said. "It's a terrible shame, and we need somebody who can bring that to life again.... I think if we get Joe Biden, it's gonna go a long way towards helping us regain our status around the world."
He added: "The country as the shining light of democracy has been trashed by the administration. We abandoned friends, we befriended dictators, we denied climate science."
The musician backed Biden at this year's DNC with a a new video for his 2002 song, "The Rising."
The "Born to Run" musician also believes Trump is a "threat to our democracy."
He told The Atlantic earlier this year. "He simply makes any kind of reform that much harder."
"I don't know if our democracy could stand another four years of his custodianship," he explained. "These are all existential threats to our democracy and our American way of life."
He also told Esquire in 2018: "Actually [Trump] has an interest in doing the opposite and dividing us, which he does on an almost daily basis. That's simply a crime against humanity, as far as I'm concerned."
The singer's latest album "Letter To You" is due to be released later this month on October 23 along with as an accompanying documentary, Bruce Springsteen's Letter To You, on Apple TV+.