Bruce Willis Diagnosis News Sparks Outpouring of Celeb Support
Hollywood stars shared messages of support with the family of Bruce Willis after they revealed he had frontotemporal dementia (FTD).
His wife Emma Heming Willis, five children as well as his ex-wife Demi Moore issued a statement announcing the actor's condition had "progressed" after an initial diagnosis of the language and cognition disorder aphasia. The Die Hard actor retired from acting in April 2022 after the diagnosis.
"Unfortunately, challenges with communication are just one symptom of the disease Bruce faces," the family said, sharing the same photo of Willis to their individual Instagram accounts. "While this is painful, it is a relief to finally have a clear diagnosis. FTD is a cruel disease that many of us have never heard of and can strike anyone. For people under 60, FTD is the most common form of dementia."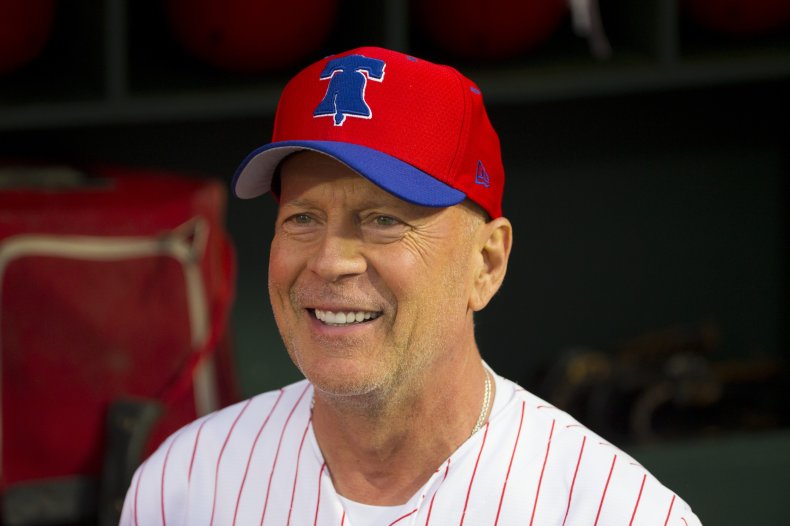 FTD consists of incurable disorders that cause degeneration in the frontal and temporal lobes of the brain, according to the Association for Frontotemporal Degeneration (AFTD). This leads to "an inevitable decline in functioning" and there are currently no treatments to stop progression of the disease.
Journalist Maria Shriver, who founded the nonprofit organization The Women's Alzheimer's Movement, took to Twitter to say: "My heart goes out to Bruce Willis and his family, & also my gratitude for shining a much needed light on this disease. When people step forward it helps all of us. When people get a diagnosis it's extremely difficult, but also for most a relief to get a diagnosis."
Other celebrities also sent messages of support on Moore and Heming Willis' Instagram post.
Actress Michelle Pfeiffer wrote: "Thank you. Sending love." Singer Demi Lovato added, "Sending so much love.."
Actress Rita Wilson also wrote on Moore's Instagram: "Thank you for sharing this with us. Sending Bruce and all the families love."
Model Naomi Campbell also commented on the post: "Sending my love to you all ❤️❤️❤️"
Breaking Bad star Aaron Paul wrote his support on the post from Willis' daughter, Rumer: "Sending hugs to you and that beautiful family of yours. Your pops is such a damn legend."
The Willis and Moore families continued their statement, saying they wanted to raise awareness about FTD.
"Bruce always believed in using his voice in the world to help others," they continued. "We know in our hearts that—if he could today—he would want to respond by bringing global attention and a connectedness with those who are also dealing with this debilitating disease and how it impacts so many individuals and their families."
As a result Heming Willis has "agreed to take on a brand ambassador role for AFTD" and would be working to "raise FTD awareness in the weeks ahead," the AFTD announced in a statement.
While FTD shares some symptoms with Alzheimer's disease—the most common type of dementia—it tends to affect people at a younger age. The onset of most cases of FTD occur between the ages of 45 and 64.
"As the disease progresses, the person affected may experience increasing difficulty in planning or organizing activities," the AFTD states. "They may behave inappropriately in social or work settings, and have trouble communicating with others, or relating to loved ones."
"Over time, FTD predisposes an individual to physical complications such as pneumonia, infection, or injury from a fall," it continues. "Average life expectancy is 7 to 13 years after the start of symptoms [...] The most common cause of death is pneumonia."
The family concluded their full statement on the AFTD website by saying the actor loved seeing the support he had received from fans around the world.
"Bruce has always found joy in life—and has helped everyone he knows to do the same. It has meant the world to see that sense of care echoed back to him and to all of us," they wrote.
"We have been so moved by the love you have all shared for our dear husband, father, and friend during this difficult time. Your continued compassion, understanding, and respect will enable us to help Bruce live as full a life as possible."