Bruce Willis' Daughter and Wife Share Updates After Aphasia Diagnosis
Bruce Willis' family has taken to social media to share updates, weeks after they released a statement revealing that the Die Hard actor had been diagnosed with aphasia.
Willis' daughter Rumer Willis and his wife Emma Heming Willis both posted about the actor on Instagram Wednesday. The latter's post featured a video of the star, one of the first times the public has seen Bruce Willis since announcing he was taking a step back from acting in March.
Rumer and Emma were among the family members who released the joint statement that announced Bruce was "stepping away from the career that has meant so much to him" due to aphasia "impacting his cognitive abilities."
Here's what Rumer Willis and Emma Heming Willis posted.
Emma Heming Willis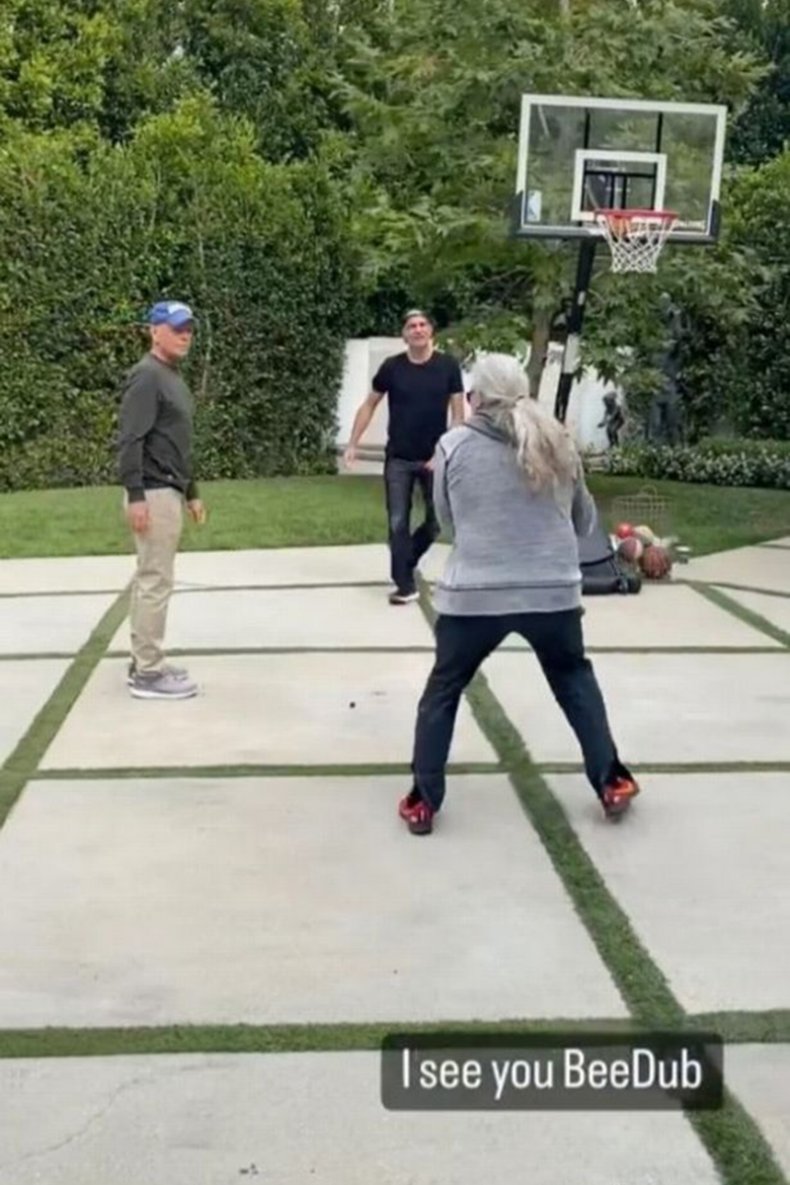 Emma Heming Willis posted a since-erased Instagram story that showed her husband of a decade playing basketball with friends. She captioned the image: "I see you BeeDub."
This is the first time the actor has appeared on her Instagram since May 4, when she posted a throwback video of Bruce carrying their youngest daughter, Evelyn Penn Willis, on his shoulders.
This post came a month after she posted the joint statement about her husband that read: "To Bruce's amazing supporters, as a family we wanted to share that our beloved Bruce has been experiencing some health issues and has recently been diagnosed with aphasia, which is impacting his cognitive abilities. As a result of this and with much consideration Bruce is stepping away from the career that has meant so much to him.
"This is a really challenging time for our family and we are so appreciative of your continued love, compassion and support. We are moving through this as a strong family unit, and wanted to bring his fans in because we know how much he means to you, as you do to him.
"As Bruce always says, 'Live it up' and together we plan to do just that."
Per the Mayo Clinic, "aphasia is a condition that affects your ability to communicate. It can affect your speech, as well as the way you write and understand both spoken and written language." According to the NHS website, it can also cause memory problems.
Though this was the first public acknowledgment of Willis' aphasia diagnosis, family members have been making jokes about his memory for years. In the 2018 Roast of Bruce Willis, for example, his ex-wife Demi Moore was the surprise guest. She joked: "Are you surprised [I'm here], Bruce Willis?...I knew he would be. Even though I went over everything yesterday, I knew he'd forget."
Rumer Willis
Rumer Willis, meanwhile, posted a selfie of herself with a guitar. She captioned the image, "out of practice but trying to play some tunes for my Daddio."
The oldest of the Willis children posted a series of images of her with her father over the years following the release of the joint statement. The first of these she captioned: "I love you Daddio, to the [moon emoji] and Back. Thank you for teaching me to be so silly [winking face emoji]. I love laughing with you."