If he's trying to prove he can do it all, it's working. Whether playing the goofy dad on Malcolm in the Middle, a ruthless drug dealer on Breaking Bad or an unhinged, mad-as-hell TV anchor in Network on Broadway, the 62-year-old Bryan Cranston draws euphoric acclaim—and awards. Among many others, he has won four Emmys, a Tony (for his portrayal of Lyndon Johnson in All the Way ) and an Olivier for Network 's London run. His method? "Whatever I've just done, I tend to not do that," he says.
His current job, in Network, he describes as "exhilarating and exhausting." (For that performance, Newsweek included Cranston on its list of best performances of 2018.) Things were slightly more, well, stationary, filming The Upside (opening January 11), a remake of the 2011 French blockbuster The Intouchables, which is based on the true story of Philippe Pozzo di Borgo, a quadriplegic aristocrat who hired an ex-con as his unorthodox caretaker (Kevin Hart plays the caretaker). So, yes, Cranston has only his face to work with this time. But the role offered something else he'd never done before: the chance to play "a man whose freedom was taken away from him."
In the film, you navigate your wheelchair with just your chin. How did that go?
It was much harder than I thought it would be and took a lot of time. I had one sent to my house—I was rolling around, bumping into the furniture. My wife was like, "You're chipping paint and knocking into things!" I had to just calm down—and that's actually how I realized how I was going to remain immobile throughout my scenes. I had to be not rigid, but so relaxed that I didn't need to move.
In the absence of mobility, did you concentrate more on acting with your face?
I've always felt that an actor can't be caught acting. You need to just think, feel what it is appropriate at the time, and trust that it will be there. You don't think, Oh, I'm going to raise my eyebrow or I'm going to scowl. If you're thinking any of that, you're overacting.
​Did playing a disabled person concern you, not being disabled yourself?
Oh, most definitely. It's a relatively new sensitivity to be aware of these things, and it's good for our society. It was not my decision to offer the role to me, it was someone who felt they could make money by doing that. Are there any disabled actors who have the notoriety that I have? Maybe not. That highlights an interesting thought worthy of a conversation: Why isn't there? Why don't disabled actors have more opportunities to be able to be play characters who happen to be disabled? It's good to have that conversation.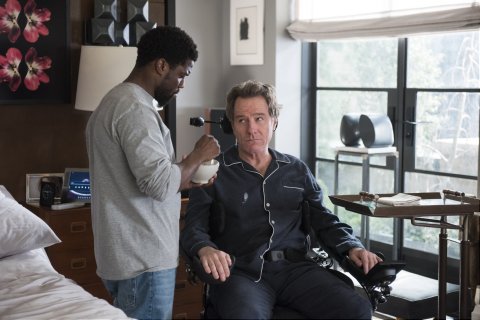 Beyond thinking about the physical restrictions, how did you prepare for the role?
I met with several quadriplegics. We not only talked about how they adapted to moving around but just emotionally where they were. It's not dissimilar from any other human being—we all have pressures—but they have a different level of pressures that you can't imagine. You can't feed yourself. You can't scratch an itch, brush your teeth, sip water—everything needs to be done for you. That, especially for men, is much more difficult. We like independence—we identify ourselves through our physicality. To have that be denied, it's emotionally very risky to your psyche. And it was. There is depression that these men deal with constantly.
What's it like raging as Howard Beale every night on Broadway?
So much fun. It was written 43 years ago, and yet it seems like it must've just been written. I think Howard and his rants are speaking to what we're feeling right now—there's distrust, there's divisiveness, there's rancor. You need a relief valve just to left off some pressure! If our play does that for some people, to any degree, it's good.
What's your process for getting into the right unhinged state of mind for his "mad as hell" speech?
It's all in the developmental stages. Before rehearsals start, you contemplate, you read, you sit and you daydream. What are the things that I can do to find out more about that person's occupation, and that person's life? Howard Beale is a man who lost his wife years ago, has no children and is going through a depression. Then you ask: When did I feel that way?You have to be willing to open yourself up to show the people in that theater, or on the movie screen, your vulnerability. The truth is, when vulnerability is shown, you're only in danger of humiliation if you're middle school or high school. A decent person—and most people are decent—wants to protect you
You've successfully avoided typecasting and played a wide variety of roles, both comedic and dramatic. Is that a conscious decision you're making?
It is. Whatever I've just done, I tend to not do that. [Laughs.] I had opportunities to do a hapless, goofy dad after Malcolm in the Middle, and my absolute inclination is to say thank you, but no thank you, I just did that. I don't need or want to repeat what I've done, it would just be derivative of myself. I want to do something that challenges me, something I didn't expect. You just want to be open. I don't want to work for the sake of working, I want to work on specific things that I'm attracted to. That's my goal. I have no worries or designs. I'm doing this Broadway show and only this Broadway show for seven months. Good! I never even have a passing thought of, "Oh, but what am I going to miss?" Bah! Just move on, just have fun, do the stories that you think are important to tell and that you enjoy doing.
Is there a role or project of yours that you think is underrated?
I did a little movie called Wakefield, which was bizarre and interesting. I really liked it and how it spoke to second chances, and slowing down the hamster wheel of life. More recently, I thought Last Flag Flying was a really good movie. Richard Linklater directed Steve Carell, Laurence Fishburne and me. That didn't get the play that I thought that it should have gotten. It's about how men grieve, and it was also very funny. It's really a beautiful little film that flew under the radar.